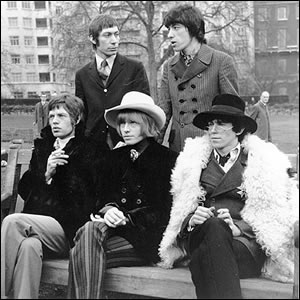 Let's talk for a moment about controversy. The fact that we occasionally have double album reviews (that is reviews of two single albums by the same artist) may be a bit controversial, as some have suggested that each album is worthy of a review by CRR, is worthy of its own singular review. However, we do have strict internal guidelines which must be met in order to present a double review. In order of importance, these are – 1.) Albums released during same calendar year, 2.) Same primary performers on both albums, 3.) Same basic genre or sound (within reason), and 4.) Same producer. Now that that's out of the way, let's talk for a moment about controversy.
We had planned on doing a double review of The Rolling Stones (UK) albums from 1967, Between the Buttons and Their Satanic Majesties Request. However, upon listening and researching, it was clear that these albums do not meet criteria 3 or 4 above and further, TSM Request is not a very good album (just a very controversial one). So we decided to do a single review on the January 1967 album Between the Buttons yesterday and talk about the rest of the band's 1967 material in this blog today.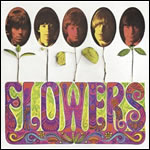 As we mentioned in Between the Buttons review, that was the last to have separate releases in Britain and America, with the US version including both songs from the January, 1967 double-A single "Let's Spend the Night Together" and "Ruby Tuesday", while excluding the songs "Back Street Girl" and "Please Go Home". All four of these tracks were included on the piecemeal, American only album Flowers, which was released in June of '67 and also included songs from the British version of the 1966 album Aftermath, along with the September 1966 single "Have You Seen Your Mother, Baby, Standing in the Shadow?", and three previously unreleased tracks dating back to December 1965 – "My Girl", "Ride On, Baby", and "Sittin' On a Fence". By the time of that release, work on the next album was well underway.
Their Satanic Majesties Request was released on December 8, 1967 after a long recording process due to some court appearances and jail terms within the band. Although it is the first album produced by "The Rolling Stones", there were few moments when the entire band was present in the studio at the same time. Andrew Loog Oldham, their manager and producer of their first five albums, got fed up with the band's lack of focus and eventually quit. Lead vocalist Mick Jagger admitted that the result was "a lot of rubbish" because "anyone let loose in the studio will produce stuff like that". The band experimented with many new instruments and sound effects with guitarists Brian Jones and Keith Richards leading the way in creating elaborate (albeit mainly unfocused) soundscapes. At one time, the band was considering making the project a psychedelic Christmas album. I
Critically, the album was viewed as a poorly conceived attempt to outdo The Beatles and Sgt. Pepper's Lonely Hearts Club Band (released in June '67). the production quality came under particularly harsh criticism and the Band would not again attempt to produce an album independently. The album does include a few interesting compositions which make it part of many rock fans collections. Bassist Bill Wyman composed and sang vocals on "In Another Land", which was allegedly about the fact that Wyman was the only band member who didn't take L.S.D. at the time. It was released as a single but credited to Bill Wyman and not The Rolling Stones. "Citadel" contains a catchy guitar riff, which is unfortunately offset by an overkill of effects. "2000 Man" starts off acoustic with a beat and is probably the best song on the first side. The best song on the album, by far, is "She's a Rainbow", a true gem among otherwise mediocre material. It has a catchy and bright piano by session man Nicky Hopkins, the use of Mellontron by Jones, rich lyrics by Jagger, and a driving rhythm led by drummer Charlie Watts. The song also has some orchestration and strings arranged by future Led Zeppelin bassist John Paul Jones.
As 1968 got underway, the band soon turned back to the blues-based rock n roll that brought them to fame in the first place. Jimmy Miller would produce their subsequent albums, starting with the classic, Beggar's Banquet.