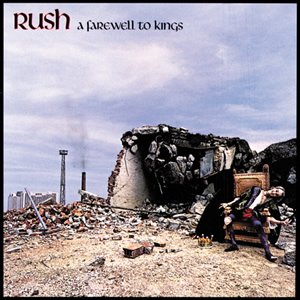 A Farewell To Kings is the fifth studio album by Rush. It follows 2112, the band's initial commercial breakthrough in 1976 (check out our Review of 2112). With A Farewell To Kings, the band decided to get even more complex, particularly by employing the first of a two-part concept which would be split over two albums. Although this concept would not be as coherent or as cohesive as that in 2112, it still makes for a very unique and entertaining listen. This first part of "Cygnus X-1" closes the album and speaks of space explorers whose ship is swallowed by a black hole. The theme continues on the next album, 1978's Hemispheres, with a side long second part that is far more philosophical, speaking of the analytical versus artistic sides of the human brain in a fictional battle between Greek gods. So in essence, although their titles seem to hold nothing in common, A Farewell to Kings and Hemispheres appear to be forever linked.
The remainder of each of these two albums is downright excellent. In fact, if one were to combine the first side of …Kings with the second side of Hemispheres, the result may just be the best Rush album ever. But they are separate entities, so we will focus on A Farewell to Kings because it is a breakthrough. It is the first time Moog synthesizers, played by bassist and vocalist Geddy Lee, are included. The album was also rare in that it was the only one to be recorded off the continent, at Rockfield Studios in Wales, UK.
A Farewell to Kings would become Rush's first US Gold-selling album, undoubtedly fueled by the success of its predecessor. The band's songwriting and musical approach got ever more complex, led by the complex lyrics of Neil Peart and the diversity of guitar motifs by Alex Lifeson as well as the great rhythm patterns of both Lee and Peart.

A Farewell to Kings

by

Rush
Released: September 1, 1977 (A&M)
Produced by: Rush & Terry Brown
Recorded: Rockford Studios, Wales, UK, June 1977
Side One
Side Two
A Farewell to Kings
Xanadu
Closer To the Heart
Cinderella Man
Madrigal
Cygnus X-1 Book 1: The Voyage
Group Musicians
Geddy Lee – Lead Vocals, Bass, Keybords, Bass Pedals
Alex Lifeson – Guitars, Bass Pedals
Neil Peart – Drums, Percussion
The classical guitar intro to the opening title song is excellent, offering a medieval backdrop including the sounds of actual birds chirping. The bass, electric guitar, and drums then crash in with gusto, letting you know that this is Rush and they are musically at their prime. an odd-timed bridge part starts with Lee and Peart and climaxes with a bass and guitar duel lead rudiment section, which is fantastic. Lyrically, the song is a metaphor of a crumbling Kingdom as an allegory of society as a whole. The lyrics also seem to indicate that this will be the first album where they move away from the Ayn Randian world view which was present on earlier album.
"Xanadu" is based on Kubla Khan, Samuel Taylor Coleridge's eighteenth century poem, where the narrator describes searching for a mythical place where one can find immortality. The tranquil beginning brings to mind farmers working in a field, or near a monastery in a slow intro of nearly two minutes. Then the guitar and wind effects pick up before the drums come in like a storm rolling across the fields. Since there are no words here, it seems the meaning can literally be whatever you want it to be, and this helps paint a mental picture in the listener's mind. It then breaks into a sharp and direct riff with strong guitar, bass, and cowbell-accented drums. Lyrically, the first verse is the singer contemplating how great it would be to find Xanadu. Then the protagonist sets out on his journey to actually find this mythical place and, by the 3rd verse, the listener finds that he has spent the last thousand years trapped in it's pleasure dome. The message here is the danger of obsession, and the real irony is that he is that even heavens can become hells if you lose your freedom.
"Held within the Pleasuredome / Decreed by Kubla Khan
To taste my bitter triumph / as a mad immortal man
Nevermore shall I return / Escape these caves of ice
For I have dined on honeydew and drunk the milk of paradise…"
The song comes full circle with a calm outtro. "Xanadu", which marks Rush's clear foray into program music, is renowned as one of Rush's finest extended pieces. Live performances of the song require each member to utilize an array of instruments to replicate the studio recording.
"Closer to the Heart" is the first Rush song to have an external co-writer, Peter Talbot. It became the band's first "hit single" during the Christmas season of 1977 and still receives a substantial amount of radio play. Lyrically, the song continues the almost anti-2112, altruistic message, making it kind of a let down after the majesty of "Xanadu". It does have a nice bridge after the second verse, which is just enough to give it the edge of a legitimate Rush song and Lifeson's guitar is quite memorable throughout.
The album's second side begins with "Cinderella Man", based on Frank Capra's 1936 film Mr. Deeds Goes to Town, which is about a man who inherits a great deal of money and then is thought mad when he starts spending it to help the poor. Musically, the song is excellent with Lee's bass really standing out through the whole song up to and including the wild and funky bridge where he shines brightest. Lee is also the sole writer of this song, one of the latest tracks to not be a band effort with Peart's lyrics. "Madrigal" is less inspiring, almost unfinished. On the surface it is a very simple love song, but putting it on this album with more complex and epic songs makes it look a bit pathetic musically and lyrically. There is a nice combination of acoustic and electric guitar, keys and bass but barely any real drumming by Peart and it seems to end way too soon, make it one of the oddest songs in the Rush collection.
The album concludes with "Cygnus X-1 Book 1: The Voyage". One night I was in the bathroom brushing my teeth and this song came on and I quite literally was scared by Alex Lifeson's vocoder intro. It freaked the hell out of me! The intro section really evokes the depth and darkness of space with its introduction and spooky synth sounds. This adventure song evokes many literary and science fiction themes, with an apparent doomy ending as the ship is sucked into the black hole (although this turns drastically in the sequel on the next album). The pounding music seems to pain the image of a force pulling faster and faster as the ship is sucked closer and closer to the black hole, while the lyric; "every nerve is torn apart" paints a really freaky ending to the protagonist's fate. Musically, this eleven minute epic is not quite as excellent as the other pieces during the era.
In a sense, I think the altruistic A Farewell to Kings was constructed as a counterpart (not complement) to self-interest theme of 2112, with Hemispheres being the balancing act between the two. In this sense, it is important to own all three albums in order to get the full effect of late seventies Rush.
~

Part of Classic Rock Review's celebration of 1977 albums.