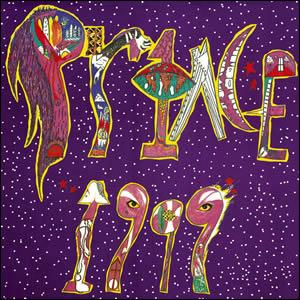 1999 is a double-length album by Prince, released in late 1982. The album was born out of an extremely prolific songwriting period when there was reportedly four albums worth of material available. It was the fifth studio album by the Minnesota artist born Prince Rogers Nelson, who started his recording career in his late teens in the mid 1970s. This synthesizer and drum machine heavy album marked a decided change in Prince's sound and contained his first charting hit singles. The album beats on a "computer" theme, which is reflected in the album's instrumentation and various electronic sounds. Prince credited the movie Blade Runner as an influence on the album's sound as well as the sets of the corresponding music videos.
Like all his previous albums, 1999 centers on deeply sexual subjects (some have said that Prince sings about sex like B.B. King sings about the blues). However, this album also explored other issues, especially those of mortality and death.
The album is laid out in a very top-heavy fashion, with all the singles coming from the first two sides and sides three and four reserved for strictly album tracks. Further, whether by design or not, the four singles released from 1999 were released in the exact sequence that they appear on the album. The unique cover of the album not only contains symbols and art from past Prince albums, but also tributes his future backing band The Revolution.

1999

by

Prince
Released: November 27, 1982 (Warner Brothers)
Produced by: Prince
Recorded: Kiowa Trail Home Studio, Chanhassen, MN &
Sunset Sound, Hollywood, CA, 1982
Side One
Side Two
1999
Little Red Corvette
Delirious
Let's Pretend We're Married
D.M.S.R.
Side Three
Side Four
Automatic
Something In the Water
(Does Not Compute)
Free
Lady Cab Driver
All the Critics Love U in New York
International Lover
Primary Musicians
Prince – Vocals, Guitars, Keyboards, Bass, Drums
Dez Dickerson – Guitars, Vocals
Lisa Coleman – Lead & Backing Vocals
The title track, "1999" is an updated version of Giovanni Boccaccio's The Decameron, with an updated notion of turning the Rapture into an excuse to party. On the track, Prince trades lead vocals with Lisa Coleman and Dez Dickerson and built the main riff around the melody of "Monday, Monday" by The Mamas & the Papas. Although the song has become one of his most enduring anthems, "1999" failed to reach the Top 40 when it was originally released.
The next song, "Little Red Corvette", would become Prince's first charting hit, peaking at #6 on the Billboard pop singles chart. The song nicely fuses a drum machine beat and slow synth buildup with a full pop hook during the choruses and a classic guitar solo by Dickerson. The highly allegorical lyrics tell of a one-night stand with a beautiful and promiscuous woman in a very poetic fashion;
"I guess I should've known by the way you parked your car sideways that it wouldn't last…"
A couple more songs are even more highly sensualized. "Let's Pretend We're Married" is a long funk and R&B tune with such risque lyrics that Tipper Gore reportedly leaped from her couch to save her children's ears from the raunch. "Automatic" extends to almost ten minutes, setting precedent for the 80s dance remixes which were frequently released on 7″ EPs. This synth-heavy song contains bondage-inspired lyrics, re-enacted in a music video banned from the new MTV.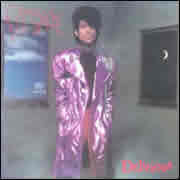 "Delirious" became another Top 10 hit, reaching #8. The song employs an electric version of upbeat country or rockabilly, with a catchy keyboard hook and a fair share of sexual metaphors, ending abruptly with the sound effect of a baby cooing. "Something In the Water (Does Not Compute)" is an ode to a harsh lover, while "Free" is a delicate piano ballad expressing patriotism for America and how fellow Americans should appreciate their freedom. This especially applies to freedom of speech, of which Prince understands the importance from the perspective of a "controversial" artist.
Side four of the album includes "Lady Cab Driver", which features the vocalist angrily rattling off an endless litany of life's disappointments above the female wailing of the "cab driver." "All the Critics Love U in New York" is another experiment into the world of of synthesizers and features the Linn LM-1 drum machine. The closer, "International Lover" is another long sex-centric song to wrap up the double LP.
1999's critical and commercial success secured Prince a place in the public psyche, and launched him into the most successful phase of his long career. The album was followed 19 months later by Purple Rain, his most successful album ever, which was also accompanied by a major Hollywood movie.
~

Part of Classic Rock Review's celebration of 1982 albums.