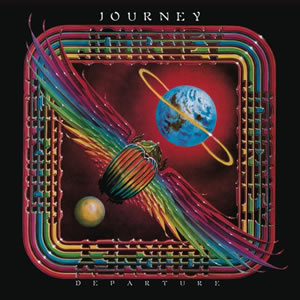 Journey continued their climb to rock superstardom with 1980's Departure, the group's highest charting studio album of the six with founding keyboardist and vocalist Gregg Rolie. This album contains a diverse group of styles and themes within classic rock and its many sub-genres, and it also explores many areas sonically. Most pointedly, Departure is a transitional album for the group, as it perfectly balances elements from their recent and further past with previews of what's to come for Journey.
Following the band's 1978 album Infinity, drummer Aynsley Dunbar was replaced by accomplished jazz drummer Steve Smith. In 1979, the group recorded the LP Evolution, which included the group's first Top 20 single, but was less than satisfying for the band production-wise.
Former engineers Geoff Workman and Kevin Elson stepped up to assume producer duties on Departure. The band was well-stocked entering the studio, with nearly twenty new songs composed. Ultimately, they recorded a dozen songs for this album with a few excess tracks saved for other projects. These included the track "Little Girl", which landed on the future soundtrack Dream, After Dream and the excellent song "Natural Thing", a soulful rock/waltz co-written by bassist Ross Valory. Armed with all this compositional ammunition, the group was set to record most of the material live in the studio, which gave it and edge compared to the more refined work they did both before and after this record.

Departure

by

Journey
Released: March 23, 1980 (Columbia)
Produced by: Geoff Workman & Kevin Elson
Recorded: The Automatt, San Francisco, November, 1979
Side One
Side Two
Anyway You Want It
Walks Like a Lady
Someday Soon
People and Places
Precious Time
Where Were You
I'm Cryin'
Line of Fire
Departure
Good Morning Girl
Stay Awhile
Homemade Love
Group Musicians
Steve Perry – Lead Vocals
Neal Schon – Guitars, Vocals
Gregg Rolie – Keyboards, Harmonica, Vocals
Ross Valory – Bass, Vocals
Steve Smith – Drums, Percussion
The album begins with its most popular and sustaining track, "Any Way You Want It". The song was written by lead vocalist Steve Perry and guitarist Neal Schon and it peaked at #23 on the Billboard pop charts. More importantly, this opening track sets the pace for this album where Perry and Schon shine brightest throughout. Schon achieves this hard rock bliss through his potent and perfected rock riffs with melodic distortion, while Perry's vocals use heavy reverb to add to the majesty. While the opener exists mainly in the stratosphere, "Walks Like a Lady" comes back to ground level while being just as entertaining. On this track, all five members of the band shine equally, from the skip-along bass of Valory to the fine drum shuffle by Smith, to the deep Hammond B3 chords by Rolie, to multiple bluesy riffs by Schon, to the fantastic melodies by Perry.
"Someday Soon" is the first of two rock duets, with Rolie and Perry trading vocal lines throughout this one. The mesmerizing rhythm carries song along at a steady pace and, after Schon's first true guitar lead of the album, the song enters into a strong, majestic outro, led by a rich vocal chorus and more intense rock elements. "People and Places" is the closest to a prog rock track on the album, especially with the multiple voices in the intro cascade. On this second duet, Rolie takes the lead during the intense verses while Perry handles the uplifting choruses. The song has an English folk feel through its first half but then evolves into a theatrical hard rock track, closing with Rolie's distant Hammond fading away. Filled with so many great little sound riffs, "Precious Time" starts with just Schon's rapidly strummed electric guitar accompanying Perry's fast-paced melodies until Rolie joins in with an impressive blues harmonica through the second verse. Eventually, the rhythm section comes in to make it a more steady hard rock song, ending with a decent blues jam led by the harmonica once again.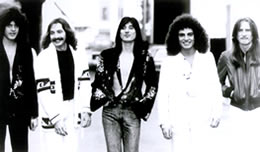 The album's second side commences with, perhaps, the lone weak spot on the album. "Where Were You" is a straight-forward rocker with standard riff and rhythm and the slightest hint of a boogie piano between the phrases. "I'm Cryin'" is more interesting as a dark, dramatic, and bluesy tune where Schon's heavy guitar chops are laid on top of the moderate musical backing led by Rollie, who co-wrote the track. This song also gives Perry plenty of room for dynamics, especially at the tail end of the bridge and the very end of the song. Perry wrote all the lyrics for the album, which are somewhat weak throughout, but pleasant enough to the ear to due his fantastic vocal ability and range. "Line of Fire" is an explosive and upbeat blues rocker but seems to lack the rhythmic thump needed to carry this song properly, save for the recorded shotgun blast, captured by Workman to precede the final verse.
The short title piece begins the final progression of the album. Schon's "Departure" is not really a true track, just some harmonics above seemingly random soundscapes. The next two short but satisfying ballads preview a vital aspect of Journey's albums in the near future. "Good Morning Girl" is led by Schon's finger-picked electric accompanied by a smooth Mellotron with differing strings and Perry's melodic vocals. A very simple structure, with just verses at different rotating keys. "Stay Awhile" is like an old fashioned rock slow dance, but this one is almost completely led by the fine vocal melodies of Perry. The album closer, "Homemade Love", contains an interesting off-beat by Smith with Perry's nearly-scat vocals and Schon reserving one of his finest guitar leads for the album's conclusion.
Departure went triple-platinum in sales and Journey rode this success with a major tour. This tour spawned the follow-up live album Captured, which was another major success for the group later in 1980. However, Rolie had become tired of life on the road and decided to leave the band and pursue solo projects.
~
Part of Classic Rock Review's celebration 1980 albums.