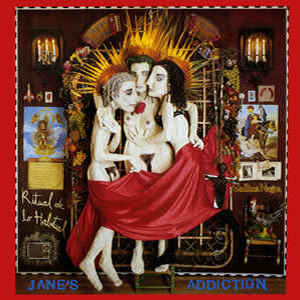 Released in the summer of 1990, Ritual de lo Habitual was the third overall album and second studio release by Jane's Addiction. This critically acclaimed album was at once on the razor's edge of the emerging alternative movement and the last release by the group before their initial breakup in 1991. Stylistically, Ritual de lo Habitual is loosely divided into two halves with a group of frenzied rockers early and some extended and theatrical tracks later on the record.
Jane's Addiction was formed in Los Angeles in 1985 by lead vocalist Perry Farrell and bassist Eric Avery. Soon drummer Stephen Perkins and guitarist Dave Navarro joined the group to the round out the quartet. The group was wildly successful on the LA club scene and, after releasing their self-titled 1987 live album on an independent record label, they entertained offers from many major labels before signing with Warner Bros. Records. In 1988, the group recorded and released Nothing's Shocking.
Producer Dave Jerden worked with the group on Nothing's Shocking and stayed on for Ritual de lo Habitual. While the sessions produced quality music, they were marred by internal conflicts over drug use and royalty splits. Upon release of Ritual de lo Habitual, there was controversy over its album cover and so two packaging versions were created with one having a "clean" cover.

Ritual de lo Habitual

by

Jane's Addiction
Released: August 21, 1990 (Warner Bros.)
Produced by: Dave Jerden & Perry Farrell
Recorded: Track Record, North Hollywood, CA, 1989-1990
Track Listing
Group Musicians
Stop!
No One's Leaving
Ain't No Right
Obvious
Been Caught Stealing
Three Days
Then She Did …
Of Course
Classic Girl
Perry Farrell – Lead Vocals, Guitar, Piano
Dave Navarro – Guitars
Eric Avery – Bass
Stephen Perkins – Drums


In a bit of irony, the song that starts things off is entitled "Stop!" and, after a spoken word intro by guest Cindy Lair, the tune comes in with pure energy and it doesn't relent until the moderately timed mid section before it comes back with equal fury during Navarro's frenzied guitar lead. "No One's Leaving" is more rhythmically based than the opener but with equal energy, especially during a blistering guitar lead. "Ain't No Right" is a short track built on Avery's solo bass to accompany Farrell's amoral lyrics.
The next track, "Obvious", features a rich, psychedelic like beginning over a steady rhythm by Perkins. This song has different approach and vibe than anything previous on album and it features guest Geoff Stradling on piano. "Been Caught Stealing" is the most indelible tune on the album with plenty of inventive production, from the opening dog barks to the wild riffs and simultaneous counter-riffs to the funky dance rhythms to direct, storytelling confessional lyrics.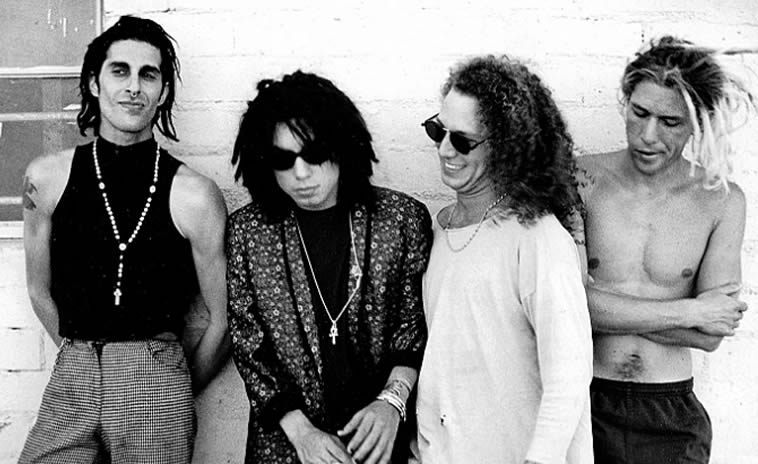 Next comes a series of extended tracks that make up the richly produced second half of the album. The best of these is "Three Days", a nearly eleven minute track which constantly builds in intensity. It begins with a haunting and deliberative first section before it gets rhythmic with the intense drumming of Perkins at about three and a half minutes in. Navarro adds an ethereal guitar lead over this before the piece migrates to its intense final section. The next two extended tracks are not quite as interesting. The eight minute long "Then She Did…" starts fine as a moody ballad with interesting riffs and charms but the rest of the song doesn't do much beyond adding some additional musical arranging. The seven minute, Eastern flavored "Of Course" is dominated by the violin of Charlie Bisharat. The album concludes with the traditional rock ballad, "Classic Girl", featuring great guitar textures throughout that help close the album out.
Ritual de lo Habitual has been certified 2× Platinum in the US and the band embarked on a lengthy tour to support the album from late 1990 well into 1991, which included headlining the first Lollapalooza festival, which Farrell co-created. Later in the year Avery and Navarro left the group and Jane's Addiction disbanded for the initial time.
~

Part of Classic Rock Review's celebration of 1990 albums.