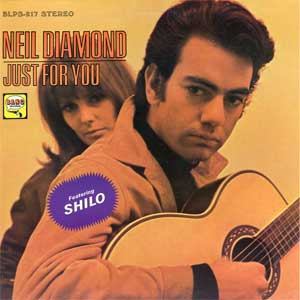 Neil Diamond broke through in a big way in 1966 and 1967, both as a performer and a respected songwriter (although he had been writing "hit" songs for other artists for several years). His album Just For You captures much of the highlights from this era in Diamond's career and includes several songs which were huge hits for other artists, both prior to and following the release of this album. Still, the album has never been considered a classic, nor has it even been issued on compact disc. This may be due to the fact that it  included some tracks from Diamond's 1966 debut album, The Feel of Neil Diamond (also not yet available on CD).
Every song on Just For You had been on the A-side or a B-side of a single, with five songs becoming Top 40 hits for Diamond and two others, "I'm a Believer" and "Red Red Wine", becoming huge hits for The Monkees in 1966 and UB40 in 1983 respectively. Another Top 40 hit from the era, "Kentucky Woman", was curiously left off the album. All in all, this was the first album to consist entirely of original material by Diamond.
It was also the final Neil Diamond album on Bang Records, a subsidiary of Atlantic, with whom he would be in litigation for the following decade before ultimately retaining the rights to all this early material. The songs and recordings originated at the legendary Brill Building in New York City, where some of the most famous pop songs of the 1960s originated. It was produced by legendary songwriters Jeff Barry and Ellie Greenwich, who also provided may background vocals, although records of other musicians backing Diamond are not readily available.


Just For You

by

Neil Diamond
Released: September 16, 1967 (Bang)
Produced by: Jeff Barry & Ellie Greenwich
Recorded:Brill Building, New York, 1966-1967
Side One
Side Two
Girl, You'll Be a Woman Soon
The Long Way Home
Red, Red Wine
You'll Forget
The Boat That I Row
Cherry, Cherry
I'm A Believer
Shilo
You Got To Me
Solitary Man
Thank The Lord For The Night Time
Primary Musicians
Neil Diamond – Lead Vocals, Guitars, Multi-instruments
The album begins with the top ten hit "Girl, You'll Be a Woman Soon", with its melodramatic hook and driving verse lines. A 1992 remake of the song by Urge Overkill brought the song to a new generation with its inclusion in the Pulp Fiction soundtrack. "Red, Red Wine", on the other hand, remained a relatively obscure song for many years until a rearranged, reggae version was recorded by UB40 in 1983, becoming that band's biggest hit and prompting Diamond to adopt this newer version for his own live performances from the late 1980s on.
"The Boat That I Row" was the third single released by Diamond in 1966. It contains a Latin, uptempo rhythm and uptempo acoustic and hand claps like its predecessor "Cherry, Cherry", which was Diamond's first ever Top Ten hit as a recording artist. The song was influenced by Bert Berns, the head of Bang Records, who influenced the song's title and arrangement and features some memorable keyboard hooks by session player Artie Butler.
After hearing the hit "Cherry Cherry", Don Kirshner asked Diamond if he had a similar song that could be used by a group assembled for a new television series called The Monkees. Diamond played him "I'm a Believer", a song he had planned to record on his debut album. The Monkees rode the song to the top of the charts where it remained for a remarkable seven weeks, becoming the #1 charting song of 1966. By contrast, Diamond's own version went relatively unnoticed when it was finally released on Just For You.
Neil Diamond also wrote some personal, introspective songs. "Shilo" tells of solitude and loneliness during childhood, in a mysterious and haunting song. Berns refused to release "Shilo" as a single, believing it was too different from anything that Diamond had previously recorded and might stain his "brand". "Solitary Man" was the very first single by Diamond in early 1966 and was included on both the debut and this album. With somber lyrics about isolation and a full yet subtle brass arrangement, this initial recording would remain one of the finest throughout his long career. The album concludes with "Thank the Lord for the Night Time", an uptempo sixth single, which ends the album on a high note. The song peaked at #13 on the charts.
Neil Diamond straddled the worlds on 1960s pop music and the 1970s singer/songwriter. Although never quite recognized as a great album, Just For You may be the one original album by Neil Diamond which best reflects his most prolific songwriting period.
~

Part of Classic Rock Review's celebration of 1967 music.