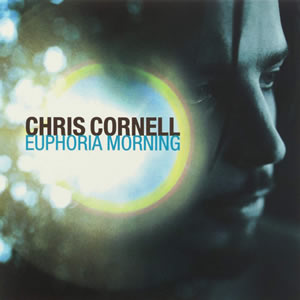 After a long but whirlwind career as the front man for Soundgarden, Chris Cornell forged his own musical direction with his 1999 debut solo record, Euphoria Mourning (originally titled Euphoria Morning). While still primarily a hard rock album, this work varies greatly from the grunge metal style of Soundgarden's prime, with the organic compositions textured with rootsy and bluesy sounds throughout. With this altering of musical direction, while critically acclaimed, the album did not sell as well as previous Soundgarden releases.
Cornell co-founded Soundgarden in the mid 1980s, with the group breaking through with Badmotofinger in 1991 and ultimately reaching their commercial pinnacle with the success of 1994's Superunknown, which topped the album charts and won multiple awards including a pair of Grammys. The highly anticipated follow up, Down On the Upside, was released two years later and featured a more experimental approach that caused creative tensions within the group and ultimately led to Soundgarden's break up in 1997.
In collaboration with Alain Johannes and Natasha Shneider of the band Eleven, Cornell began working on material for a solo album in 1998. Recording was done at their Los Angeles home studio, with the song "Sunshower" (a bonus track on some versions of Euphoria Mourning, being contributed to the Great Expectations soundtrack that year. Another song, "Heart of Honey" was recorded for the film Titan A.E., but it was not used for the soundtrack nor released on Euphoria Mourning. Cornell debated the album's title, initially capitulating to his manager at the time, who favored "morning" but later reverting back to the ironically poetic "mourning" as the title's cannon.

Euphoria Mourning

by

Chris Cornell
Released: September 21, 1999 (Interscope)
Produced by: Chris Cornell, Natasha Shneider & Alain Johannes
Recorded: 11 AD Studios, Los Angeles, 1998-1999
Track Listing
Primary Musicians
Can't Change Me
Flutter Girl
Preaching the End of the World
Follow My Way
When I'm Down
Mission
Wave Goodbye
Moonchild
Sweet Euphoria
Disappearing One
Pillow of Your Bones
Steel Rain
Chris Cornell – Lead Vocals, Guitars, harmonica
Alain Johannes – Guitars, Bass, Mandolin, Vocals
Natasha Shneider – Keyboards, Bass, Vocals
Josh Freese – Drums


Cornell wrote all the lyrics to the songs, while Johannes and Shoeider composed the music on select tracks. The first of these is the opener
"Can't Change Me", which starts with a dramatic intro before quickly dissolving into the rock/waltz verse. The first single released from Euphoria Mourning, this opener features very melodic vocals over deliberative chord structure put forth in a pop/rock way. "Flutter Girl" follows with a slightly more alternative bent led by treated rhythms and guitar effects. This song originated during the Superunknown sessions, half a decade earlier. The introspective, acoustic ballad "Preaching the End of the World" is beautifully composed and produced with plenty of diverse textures and sound effects above the melancholy singer/songwriter core of the track, while "Follow My Way" is a moderate and deliberative rocker with some odd time signatures and a few upper gear's of Cornell's vocal intensity.
Next comes the bluesy jazzy club tune "When I'm Down", featuring Cornell's slightly crooning vocals along with light backing vocals. "Mission" reverts back to harder alternative rock, while "Wave Goodbye", a tribute to the late great Jeff Buckley, is a slow and sloshy melodic blues tune. "Moon Child" cleverly adds country/psycedelic guitar leads to a moderate and consistent pop/rocker, followed by the acoustic "Sweet Euphoria" which features plenty of divergent chord structures.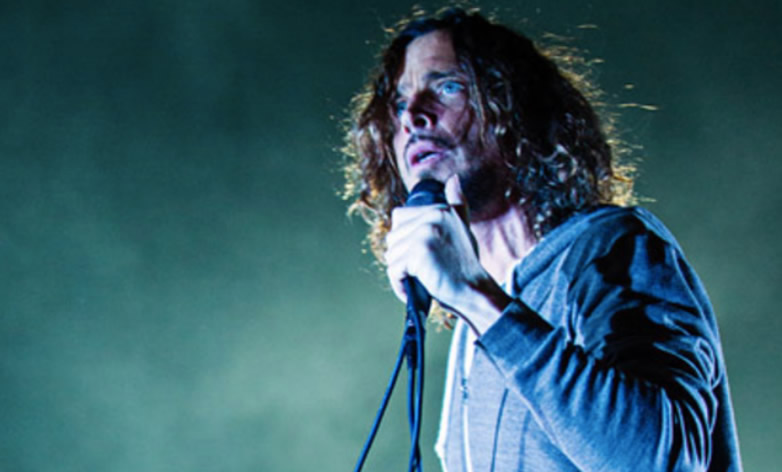 "Disappearing One" brings us back to a classic Soundgarden sound with great vocals above super-produced sound textures. "Pillow of Your Bones" has a unique title with a unique stylistic blend of traditional blues and Indo/Eastern elements along with fine execution of rhythmic elements by Josh Freese. With droning, slow alt/acoustic verses and choruses that have majestic vocals while maintaining tempo and feel, "Steel Rain" ends the original album at an unexpected place with an upbeat bass line, extra percussion and electronic effects accompanying the whining guitars. The later added "Sunshower" may be Cornell's definitive solo work as an extraordinary melancholy romantic tune driven by a classical sounding dual acoustic soon topped by persistent modulating electric guitar. This song's chord composition employs both moody descending and unique divergent patterns all to complement Cornell's classic rock vocals.
While Euphoria Mourning sold over 75,000 in its first week reaching the Top 20 in both the US and Canada, the album ultimately proved commercially unsuccessful. Still, this album was critically acclaimed and acted as an important stepping stone between Cornell's work with Soundgarden and the future group Audioslave, formed early in the new century.
~

Part of Classic Rock Review's celebration of 1999 albums.