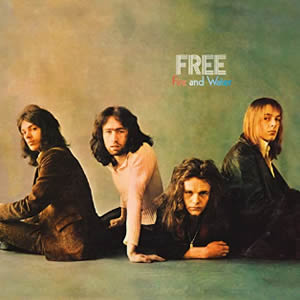 The 1970 album Fire and Water was the third studio album by Free and it proved to be the breakthrough of the group's short but prolific career. The album showcases the British quartet at the peak of their blues rock talents and is at once strongly roots oriented while being sonically innovative. Fire and Water achieved worldwide commercial success, reaching the Top 20 in the US and climbing to #2 on the UK album chart, while staying on that chart for a total of 18 weeks.
Free was formed in London, England in April 1968 when guitarist Paul Kossoff and drummer Simon Kirke of the band Black Cat Bones joined vocalist Paul Rodgers and bassist Andy Fraser to form the new group. All four members were teenagers at the time of formation but their sparse, straight forward blues rock sound got them quickly noticed and the band was signed to Island Records within the year. Free recorded and released two albums in 1969, their debut Tons of Sobs and their self-titled follow-up, but these failed to achieve any notable commercial success or chart movement. However, the group was quickly becoming renowned for their live shows and non-stop touring. In fact, the group gained an American audience not from their studio albums but due to successful tours opening for Delaney and Bonnie and Blind Faith.
Fire and Water was recorded in London during early 1970 and it was largely self-produced by the group members with the assistance of John Kelly and future Queen producer Roy Thomas Baker. These sessions stretched out over several months as the group continued its relentless touring schedule.

Fire and Water

by

Free
Released: June 26, 1970 (Island)
Produced by: Roy Baker, John Kelly & Free
Recorded: Trident Studios & Island Studios, London, January–June 1970
Side One
Side Two
Fire and Water
Oh I Wept
Remember
Heavy Load
Mr. Big
Don't Say You Love Me
All Right Now
Group Musicians
Paul Rodgers – Lead Vocals
Paul Kossoff – Guitars
Andy Fraser – Keyboards, Bass
Simon Birke – Drums, Percussion
Most of the tracks on Fire and Water were written by Fraser and Rodgers, starting with the opening title track, a song frequently covered through the years. "Fire and Water" sets the pace by featuring simple riffing and beat to back Rogers' soulful rock vocals, with Kossoff's droning lead section and Birke;s closing drum solo addsing much needed contrasts to make this an interesting rock anthem. Next comes "Oh I Wept", the real highlight of the album's first side. Here Fraser's electric piano backs Rogers' excellent Stevie Wonder-like vocals as this moderate ballad builds some power through the choruses and a short, bluesy guitar lead.
"Remember" is a reworking of an unused song originally titled "Woman by the Sea" from the debut Tons of Sobs recording sessions in late 1968 where Rogers shows yet another element to his vocals. "Heavy Load" is a piano ballad where Fraser shines on both bass and piano as the rhythms nicely fade to the background for a dreamy lead guitar section. Written by all four group members, "Mr. Big" is a slow jam structured to have a more intense instrumental section sandwiched between the definitive rock verses and choruses, while "Don't Say You Love Me" is a slow, blues ballad with Rodgers vocals oriented towards soul complete with a Gospel-like choir in the background later in the song.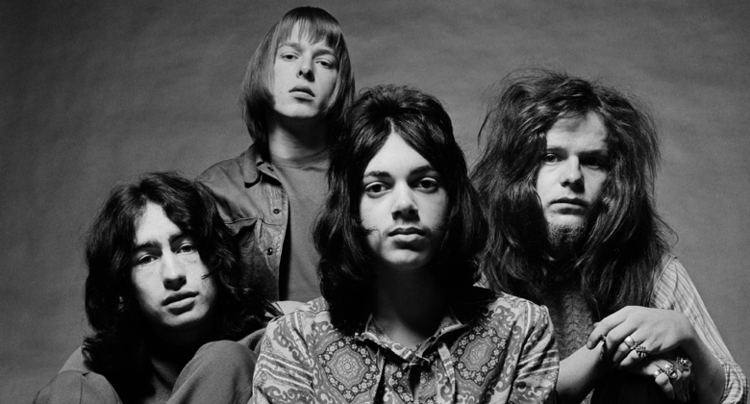 The indelible number from this album is saved for the closer. "All Right Now" is a simple anthem built from a well-defined riff, beat and love song lyrical motifs. However, the unique element for this classic is the mid section which starts with a slight guitar lead over a drum shuffle before Kossoff's second, more bluesy lead guitar is placed on top of Fraser's signature bass and piano rhythms. The song was written on the spot following a show where the group was dissatisfied with their performance and audience response and decided they needed an uptempo rocker to close shows. Initiated by Fraser, the group composed this anthem in about "ten minutes" right there in the post-show dressing room and "All Right Now" went on to be a worldwide chart-topper and Free's most popular song.
With the success of Fire and Water, Free appeared destined for superstardom in the 1970s. However, the road would not be so smooth as the group broke up temporarily in 1971 and permanently the following year as Fraser departed and Kossoff developed a drug addiction which ultimately took his life at age 25. In 1973, Rodgers and Kirke became half of the new group Bad Company, a band which fully realized the top-level potential that Free had shown earlier in the decade.
~

Part of Classic Rock Review's celebration of 1970 albums.