This album review is provided by Mike Fishman, who has written about Van Morrison for the Mystic Avenue blog and writes about film for IndependentFilmNow.com.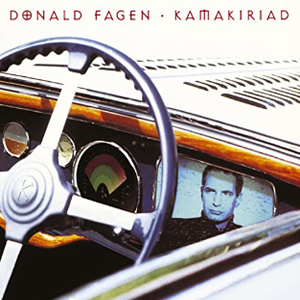 Kamakiriad (1993) was Donald Fagen's second solo album, part of a trilogy book-ended by The Nightfly (1982) and Morph The Cat (2006) and was nominated for a Grammy for Album of the Year. The eight-song cycle of Kamakiriad relates the futuristic adventures of the narrator's journey in his high-tech car, the Kamakiri (Japanese for praying mantis). Kamakiriad was produced by Fagen's musical partner, Walter Becker, who also provides impressive bass and guitar throughout. The album marked the first collaboration between Fagen and Becker since 1980's Gaucho, which at the time was the most recent album by Steely Dan. Fagen handled the horn arrangements, working with latter-day Steely Dan stalwarts Cornelius Bumpus, Roger Rosenberg and Jim Pugh. The songs follow the Steely Dan template of cool swing horns and tasty solos (though more lyric-heavy than typical Steely Dan) and the blending of the sardonic and sincere that defined such classics as "Charlie Freak" and "Deacon Blues."
The album kicks off in jaunty style with "Trans-Island Skyway," Fagen singing in his high range, occasionally reminiscent of late-period Ray Charles. Horns swing in for background support while Christopher Parker's drums drive the proceedings. The song hits an infectious groove as Fagen and the back-up singers repeat the line, "Come on, daddy, get in let's go."
"Countermoon" follows in a darker mood with horns and bass prominent and some powerful drumming again from Parker. Spare guitar floats throughout and a bleating tenor sax solo (attributed to Illinois Elohainu, actually Fagen himself playing a saxophone sample on keyboards) leads the song to its conclusion. The somewhat static melody is enlivened by Fagen biting off lines such as "Gotham shudders/There's a chill in the air," while growing tender on the lines "At every pay phone there's somebody cryin'/All the streets are slick with tears/There's a heartquake on the way." Amy Helm humorously chimes in with the line, "You're not my Jackie, my Jackie was the best."

Kamakiriad

by

Donald Fagen
Released: May 25, 1993 (Reprise)
Produced by: Walter Becker
Recorded: 1990-1993
Track Listing
Primary Musicians
Trans-Island Skyway
Countermoon
Springtime
Snowbound
Tomorrow's Girls
Florida Room
On the Dunes
Teahouse on the Tracks
Donald Fagen – Lead Vocals, Keyboards
Walter Becker – Guitars, Bass
Randy Brecker – Trumpet, Flugelhorn
Cornelius Bumpus – Saxophone
Leroy Clouden – Drums, Percussion

Becker's funky bass drives the third song, "Springtime," which features strong backing horns and a smattering of evocative keyboards. Fagen's sweet and sour sensibility, not to mention his fondness for pulpy sci-fi, is apparent in the opening lines about a "spicy new attraction" where "you can scan yourself for traces of old heartache." Fagen notably name-checks Coltrane.
The album hits the first of two high points with "Snowbound," a gorgeous jazzy outing with shimmering Hammond B3 Organ from Paul Griffin and tantalizing guitar. Percussion adds flavor as Fagen basks in his particular version of nice and easy that may remind some listeners of "Maxine" from The Nightfly. The song features an extended coda, ending with a crash of cymbals that feels ironic. A line about a critic opining "The work seduces us with light" may be a reference to Anthony Hecht's poem "More Light! More Light!" Fagen studied poetry with Hecht at Bard College in the 1960's and references the poem on "Slinky Thing" from Sunken Condos (2012), his fourth solo release.
"Tomorrow's Girls" is the albums most overtly science fiction song, warning of girls from outer space, "a virus wearing pumps and pearls" hunting lonely guys. Strong drumming from Leroy Clouden propels the tune with spare horns swelling in and out. Becker's insistent guitar makes the song feel as if it could fit on his own solo album, the superb Circus Money (2008). A gentle break in the song's latter half finds Fagen crooning about "warm night breezes start rolling in off the sea."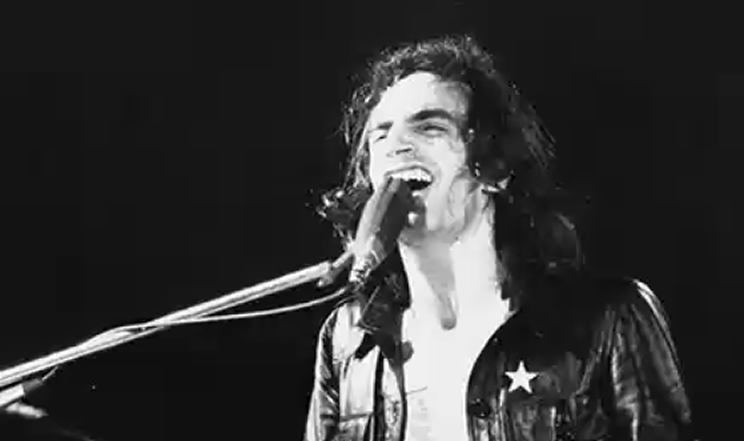 The album hits its second high point with the bouncy "Florida Room," showcasing tight swinging horns, an extended tenor sax solo from Cornelius Bumpus and warm keyboards. The album's most breezy tune, it features a memorable, pleasingly-earworm chorus.
Clocking in at eight minutes, the longest song on the album, "On The Dunes," continues the smooth jazz mood but with a hint of the blues and a downbeat theme of loneliness. Percussion adds texture and Parker tosses in a few drum rolls as Becker provides some funky bass lines. Cornelius Bumpus's tenor sax sounds like it's blowing across a peaceful beach at sunset and melds with Fagen's heartfelt vocalizing to recall "Deacon Blues." An extended ending allows for a full three minutes of gentle jamming and might have made for the perfect album closer.
Instead the album closes with the danceable if not completely exhilarating "Teahouse On The Tracks," with our protagonist back in his Kamakiri and heading "for the light." A lengthy trombone solo from Birch Johnson, some funky keyboards, good time party background vocals and a line from Fagen about "the groovessential facts" help enliven the song. The concept album thus ends neatly, with our protagonist back on the road heading for further adventures.
~

Part of Classic Rock Review's celebration of 1993 albums.