Buy Mellon Collie and the Infinite Sadness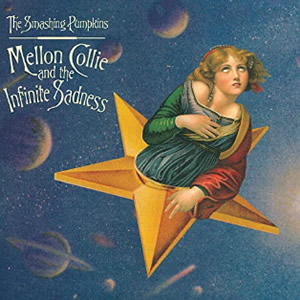 Smashing Pumpkins went all in on their third release, the super-sized, 28-track Mellon Collie and the Infinite Sadness and remarkably this worked both critically and commercially. With five hit singles, this two-disc CD / triple LP features a wide variety of styles and musical sub-genres as well as balanced input from all group members. This 1995 album debuted at number one in the US and, in spite of its inflated price as compared to single LPs, has sold more than 10 million units to date.
The group was formed in Chicago in 1988 by vocalist/guitarist Billy Corgan and guitarist James Iha and slowly built a dedicated audience. With the mainstream breakthrough of alternative rock, Smashing Pumpkins had an immediate breakthrough with their 1991 debut Gish and even greater success with their sophomore effort Siamese Dream in 1993. While both of those successful albums were produced by Butch Vig, the group wanted to move in a totally new direction for this third album.
Corgan wrote over 50 songs in early 1995 before the band went into the studio with producers Flood and Alan Moulder, who worked hard to capture the energy of their live shows. Corgan described their ambition to deliver "The Wall for Generation X", with the songs loosely tied conceptually with the cycle of life and death and the contrast between night and day.

Mellon Collie and the Infinite Sadness

by

Smashing Pumpkins
Released: October 24, 1995 (Virgin)
Produced by: Alan Moulder & Billy Corgan
Recorded: Chicago Recording Company, Chicago & The Village Recorder, Los Angeles, March-August 1995
Disc One, Dawn to Dusk
Disc Two, Twilight to Starlight
Mellon Collie and the Infinite Sadness
Tonight, Tonight
Jellybelly
Zero
Here Is No Why
Bullet with Butterfly Wings
To Forgive
Fuck You (An Ode to No One)
Love
Cupid de Locke
Galapogos
Muzzle
Porcelina of the Vast Oceans
Take Me Down
Where Boys Fear to Tread
Bodies
Thirty-Three
In the Arms of Sleep
1979
Tales of a Scorched Earth
Thru the Eyes of Ruby
Stumbleine
X.Y.U.
We Only Come Out at Night
Beautiful
Lily (My One and Only)
By Starlight
Farewell and Goodnight
Group Musicians

Billy Corgan – Lead Vocals, Guitars, Piano, Keyboards
James Iha – Guitars, Vocals
D'arcy Wretzky – Bass, Vocals
Jimmy Chamberlin – Drums, Vocals
Mellon Collie and the Infinite Sadness features subtitles for each of its two discs, with the first named "Dawn to Dusk". After the mellow, title instrumental comes the orchestral arrangement of "Tonight, Tonight". Corgan has said that the song pays homage to Cheap Trick while the song's lyrics have been compared to the poem "To the Virgins, to Make Much of Time" by Robert Herrick. All of the various guitars on the album were tuned down a half-step from standard to give it an edgier sound with "Jellybelly" using an even lower sixth string. "Zero" was the first song recorded for the album and it has six acoustic and rhythm guitars while "Here Is No Why" features a fine guitar solo. "Bullet with Butterfly Wings" ultimately became the group's first Top 40 hit on its way to receiving a Grammy Award for Best Hard Rock Performance with it's signature hook;
"despite all my rage, I'm still just a rat in a cage…"
The simple track "To Forgive" is followed by the raw power and intensity of "Fuck You (An Ode to No One)", backed by the rhythms of drummer Jimmy Chamberlin.  "Cupid de Locke" is an inventive, psychedelic ballad and "Galapogos" is a methodical piece that slowly builds but never really explodes. One of the last songs written for album was "Muzzle", the fifth and final single from this album. At nine and a half minutes, the deliberative "Porcelina of the Vast Oceans" is one of the most musically awarding pieces on the album with a long intro, interesting rhythms by bassist D'arcy Wretzky and vast guitar overdubs. Iha's "Take Me Down" wraps up the first disc as the most mellow of ballads.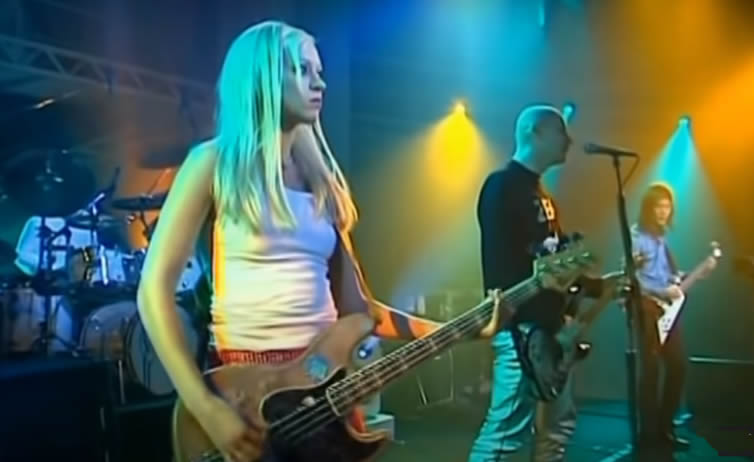 Disc two is subtitled "Twilight to Starlight" and here the album gets more delicate, inventive and overall easier to listen to. "Thirty-Three" was the fifth and final single from the album, and was another Top 40 hit, while "In the Arms of Sleep" is a fine, romantic ballad. The undisputed classic on the album is "1979", with all the best elements of 1990s alternative. Written as a nostalgic coming of age story, features sample vocals looped throughout or and distinct, ethereal effect.
The rich, musically superior "Thru the Eyes of Ruby" unfortunately lacks in good melody, while "We Only Come Out at Night" has a good, chanting hook over a medieval-like harpsichord and a distant beat. Wretzky offers harmonized vocals on the Prince-like electro-ballad "Beautiful" as "Lily (My One and Only)" is a fine sing/songy tune with a good, lo-fi piano along with some mellotron for further effect and a bit of an insane feel which is solidified by the final line "as they were dragging me away, I swear I saw her raise her hand and wave goodbye". "By Starlight" builds into a fine piece due to its layered guitars leading to the album's final track "Farewell and Goodnight", which features lead vocals by all four band members.
Praised as an ambitious and accomplished work, Mellon Collie and the Infinite Sadness was a worldwide success as it topped or neared the top of the charts in several countries. The group embarked on a world tour to support the album, during which time Chamberlain left the ban due to personal issues. It would be three years before Smashing Pumpkins would release their next album, Adore, which featured another significant change of style.
~

Part of Classic Rock Review's celebration of 1995 albums.