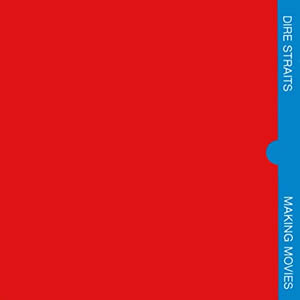 In 1980 Dire Straits made a theatrical rock masterpiece with their third studio album, Making Movies. This record features many extensive, personally themed compositions by Mark Knopfer with complex arrangements finely performed by the trio. Featuring a subtle yet substantial move away from the group's roots rock origins and into a fusion of jazz, folk and country-rock methods, the record was the keystone marking the excellent career of this British band.
Initially known as the Café Racers, London-based Dire Straits was formed by Mark and his younger brother David Knopfler in the mid 1970s. The group's self-titled debut album was released in 1978 to worldwide commercial success. The group relentlessly toured Europe, North America and eventually the world to promote their music through 1978 and 1979, taking a break only to record the group's second album, Communiqué, released in June 1979. to continuing critical and commercial success. in early 1980, the group took several months to write new material.
Recording for Making Movies began in July 1980 with producer Jimmy Iovine, who had worked on Bruce Springsteen's classics Born to Run and Darkness On the Edge of Town. Iovine brought in E-Street Band keyboardist Roy Bittan for the sessions, adding much to the theatrical vibe of Making Movies. However, there were creative tensions between the brothers and this ultimately led to David Knopfler leaving the group midway through recording, with none of his parts being used on the final product.

Making Movies

by

Dire Straits
Released: October 17, 1980 (Warner Bros.)
Produced by: Jimmy Iovine & Mark Knopfler
Recorded: Power Station, New York, June – August 1980
Side One
Side Two
Tunnel of Love
Romeo and Juliet
Skateaway
Expresso Love
Hand in Hand
Solid Rock
Les Boys
Group Musicians
Mark Knopfler – Lead Vocals, Guitars
John Illsley – Bass, Vocals
Pick Withers – Drums, Vocals
The album opens with a short extract from Rodgers and Hammerstein's "The Carousel Waltz" as part of a complex entry to the over-eight minute suite "Tunnel of Love". The scene is set with carnies and bad ass tattoos as they pull the lever and start your ride.  Knopfler's guitar is really strong in this song (as with most of the album) and after the unique introduction the song is pretty steady for for the verses and choruses until it really starts to get creative starting with the pre-solo section where it pauses for choppy rudiments and several drum fills by Pick Withers. Later it completely breaks down in Springsteen-like fashion (kind of coincidental that he made his own Tunnel of Love later in the decade), before it then finally comes back up for a very long and excellent guitar coda to close the song. The fantastic, bittersweet "Romeo and Juliet" follows with a contemporary take on Shakespeare's story of young star crossed lovers who "come up on different streets." The music ebbs and flows as it kind of gets soft with Knopfler's signature riff backing when he's telling the story and then pointed emotionally as the music gets loud and the arrangement comes in stronger. Released as a single in 1981, the song reached the Top Ten in the UK and it has grown in stature over the years as it's been featured in several major motion pictures.
The album's best moment comes at the end of the original first side with "Skateaway", perhaps the best overall song by the group through their career. Lyrically, it focuses on a young Hollywood starlet who goes against convention and tries to be a free spirit whether she is succeeding or not. There's a rebelliousness to her skating through traffic going the wrong direction, which may be a parable for the difference between her perception of life and the observable outside reality, which gives the story  a sense of melancholy that shines through the fantastic musical arrangement. It comes in and fades out like a train chugging along with a mix between a synthesized and real drumbeat and  some layered percussion including a tambourine. Withers and bassist John Illsley hold it together rhythmically, leaving enough room for Knopfler  to deliver the lyrics.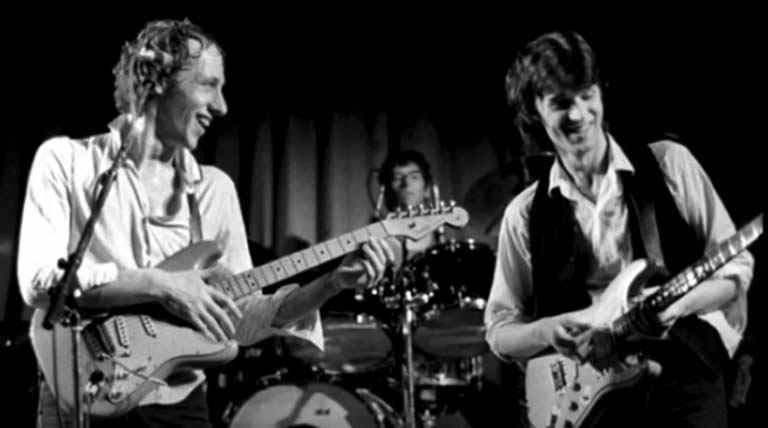 The original second side of Making Movies features four songs less complex and closer to standard running times. "Expresso Love" is just straight up rock n' roll with strong guitar riffing and lyrics about a sad life of some glamorous woman getting ready to go out on the town, perhaps a prostitute. In contrast, "Hand in Hand" is a mellow ballad about looking back and reminiscing over a relationship and how it morphed from a simple "hand-in-hand" situation to something more complex with a lot of little variables. The aptly named revivalist rock of "Solid Rock" is the band at its simplest and basically an attempt at a radio hit, leading to the odd "Les Boys". This closer is a departure in a way but it still stays on the same theme of theatrics, while it explores the cabaret scene and the queens that grace the stage.
Making Movies was a worldwide success and was later certified platinum in the US and double-platinum in the UK. The group continued to build their success through the 1980s with the 1982 album Love Over Gold and, most especially, the blockbuster Brothers In Arms in 1985, which ultimately became one of the best selling albums ever worldwide.
~
Part of Classic Rock Review's celebration of 1980 albums.