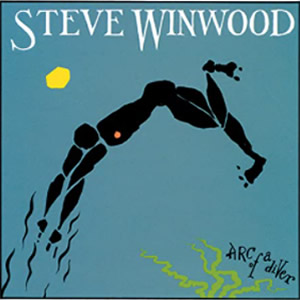 Arc of a Diver is a true "solo" record by Steve Winwood  as he played every instrument and recorded and produced the album in his private studio. The album was a breakthrough for Winwood as a solo artist and it marked a return for him to the top echelon of pop/rock artists as he adapted technology to forge an original contemporary sound for his compositions. The only real collaboration on Arc of a Diver involved the lyrics of the songs, most of which were penned by American songwriter Will Jennings.
Winwood had been in the public eye since the early 1960s, when at age 14 he joined the Spencer Davis Group. The group had a trio of number one hits before Winwood departed in 1967. Next, he joined forces with Eric Clapton in a couple of "supergroups" – Powerhouse in 1966, and Blind Faith in 1969. In between, Winwood spent two phases with the group Traffic, as a supporting player in the late sixties version and taking the lead in his second stint with classic albums such as John Barlycorn Must Die (1970) and The Low Spark of High-Heeled Boys (1971). After departing Traffic in the mid 1970s, Winwood launched his solo career with his self-titled debut album in 1977.
Winwood built Netherturkdonic studio on his farm in Gloucestershire, England and began composing and recording music on keyboards, guitar, bass, drums, and percussion. As the compositions matured, he looked outside for lyrics with Jennings, Viv Stanshall, and George Fleming contributing.

Arc of a Diver

by

Steve Winwood
Released: December 31, 1980 (Island)
Produced by: Steve Winwood
Recorded: Netherturkdonic Studios, Gloucestershire, England, 1980
Side One
Side Two
While You See a Chance
Arc of a Diver
Second-Hand Woman
Slowdown Sundown
Spanish Dancer
Night Train
Dust
Musician
Steve Winwood – Lead Vocals, Guitar, Piano, Keyboards, Bass, Drums, Percussion
The complex synth chords swell like a sunrise to launch the opening track, "While You See a Chance". When it fully kicks in, this track features solid melodies over complex musical passages and rhythms which patiently make their way to the hook and ultimately the outro, a potent mix that found favor with many types of listeners. The song peaked in the Top 10 in 1981, making it Winwood's first hit as a solo artist. Next comes the title track with lyrics provided by Stanshall and music built through a funk synth array. The sound is tight with a warm feeling of a graceful arc portrayed.
"Second-Hand Woman" has the most evident, thus far, programmed synth music and features a good use of synth fretless bass, while "Slowdown Sundown" changes direction as a fine acoustic and piano ballad with a soulful organ throughout and reflective lyrics about wanting moments to last longer. The groove-laden "Spanish Dancer" has a subtle synth arpeggio in the background which persists throughout with little variation. Lyrically, the song seems to be a metaphor for a feeling that you just don't want to end.
"Night Train" is an all out funk/dance song and was a minor hit from the second side of the album. A long intro serves to drive the groove home before Winwood's vocals, equally as patiently, work towards the catchy pop hook. The final track, "Dust", is a hybrid between the album's digital and analog approach. This moderate breakup song does seem artificially lengthy, but Winwood's vocals are at their finest on this one.
Arc of a Diver nearly reached the top of the Billboard 200 album chart and Winwood was established as a commercially viable act in the 1980s, with 1986's Back In the High Life being the commercial apex of his career.
~
Part of Classic Rock Review's celebration of 1980 albums.