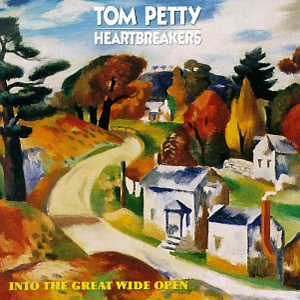 Tom Petty continued his impressive commercial success as a new decade unfolded with Into the Great Wide Open, the eighth studio album by Petty and The Heartbreakers. This album combined the group's traditional rock sensibilities, dating back to the mid 1970s, with the mainstream production techniques of his various projects of the late 1980s. With this combination, Into the Great Wide Open received various bits of warm critique to go along with its pop success in 1991.
Petty's previous album with the Heartbreakers, 1987's Let Me Up (I've Had Enough), received mixed reviews and was the first album by the group not to reach the Top 10 of the US album charts in nearly decade. The following year Petty formed the supergroup The Traveling Wilburys along with George Harrison, Bob Dylan, Roy Orbison and Jeff Lynne and their debut album, Volume One, had great success. Even greater success followed in 1989 when Petty released his debut solo album, Full Moon Fever, which was co-produced by Lynne and included four Top 40 singles. Heartbreakers guitarist Mike Campbell was the only member of the backing group to play on Full Moon Fever.
With expectations very high, Petty once again enlisted Lynne as co-producer for Into the Great Wide Open and the pair employed a methodical, nearly formulaic approach to the compositions. Lynne also played various instruments throughout, which seemed to limit much of the Heartbreakers' expressiveness and offered the group members sparse moments to shine musically and rhythmically.

Into the Great Wide Open

by

Tom Petty & the Heartbreakers
Released: July 2, 1991 (MCA)
Produced by: Tom Petty, Mike Campbell & Jeff Lynne
Recorded: Rumbo Recorders, Studio C, Canoga Park, CA, 1990 – 1991
Track Listing
Group Musicians
Learning to Fly
Kings Highway
Into the Great Wide Open
Two Gunslingers
The Dark of the Sun
All or Nothin'
All the Wrong Reasons
Too Good to Be True
Out in the Cold
You and I Will Meet Again
Makin' Some Noise
Built to Last
Tom Petty – Lead Vocals, Guitars, Keyboards
Mike Campbell – Guitars, Vocals
Benmont Tench – Piano, Keyboards, Accordion
Howie Epstein – Bass, Vocals
Stan Lynch – Drums, Percussion
The album's first three tracks were the most radio-friendly. "Learning to Fly" features moderately picked harmonized chords to leave an indelible musical impression, along with with Campbell's later slide guitar expertly cutting through the pristine soundscape. The song became one of the top hits for Petty and the Heartbreakers. "Kings Highway" follows as a crisp, driving rocker with subtle guitar layers and a simple hook and message with the promise of better days. The album's title song is a slightly dark folk storyteller with more fine slide guitars and some memorable rudiments that drive the song along.
"Two Gunslingers" is actually a song of peace with much allegory and the lyrical epiphany of "taking control of one's life", while "The Dark of the Sun" has a quasi-pop-country feel which morphs into harder rocking later, making for a potent and diverse track. "All or Nothin'" is an intense, dark rocker with Campbell's slide topping a steady thumping rhythm by bassist Howie Epstein, while "All the Wrong Reasons" leans towards more traditional folk lyrically with Benmont Tench adding some accordion for color and Byrds' legend Roger McGuinn providing backing vocals.
After the forgettable track "Too Good to Be True", the album's second side becomes more interesting starting with the refreshing hard rocker, "Out in the Cold", featuring Petty's more expressive and strained vocals. "You and I Will Meet Again" is solo composition with a classic Petty feel that leaves plenty of room for musical chops by each lead player, while "Makin' Some Noise" features interesting, rockabilly-style riffs that are later contrasted by a short but effective wah-wah fused lead by Campbell. The closer, "Built to Last" has an overall sound different than anything else on the album, rhythmically deadened but pleasant throughout.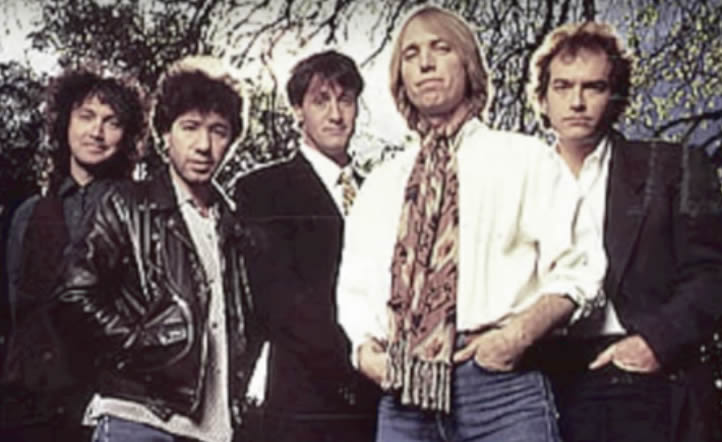 Into the Great Wide Open would turn out to  be the final studio release on the MCA label as well as the final with drummer Stan Lynch, who was replaced by Steve Ferrone in 1994. To wrap up their decade and a half with MCA, the group released a Greatest Hits album in 1993, which became their top seller over all and went platinum a dozen times over.
~
Part of Classic Rock Review's celebration of 1991 albums.