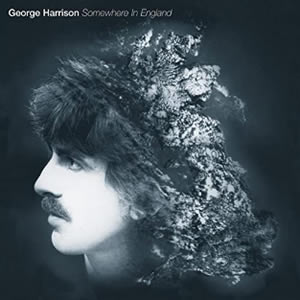 Somewhere in England was an arduous and frustrating album to produce for George Harrison, taking more than a year to release. The album was critically panned as the material is a bit uneven, ranging from themes of frustration and panic to those of divinity and bliss. However, it is a clear beacon in history as it was recorded shortly before and in the wake of the tragic assassination of Harrison's former Beatles bandmate John Lennon and it briefly brought together the surviving members of that classic band.
After the Beatles broke up in 1970, Harrison had great solo success with the release of the triple album All Things Must Pass and it's follow-up, 1973's Living In the Material World. However, his output during the mid to late 1970s received relatively less critical acclaim and commercial success. Harrison began a gradual retreat from the music business as the decade ended.
Harrison began recording Somewhere in England, his ninth overall solo record, in March 1980. He first delivered it to Warner Bros. Records, his distributor, in late September of that year. However, the initial draft was rejected and Harrison reworked much of the material over the subsequent six months at his Friar Park studio in Henley-on-Thames. During this time three new songs were developed and added to the album while four tracks were cut from the final release.

Somewhere in England

by

George Harrison
Released: June 1, 1981 (Dark Horse)
Produced by: Ray Cooper & George Harrison
Recorded: Friar Park Studio, Henley-on-Thames, England, March 1980-February 1981
Side One
Side Two
Blood From A Clone
Unconsciousness Rules
Life Itself
All Those Years Ago
Baltimore Oriole
Teardrops
That Which I Have Lost
Writing's On The Wall
Hong Kong Blues
Save The World
Primary Musicians
George Harrison – Lead Vocals, Guitars, Keyboards
Neil Larsen – Piano, Keyboards
Willie Weeks – Bass
Jim Keltner – Drums
Harrison's frustration is clear on the album's first two tracks, the Caribbean-flavored, rhythmic "Blood from a Clone", which critiques the soullessness of the music industry and the upbeat jazz of "Unconsciousness Rules", which features a signature guitar riff and prominent brass throughout. "Life Itself" follows and is Gospel-like but with Harrison's signature guitar on top. The spiritual lyrics offer praise to Christ, Vishnu, Jehovah and Buddha, as Harrison believes in the concept of a universal deity.
The obvious indelible track from this album is "All Those Years Ago", musically built on the fantastic electric piano and synths of Al Kooper along with some fine synths and slide guitars by Harrison. The song was originally written for Ringo Starr to sing on his upcoming solo record and Starr's version was recorded in November 1980 but he was not quite satisfied with it. After Lennon's death the following month, Harrison took the track back and rewrote it as a tribute to him. Starr's drumming on the track was maintained and Paul McCartney and his Wings' bandmates were brought in to provide backing vocals, making this the first recording on which Harrison, McCartney and Starr all appeared since the Beatles' "I Me Mine" on 1970's Let It Be. "All Those Years Ago" was released as the album's leading single in May 1981 and it instantly became a worldwide hit.
Harrison recorded two 1940s-era songs from jazz-oriented songwriter Hoagy Carmichael. "Baltimore Oriole" features a lead sax right from the top by Tom Scott, counter-balanced by Harrison's fine slide acoustic guitar, while "Hong Kong Blues" is a short but entertaining Americana jazz/folk composite. Both of these songs were originally featured in the 1944 film To Have and Have Not.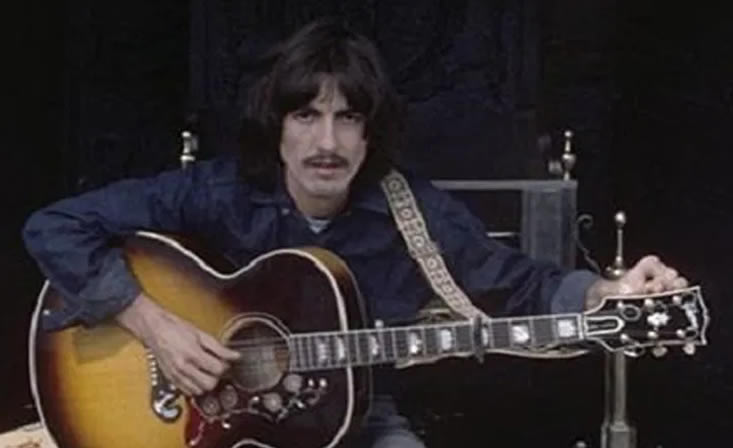 Somewhere in England's second side features some diverse listening, starting with the pure 80s pop of "Teardrops", which was issued as the second single off the album. Two of the more interesting tracks follow, with "That Which I Have Lost" featuring rootsy country acoustic with slide electric riffs and fine fretless bass and "Writing's on the Wall" having a slight synth organ with a rich musical arrangement. The whimsical, upbeat closer "Save the World" is cut by moody slide guitars and plenty of lyrical moralizing throughout this overall pleasant musical listen.
While Somewhere in England did reach the Top 20 in both the UK and US, it's chart run was relatively brief. After the follow-up 1982 album, Gone Troppo fared even worse, Harrison retreated from the music industry for half a decade.
~

Part of Classic Rock Review's celebration of 1981 albums.