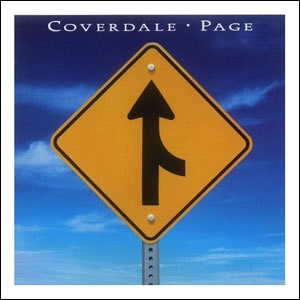 Coverdale/Page was a collaboration featuring former Led Zeppelin guitarist Jimmy Page and former Whitesnake and former Deep Purple lead vocalist David Coverdale. The union of these two seemed like an odd one when it started in 1991, as Page was considered a top-notch guitarist for all time and Coverdale had been criticized as being a knock-off (even rip-off) of Zeppelin's vocalist Robert Plant. However, Coverdale's commercial currency was riding high at the beginning of the nineties, due mainly to the recent commercial heights of Whitesnake while Page's post-Zeppelin success had been sluggish in the 1980s, save for a brief run with The Firm.
Since Led Zeppelin disbanded after the death of John Bonham in 1980, rumors of a reunion were always present. By the early 1990s, these rumors had reached a fevered pitch and it appeared as though a reunion may finally come to fruition. However, Plant reportedly began to have reservations which ultimately nixed the plan. Because of this, many have suggested that Page collaborated with Coverdale in order to somewhat "irk" Plant, by collaborating with this "newer model" of the singer. It may have worked, as Plant expressed some derision at the guitarist's collaboration with Coverdale in interviews at the time.
The project officially began with some low grade recordings by the Coverdale-Page duo in 1991. The album tracks for the eponymous album were then recorded in several studios on both sides of the Atlantic over the winter of 1991/92. However, the album itself was delayed in post production for over a year until it was finally released in March 1993.

Coverdale-Page

by

Coverdale-Page
Released: March 15, 1993 (EMI)
Produced by: Jimmy Page, David Coverdale, & Mike Fraser
Recorded: Little Mountain Studios, Vancouver, Criteria Studios, Miami, Highbrow Productions, Hook City, NV & Abbey Road Studios, London, Late 1991 to early 1992
Track Listing
Primary Musicians
Shake My Tree
Waiting On You
Take Me for a Little While
Pride and Joy
Over Now
Feeling Hot
Easy Does It
Take a Look at Yourself
Don't Leave Me This Way
Absolution Blues
Whisper a Prayer for the Dying
David Coverdale – Lead vocals, Guitar
Jimmy Page – Guitars, Bass, Dulcimer, "Electric Dog", Harmonica
Lester Mendez – Keyboards
Denny Carmassi – Drums, Percussion
"Shake My Tree" starts things off as a very Zeppelin-esque, super-charged blues rock anthem. The song builds tension through the first two verses as Page's guitar and Coverdale's voice carry the day until a the rest of the band come in with a "fire one" approach, making this a very formidable opener. The key riff for the song had actually been developed by Page during the sessions for Zeppelin's final album In Through The Out Door, recorded in 1978. It was discarded then and even passed up by Page's mid eighties group, The Firm. The Zeppelin-esque riffing of "Waiting on You" follows with some interesting stop/start rudiments, while the drumming and bass is definitely more Whitesnake than Led Zeppelin.
Speaking of Whitesnake, "Take Me for a Little While" could have fit well on any of their 1980s albums. A very moody power ballad, with just enough arrangement pizazz to keep it from the caricature realm of groups like Poison. "Pride and Joy" is a bit more original. Conceived by Coverdale as a Dr. John-style blues tune before Page brought it to a whole new level with layered guitars and a dulcimer added on top (an instrument Page hadn't recorded since "That's the Way" on Led Zeppelin III). During the second part of the song, Page plays a much stronger electric riff, which nicely counter-balances the song's feel. "Shake My Tree" earned considerable radio airplay at the time.
Slower rock tracks also are prevalent on the album, such as the "Kashmir"-like "Over Now", which sounds like some of the tracks from Page's brief solo career. Former Montrose drummer Denny Carmassi leads a fast rock shuffle behind "Feeling Hot", while bassist Jorge Casas adds some melodic and bouncy bass to "Easy Does It". But there is no doubt that this album is dominated by the two men who give its name. "Take a Look at Yourself" is almost a love song, with measured, strummed guitars by Page, a very melodic vocal hook, and some fine wailing by Coverdale towards the end.
The album ends strong with two quality tracks. "Absolution Blues" is almost a hybrid between Pink Floyd and Deep Purple, with Page providing the fine yet vastly different guitar parts for both sides of the equation. "Whisper a Prayer for the Dying" closes with more strong acoustic guitars and bass before it rips into frenzied part with strong riffs and wailing vocals.
Despite alt-rock dominating the charts and radio at the time, Coverdale/Page initially sold strongly, peaking at #4 in the UK and #5 in the US and eventually going platinum. But the album did soon fade from view, a proposed tour was axed, and the partnership quickly dissolved after this one album. In the end, Coverdale re-formed Whitesnake and Page finally joined up Led Zeppelin front man Robert Plant in 1994 for a couple of new albums in the mid 1990s.
~

Part of Classic Rock Review's celebration of 1993 albums.