During the year 1979, Motörhead released their second and third albums, Overkill and Bomber, two records that put this hard rock trio on the map. Overkill was an unexpected success and has gone on to be considered a major leap forward in both style and critical acclaim. Led by bassist and vocalist Lemmy Kilmister, the group forged a raw and heavy but somewhat melodic and accessible sound which forged elements of heavy blues and punk rock.
Kilmister joined the group Hawkwind in the early 1970s, which spawned some successful albums and a Top 5 single in the UK. However, he was fired by the band in 1975 after being briefly jailed on drug charges when entering Canada and forcing the band to cancel some scheduled shows. Lemmy immediately decided to form a new band and named it Motörhead after a song he had recently written. The band quickly found success and a contract with United Artists. Material for the eventual album On Parole was recorded but the label initially refused to release it because they were dissatisfied with the sound (it was ultimately also released in 1979, after Motörhead's breakthrough success). Drummer Phil "Philthy Animal" Taylor and guitarist "Fast" Eddie Clarke, both of whom would remain as the group's core trio as some original group members departed in coming years. In August 1977, the group's self-titled debut record was released and it spent a brief time on the UK Albums chart. In 1978, the group signed with Bronze Records and released a cover of the Kingsmen classic "Louie Louie", followed by a tour to promote the record.
With the minor success from this single, the group commenced recording for a new album in December 1978 with producer Jimmy Miller. The resulting Overkill album became a Top 30 album on the charts and it sparked a tour and a quick follow-up record, Bomber, which was also produced by Miller.

Overkill

by

Motorhead
Released: March 24, 1979 (Bronze)
Produced by: Jimmy Miller & Neil Richmond
Recorded: Roundhouse and Sound Development Studios, London, December 1978-January 1979
Side One
Side Two
Overkill
Stay Clean
(I Won't) Pay Your Price
I'll Be Your Sister
Capricorn
No Class
Damage Case
Tear Ya Down
Metropolis
Limb From Limb

Bomber

by

Motorhead
Released: October 27, 1969 (Bronze)
Produced by: Jimmy Miller
Recorded: Roundhouse Studios and Olympic Studios, London, July-August 1979
Side One
Side Two
Dead Men Tell No Tales
Lawman
Sweet Revenge
Sharpshooter
Poison
Stone Dead Forever
All the Aces
Step Down
Talking Head
Bomber
Group Musicians (Both Albums)
Lemmy Kilmister – Lead Vocals, Bass
Eddie Clarke – Guitars, Vocals
Phil Taylor – Drums
Overkill begins with its fine title track, a song of genuine energy and release. Notable for Taylor's an early use of double kick pedals the track employs minimal overdubs through its head banging parade. The next track, "Stay Clean", has an almost punk vibe to it along with some electronic treatment on Kilmister's vocals along with his cool buzzy bass and slight bass lead while "(I Won't) Pay Your Price" has a Southern rock feel blended with straight-ahead energy and layered guitar textures by Clarke.
"I'll Be Your Sister" returns to the pop/punk energetic rock, but with a bit different and interesting twist. "Capricorn" begins with drum rhythms and a dramatic guitar build up, later culminating with some of the later reverb-drenched guitars have a Hendrix-style effect. The album's second side starts with the crisp rock riffing of "No Class" then returns to the punk style of "Damage Case", with just enough classic rock swing to make it interesting and anthemic. "Tear Ya Down" releases more energy, "Metropolis" features slightly bluesy riffing and some harmonized vocals and the album closer "Limb From Limb" is built on a hypnotic, rotating riff between each verse line.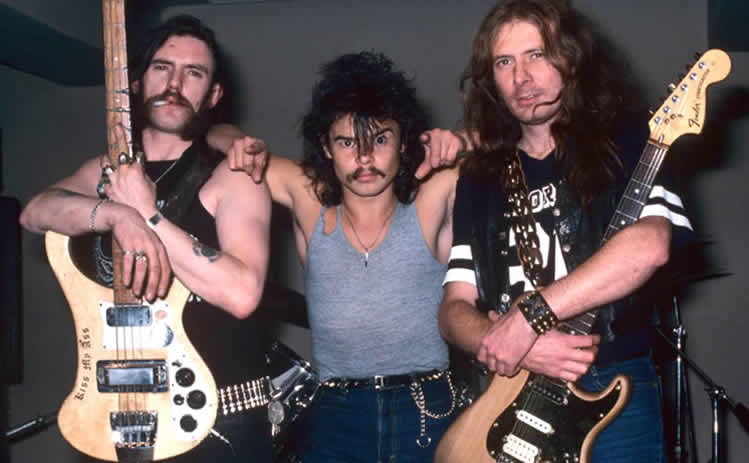 Less than four months after the release of Overkill, Motörhead began working on their next album, Bomber. Without having much opportunity to develop the songs and with Miller struggling with substance abuse during the sessions, this third album turned out to be less edgy and more formulaic. The album is bookmarked by, perhaps, its strongest songs. The opener "Dead Men Tell No Tales" is both refined and energetic as a slightly raw hard rocker, while the closing title song is an obvious classic track with the energy and freshness of much of the material on Overkill, making for a hit Top 40 single on the UK singles chart.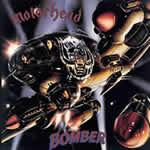 "Lawman" features some cool chord changes while basically hitting on main riff and lyrical hook which scoffs at the police. "Sweet Revenge" changes things up as methodical sludge rocker with a cool, bluesy slide by Clarke during the choruses. "Sharpshooter" again returns back to riff-rock, while "Poison" and "Stone Dead Forever" trend towards a fusion of punk and metal. "All the Aces" revives the definitive Motörhead sound while "Step Down" reverts to a real classic Black Sabbath vibe, making it one of the better tracks on the album.
In spite of being a bit rushed and underdone, Bomber peaked at #12 on the UK albums chart, making it their strongest showing on the charts up to that point. A tour of Europe followed, complete with a spectacular aircraft bomber-shaped lighting rig, as the group headed into the new decade of the 1980s with the promise of more success.
~

Part of Classic Rock Review's celebration of 1979 albums.