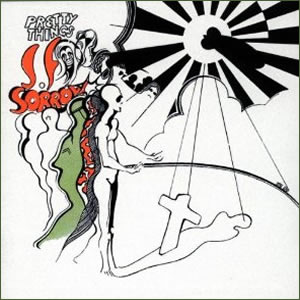 With their fourth overall album released in late 1968, The Pretty Things produced what was arguably the first true rock opera called SF Sorrow. The album was based on a short story by guitarist, vocalist, and songwriter Phil May, which tells the tragic story of the fictional Sebastian F. Sorrow, who grows increasingly mad and disillusioned as the story (and album) moves forward. Band members and some critics have claimed SF Sorrow was a major influence on The Who's Tommy (released the following year) although Pete Townshend has claimed it had no influence on his writing. In any case, the eclectic styles of rock by The Pretty Things seemed to have a big influence on several later artists.
Named after a Bo Diddley song from 1955, The Pretty Things evolved from a group called Little Boy Blue, which featured Keith Richards and Mick Jagger and guitarist Dick Taylor. All three joined Brian Jones' and Ian Stewart's band, called "Rollin' Stones", but Taylor quit after a few months to study at art school. Here he joined up with May and manager Bryan Morrison to form the original incarnation of The Pretty Things. Through 1964 and 1965, the group had a handful hit singles in Britain, Australia, New Zealand, and some European countries, but they never broke though in the United States. By the end of 1967, there had been much personnel turnover and the newest incarnation of The Pretty Things entered Abbey Road studios to start their most ambitious album.
Recorded over a full year and produced by Norman Smith, the album sessions featured two tracks which were omitted and instead released as a single in February 1968, "Talking About the Good Times" and "Walking Through My Dreams". The following month, drummer Skip Alan suddenly quit the band and was replaced by Twink from the recently defunct band, Tomorrow. Songs on the album have a nice blend of rock, folk, blues, and psychedelic elements with innovative arrangements. However, the production and mastering techniques contain a lack of focus make it sound a bit dated and inaccessible for all but the most seasoned listener.

SF Sorrow

by

The Petty Things
Released: December, 1968 (Columbia)
Produced by: Norman Smith
Recorded: Abbey Road Studios, London, 1967-1968
Side One
Side Two
SF Sorrow Is Born
Bracelets of Fingers
She Says Good Morning
Private Sorrow
Balloon Burning
Death
Baron Saturday
The Journey
I See You
Well of Destiny
Trust
Old Man Going
Loneliest Person
Band Musicians
Phil May – Vocals
Dick Taylor – Guitars, Vocals
John Povey – Organ, Sitar, Vocals
Wally Allen – Bass, Wind Instruments, Piano, Vocals
Skip Alan – Drums
John Charles Alder – Drums
The songs on SF Sorrow, run sequentially with the story line of the protagonist from birth to death. In many instances, the songs start with an excellent groove or rock riff only to later dissolve into unnecessary embellishments, which tend to take away from the overall vibe. The opener, "S.F. Sorrow is Born" starts with the bent acoustic notes in the introduction and a very strong rhythm, driven by bassist Wally Allen, before a short middle section adds some very short flourishes of horns, strings, and mellotron. "Bracelets of Fingers" was the first track recorded in November 1967, featuring a vocal harmonies intro before rock verses with marching drum beats and an ever-present wah-wah guitar by Taylor. The story tells of Sorrow's childhood and adolescence in Britain until it ends abruptly when he needs to get a job at the "Misery factory". The only bright spot in his life is the pretty girl across the street, focused on in the song "She Says Good Morning". With a harmonized guitar riff to start, this is harder and heavier than anything thus far on the album, almost proto-punk for the 1960s.
An acoustic riff and underlying march beneath a plethora of instruments, make "Private Sorrow" a very entertaining listen. Here the story follows Sorrow to war (World War I), which he survives and eventually moves to America. He sends for his unnamed sweetheart and she arrives on a zeppelin (Hindenburg) which bursts into flames in "Balloon Burning". The closer of the first side, "Death", contains a doomy and haunting, yet excellent riff, like a twisted blues song. In between the very British verses, the riff holds together this excellent tune, which features a sitar lead by John Povey and haunting background vocal choruses.
While side one contains the forward-moving story, side two focuses on the post-mordem, psychedelic horrors which plague the protagonist Sorrow. "Baron Saturday" is well ahead of its time with the vocal effects which sound like they could have come a decade later. Povey's choppy piano during the choruses indicate that this could have been a big radio hit and is a definite classic in spite over-the-top, slightly off beat percussion ensemble in the unnecessary mid-section. "The Journey" contains acoustic with overlaid electric guitars, sounding like it has a definite George Harrison influence and does well before an unfortunate psychedelic outro.
"I See You" has a bass and drum roll with slowly strummed guitar doubled by distorted electric and a haunting – vocal chorus, along with Taylor's most intense lead guitar on album. May's vocals sell the overall intensity of this song excellently.
The short sound collage of "Well of Destiny" starts an awkward second side medley, continuing with the piano song "Trust", which contains great vocal rhythm throughout. "Old Man Going" is a rocker which sounds like a preview of David Bowie's Ziggy Stardust, with strong acoustic, sharp electric, high pitched-vocals, and sound effects spread throughout. Thematically, the story takes its final tragic turn as Sorrow is driven into a dark mental seclusion. The short, minute and a half "Loneliest Person" closes the album as a short acoustic ballad, solidifying the melancholy and unhappy ending, where Sorrow identifies himself as "the loneliest person in the world."
This dark nature of the album's content along with lack of label support, and being overshadowed by concurrent British releases such as the Beatles' White Album, led to SF Sorrow becoming a mainly forgotten masterpiece from the late 1960s. The band only attempted to play the concept album live once in the next thirty years and by 1969 Taylor left the group, because of disillusionment over the commercial failure of this album.
~

Part of Classic Rock Review's celebration of 1968 albums.