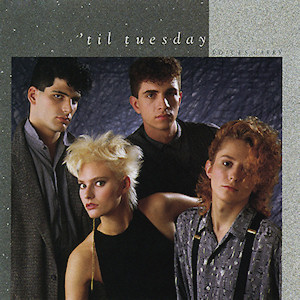 'Til Tuesday had a short but fruitful career encapsulated within the bonds of the mid 1980s music scene. Their 1985 debut album, Voices Carry, features the famous, indelible title track which put the band on the map and has since given them a permanent position on the pantheon of eighties "one hit wonders". However, all of the songs on this album have a pop approach and each displays the distinct skills of the four band members as they stick closely to those elements in which they are most comfortable and perform masterfully.
Fronted by lead vocalist and bassist Aimee Mann, 'Til Tuesday was formed in 1982 in Boston. A few months after their formation, the group won a 1983 radio station competition which resulted in their original demo "Love In a Vacuum" receiving significant airplay in the Boston area. Soon the group was signed to Epic Records and they entered the studio with producer Mike Thorne.
The group went to New York city to record the album. All songs on Voices Carry credit Mann with the lyrics and the musicians – guitarist Robert Holmes, keyboardist Joey Pesce, and drummer Michael Hausman – with composing the music.

Voices Carry

by

'Til Tuesday
Released: June 25, 1985 (Epic)
Produced by: Mike Thorne
Recorded: R.P.M. Sound Studios, New York
Side One
Side Two
Love in a Vacuum
Looking Over My Shoulder
I Could Get Used to This
No More Crying
Voices Carry
Winning the War
You Know the Rest
Maybe Monday
Are You Serious?
Don't Watch Me Bleed
Sleep
Group Musicians
Aimee Mann – Lead Vocals, Bass
Robert Holmes – Guitars, Vocals
Joey Pesce – Piano, Synths, Vocals
Michael Hausman – Drums, Percussion
Voices Carry begins with a re-recorded version of "Love in a Vacuum", the group's radio hit from 1983. Here Mann's funky bass adds variety to the otherwise steady rhythm and beat and some cool interjections of scat backing vocals are added between many of the lead vocal lines. In a similar vein, "Looking Over My Shoulder" features a funky slap bass, steady drums, and just a bit of flavoring from Holmes' guitar and Pesce's keyboard motifs. This track much more interesting vocally than the opener with nice, ascending melodies by Mann.
On "I Could Get Used to This", the group delves full-fledged into a solid mid eighties sound while still sounding somewhat interesting in arrangement and melody. Although some of the synths are a bit overbearing, "No More Crying" returns to a more standard, rock-based new wave vibe with a rhythmic, punchy edge. Of course, the most popular song on the album is the classic "Voices Carry" with lyrics about a controlling relationship and saving face in public. Actually, the antagonist in the song was originally a woman but the gender pronouns were changed at the request of the label. Musically, there are cool intervening synth lines between each vocal line and the delivery of the chorus hook is excellent and true highlight of the album. Fellow label mate Cyndi Lauper had originally wanted to record the song before the group decided to release it as their lead single where it peaked at #8 on the Billboard pop charts.

The album's second side begins with "Winning the War", which features a long instrumental intro led by Holmes's guitar riffing. When the first verse finally kicks in, Mann's vocals are delivered at near the highest register of her range. "You Know the Rest" is slow and steady with Pesce's heavy use of electric pianos and synths and a slow but creative drum beat by Hausman. "Maybe Monday" is another song with a new wave groove along with an interesting mix of topical guitars, a basic bass which locks in well with the rhythm, and more excellent vocals.
"Are You Serious?" is a guitar-driven, funk-rocker during verses, while being more synth driven during the choruses and both trade parts in a decent instrumental interlude during the bridge. The steady "Don't Watch Me Bleed" is a close sister to "Voices Carry", at least during the verses, while the duration contains ethereal guitar soundscapes and vocals. The steady closer "Sleep" ends the album on a high note musically but on a lyrical sad note, with a theme of saying goodbye to an ailing loved one. Beyond that, the song was well constructed and arranged and should've been another hit for the band in 1985.
Voices Carry found some critical acclaim and reached the Top 20 on the album charts. The 1986 follow-up, Welcome Home, saw more individual songwriting but less commercial success and 'Til Tuesday essentially broke up upon the release of of their third and final album, Everything's Different Now in 1988.
~

Part of Classic Rock Review's celebration of 1985 albums.