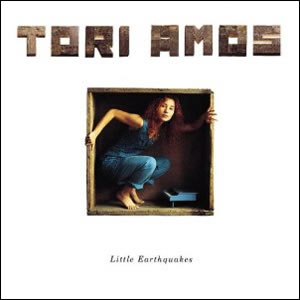 Little Earthquakes is the debut solo album of singer/songwriter Tori Amos. It followed the dissolution of her 1980s synth-pop band called "Y Kant Tori Read", with a batch of a dozen compositions which set the stage for her solo career as well as forge a template for the more introspective music that flourished among female singer/songwriters during the 1990s. The songs are often stripped-down and raw, but consistently genuine throughout. The album shattered many long-held conventions in the popular music industry (especially for debuts) and launched a career for Amos where she would sell 12 million (and counting) albums worldwide and be nominated for 8 Grammy Awards.
The album was recorded in various phases between 1990 and 1991 in locations ranging from the renowned Capitol Records studios in Hollywood to the home studio of Amos's then boyfriend. At the label's urging, Amos then relocated to London (where it was thought there would be a more receptive audience for eccentric performers) where she spent the better part of a year performing in small bars and clubs, slowly getting the material exposed. Little Earthquakes was actually released in the UK in January 1992, a month ahead of its US release, to much critical acclaim.
Sonically, the album contains a balance of acoustic and electronic instrumentation and some very innovative use of vocals to build mood-inspiring crescendos throughout. The best example of all these elements is found in the closing title song, "Little Earthquakes", which fluctuates between the introspective ballad with deep lyrics and the primal expression of vocal emotives over the consistent and haunting reverberation of a kick drum.

Little Earthquakes

by

Tori Amos
Released: February 25, 1992 (Atlantic)
Produced by: Tori Amos, Eric Rosse, Davitt Sigerson, Ian Stanley
Recorded: Capitol Records, Los Angeles, 1991-1992
Track Listing
Primary Musicians
Crucify
Girl
Silent All These Years
Precious Things
Winter
Happy Phantom
China
Leather
Mother
Tear In Your Hand
Me and a Gun
Little Earthquakes
Tori Amos – Lead & Backing Vocals, Acoustic & Electric Piano
Steve Caton – Guitars, Bass
Eric Rosse– Synths, Percussion, Backing Vocals


All songs on Little Earthquakes written and composed by Tori Amos. The first single from the album was "Silent All These Years", which did not make a huge splash on the airwaves but did connect with many listeners on an intimate level. A delicate song built on a chromatic piano figure with many subtle flourishes and more sudden and diverse voices from Amos, the song's bridge is an intense release of pent-up fear and uncertainty into a new role of benevolence and confidence.
"Precious Things" and "Tear In Your Hand" 4:38 are more traditionally arranged with Will McGregor playing bass and Carlo Nuccio playing drums on each track, with "Precious Things" using more experimental sounds such as the intro breathy percussive effects. "Girl" is moody and hypnotic with a consistent drum beat and piano riff interwoven with a variety of orchestral and guitar effects and a building vocal ensemble during the bridge.
The opening "Crucify" is about guilt, self-doubt, and a bit of paranoia, using much Christian symbolism throughout. Lyrically, one may compare this to the type of self-examination Roger Waters used on The Wall. Despite the deep subject matter, the song is musically one of the brighter and more pop-oriented on the album, lead by a moody electric piano and accented by a vocal chorus.
The best composition on the album is "Winter", one of  four singles released from the album. This is a deeply personal song where Amos incorporated her father, a Christian minister. Lyrically it uses the wonder and confusion of winter and transition of seasons in a reflective allegory for growing up –
"…when you gonna make up your mind, when you gonna love you as much as I do / because things are gonna change so fast"
"China" is often cited as one of Amos' most traditional-oriented songs, a soft lament to lost with more highly allegorical lyrics. But a few of the songs on the album are so raw and and exposed that they are hard to listen to. "Mother" contains just piano and vocal and may be a bit drug out at seven minutes in duration. "Me and a Gun" is the most haunting song on the album It consists of a single,  acapella vocal by Amos which lyrically recounts her thoughts during a violent rape that she suffered through years earlier following a late-night gig. As she explained the experience and the reason for the song:
"How am I alive to tell you this tale when he was ready to slice me up? In the song I say it was 'Me and a Gun' but it wasn't a gun. It was a knife he had. And the idea was to take me to his friends and cut me up, and he kept telling me that, for hours. And if he hadn't needed more drugs I would have been just one more news report, where you see the parents grieving for their daughter…"
But then there are some lighter moments on to the album (at least musically). "Happy Phantom" is upbeat and jazzy musically, offering an light and entertaining break from the depth and moodiness of the rest of the album while still maintaining a rather dark lyrical motif. "Leather" is another good composition with excellent arrangement and production. The pleasant and melodic melody is complimented by poignant strings and subtle bits of heavy guitar by Steve Caton, along with entertaining sections of rag-time piano by Amos.
Following Little Earthquakes, Amos consistently released highly acclaimed albums throughout the 1990s and the first decade of the new millennium. Her most recent studio release is 2011's Night of Hunters.
~

Part of Classic Rock Review's celebration of 1992 albums.