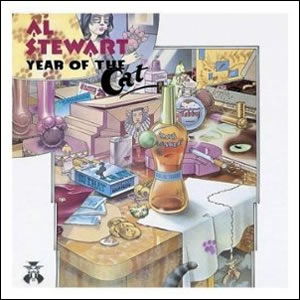 It took Al Stewart more than a decade of grind and seven studio albums before it finally achieve a measure of mainstream success with the release of Year of the Cat in 1976. Here, Stewart fully realized his distinct style of composing about historic and exotic situations through an English folk-rock style which seamlessly incorporates elements of jazz, roots and reggae. The contributions of guitarist Peter White did much to help shape the musical vibes on this record.
Scottish by birth, Stewart grew up in England and got started as a folk singer in London coffeehouses in the mid 1960s, sharing the scene with contemporary players like Van Morrison, Cat Stevens, Bert Jansch, and Roy Harper. He recorded his first single ("The Elf") for Decca records in 1966, with some guitar work from Jimmy Page. Stewart later signed with Columbia Records and released six albums between 1967 and 1975. While Stewart's popularity increased among his dedicated following, the modest sales led Columbia to drop him in 1975.
Year of the Cat was Stewart's first album for RCA Records. Produced by Alan Parsons, the music and orchestration were written and recorded completely before before any lyrical themes or titles were developed for any of the songs. The title song itself, originally conceived in 1966, went through several iterations before it was completed.

Year of the Cat

by

Al Stewart
Released: July, 1976 (MCA)
Produced by: Alan Parsons
Recorded: Abbey Road Studios, London, January 1976
Side One
Side Two
Lord Grenville
On the Border
Midas Shadow
Sand in Your Shoes
If it Doesn't Come Naturally, Leave It
Flying Sorcery
Broadway Hotel
One Stage Before
Year of the Cat
Primary Musicians
Al Stewart – Lead Vocals, Guitar, Keyboards
Peter White – Guitars
George Ford – Bass
Stuart Elliott – Drums, Percussion
For a hit album, Year of the Cat features a unique sequence of songs, commencing with a sad folk tune and finishing with it's top hit. The album starts abruptly with the sad folk, hauntingly beautiful song "Lord Grenville", which tells the tale of the 16th century doomed ship "The Revenge" from the point o view of the crew members. It features a very rich arrangement and orchestration with elegant guitar motifs by White and heartbreaking lyrics of accepting one's ultimate fate. "On the Border" combines exotic storytelling, Spanish style flamenco guitars and a quasi-disco rhythm and beat. The lyric tells of smugglers during Rhodesia's guerilla war earlier in the 1970s. "Midas Shadow" features a prominent electric piano along with a moderate jazz/rock feel, while the bright and upbeat "Sand in Your Shoes" features Caribbean rhythms paired with a Hammond organ and accordion.
The middle part of the album features an eclectic group of well-produced songs. "If it Doesn't Come Naturally, Leave It" is a solid rocker in the vein of the E Street Band and a very entertaining arrangement throughout, featuring a pair of great guitar leads along with animated piano and bass and fine drum fills. "Flying Sorcery" starts with a finger-picked acoustic intro but soon incorporates many styles with harmonica and slide guitar shining through and lyrics about heroic British pilot Amy Johnson, who died while ferrying supplies during World War II. "Broadway Hotel" has a darker feel as an acoustic waltz with some dramatic violin leads by Bobby Bruce, while "One Stage Before" is another dramatic, acoustic-based ballad which picks up mood a bit during the refrain.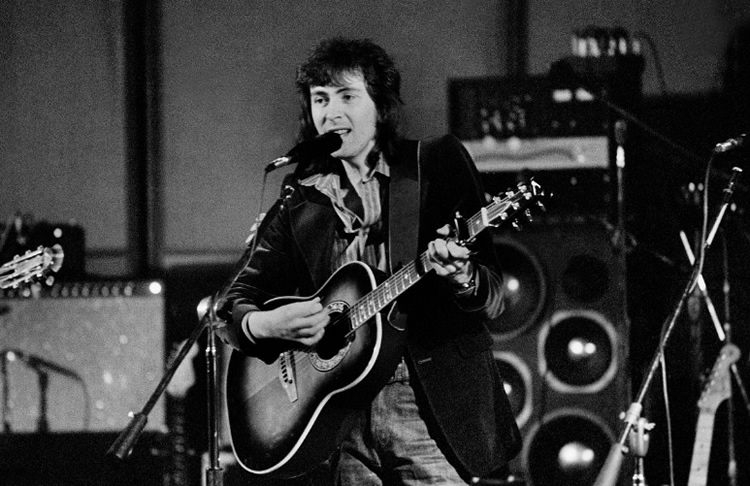 This all leads to the closing title song, "Year of the Cat". A long and deliberative intro rotates through the piano of the verse and chorus in full before the Stewart's vocals enter with poignant lyrics about a whirlwind relationship in an exotic locale. The song also features a long middle instrumental section where is abruptly but expertly morphs into various styles and motifs, taking turns between orchestration, a blistering guitar lead and a smooth saxophone by Phil Kenzie. The song reached The Top 10 on the US singles chart in early 1977, Stewart's highest charting single to date.
Year of the Cat also reached the Top 10 as an album in the United States and Australia and it was certified platinum as a million-seller within a year of its release. Stewart's commercial streak continued with the 1978 follow-up Time Passages and into the early 1980s.
~

Part of Classic Rock Review's celebration of 1976 albums.