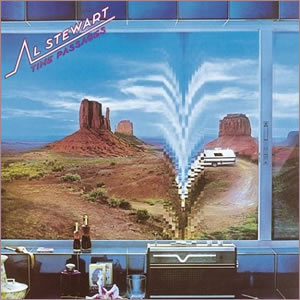 Time Passages was the third of Al Stewart's popular late seventies albums, following Modern Times in 1975 and Year of the Cat in 1976. While all three of these albums were produced by Alan Parsons, on this one there is a minor nod towards soft rock production. Musically, Time Passages continues Stewart's traditional blend of folk, jazz, and pop/rock, with masterful arrangements, rich sonic textures, and the top-notch production of Parsons. Lyrically, Stewart alternates between the contemporary subjects and concerns of baby boomers reaching their thirties and his distinct knack for presenting historical figures an events in graceful yet easily accessible pop song epics.
The Scottish born Stewart commenced his musical career in the mid 1960s at coffee houses in London's Soho. Starting in 1967. He went on to release several folk albums on Columbia Records but found little mainstream success. In 1972, Stewart released Orange, a transitional album which combined songs in his confessional style with more historical themes that he would soon increasingly adopt. His 1973 release, Past, Present and Future, was the first in the United States and his popularity steadily grew throughout the rest of the decade.
During these years, Stewart began to form a proper backing band, led by guitarists Tim Renwick and Peter White. On Time Passages, Renwick provides the bulk of lead guitar while White played keyboards, accordion, and other instruments as well as co-wrote a couple of the tunes.

Time Passages

by

Al Stewart
Released: September, 1978 (RCA)
Produced by: Alan Parsons
Recorded: Davlen Studios, Los Angeles, June 1978
Side One
Side Two
Time Passages
Valentina Way
Life In Dark Water
A Man for All Seasons
Almost Lucy
The Palace of Versailles
Timeless Skies
Song on the Radio
End of the Day
Primary Musicians
Al Stewart – Lead Vocals, Guitars, Keyboards
Peter White – Guitars, Keyboards
Tim Renwick – Guitars
Robin Lamble – Bass
Stuart Elliot – Drums
The album's title song "Time Passages" is a masterpiece on the utter surreal-ness of the passage of time (as demonstrated by the "time warp" album cover). Stewart uses great imagery to accomplish this while the pleasant music adds a pleasant soft rock backing with perfect late seventies production by Parsons. Released as a single, this would become Stewart's highest charting song ever. It reached #7 on the Billboard pop chart and also spent ten weeks at #1 on the easy listening chart, the longest stay at number one on this chart in the entire decade. "Valentina Way" starts with classical piano by Peter Robinson before abruptly entering a disco section. Despite this dated musical arrangement, the underlying song is pretty good and is musically salvaged by White's recurring guitar lead/riff.
The first historical number is "Life in Dark Water", a slow, moody, almost psychedelic rocker driven by the rotating lyrics and a simple, repeated four chord progression. There is some musical deviation in the middle with a short, carnival sounding verse and extended guitar lead by Renwick. The song which references the Mary Celeste, a British-American merchant ship discovered unmanned and abandoned in 1872. Although the weather was fine and her crew had been experienced seamen, the seven member crew were never seen again while the ship was found in perfect shape with personal effects and over six months' worth of food and water on board. "A Man for All Seasons" completes the first side with a musical a mix of Phil Spector meets alt-country. With a knack for telling historical stories in effected musical means, Stewart tells the story of Sir Thomas More and Henry Plantagenet.
The second side is just as solid as the first, starting with "Almost Lucy, a country/western influenced folk song with good percussive effects throughout. The subtle backing music plays off of Stewart's vocals perfectly, which reflect the lyrics about the sad life of a prostitute;
"And all these changing faces never bothered her at all that just existed like a back-drop or a pattern on the wall, Lucy looks like someone who is waiting for a call she knows will come but no-one else can hear at all"
Led by smooth synth run by Peter Solley at the top and between verses, "The Palace of Versailles" is another historical diddy. The interplay between Stewart's acoustic and Renwick's electric guitars is fantastic, with Parsons adding some orchestral strings towards the end, giving this an epic feel and increasing the continental elegance at the core of this work. The acoustic "Timeless Skies" has a sparse arrangement with White subtly adding some accordion and mandolin as the song progresses.
"Song on the Radio" is the other "radio song" from Time Passages, peaking in the Top 30, despite its lengthy six and a half minute duration (it is interesting that the two "hits" are also the two longest songs on the album). Featuring the distinct alto saxophone of Phil Kenzie, this song may first present itself as pure pop on the surface, but it really has much deeper meaning and connotations lyrically. The closer "End of the Day" was written mainly by Peter White and is mostly instrumental, spending more than half of its duration in a prolonged instrumental introduction before a single, extended verse concludes the album. Soft and jazzy, this pleasant song is an effective way to leave listeners wanting for more.
Time Passages peaked at #10 on the charts and continues to be held as one of his finer albums. Stewart's pop success continued into the early 1980s until his career slowly lost steam in subsequent years.
~

Part of Classic Rock Review's celebration of 1978 albums.