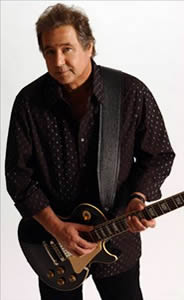 Adding to his long and distinguished career in rock music, Greg Kihn is now fully immersed in the world of creative fiction. His latest novel, Painted Black, is the second in a sequence which has Kihn's fictional characters interact with real life people and events. In this case, the focus is on the Rolling Stones in general and the death of their founding member, Brian Jones, in particular. In July 1969, Jones was discovered at the bottom of his home swimming pool in what the local coroner concluded was a "death by misadventure". However, over the past four plus decades, many have theorized that Jones' death was not an accident and Kihn himself believes that Jones may have been murdered.
Published this past April, Painted Black follows Kihn's 2013 novel Rubber Soul, which features the rise of The Beatles from playing the clubs in Liverpool though the heights of Beatlemania. The story is written from the point of view of Bobby Dingle, a young man close in age to the "Fab Four", who helps his father run a second hand store on Penny Lane in Liverpool. His occupation earned him the nickname "Dust Bin Bob" and he befriended the young Beatles through their mutual appreciation of American rock and blues records that Bob collected while trading items for the shop. In the book, he introduces the group to the sounds of James Brown and many others who would become legends. While Dust Bin Bob was the central character, following the turmoil in his family life and his travels with the merchant marines, The Beatles and music were ever present in the story.  Khin manages to weave this story into an almost James Bond like tale of international mystery.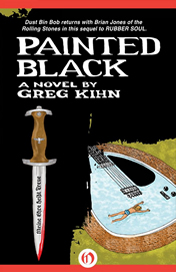 In our recent interview with Greg Kihn, he told us that when he completed Rubber Soul, the experience had been so enjoyable that he decided to simply keep writing. For this second in the series, Dust Bin Bob and few supporting characters return but the focus shifts from the Beatles to the Stones and a few years later in time. Brian Jones gave the Rolling Stones their name and was the undisputed band leader during the early part of their career. However, by the late sixties his leadership and musical contributions began to wane, due mainly to chemical dependency but also some personal disputes with other band members. After Jones was arrested a second time for drug possession in 1968, it was difficult for him to acquire a visa to tour the United States and he was soon dismissed from the band he founded. Later in 1968, Jones took up residence of an estate formerly owned by Winnie-the-Pooh author A.A. Milne. In Kihn's novel, Jones finds an ancient mirror in this house and becomes obsessed with "mirror gazing", or looking into the mirror for meditation and seeing visions. One of the visions Jones sees eventually leads to his death.
As a teenage musician growing up in Baltimore, Kihn was strongly influenced by British rock and was especially intrigued by Jones due to his musical innovations and slide guitar technique. He started his musical career off in the singer/songwriter mode before relocated to the San Francisco Bay area and concentrating on rock-oriented music. After a debut solo album in 1976 called Beserkley Chartbusters, he formed The Greg Kihn Band with guitarist Robbie Dunbar, bassist Steve Wright, and drummer Larry Lynch. In 1981, the group reached the Top 20 with "The Breakup Song" from the album RocKihnRoll. This was one of a series of album titles that punned on Kihn's name, including Next of Kihn, Kihntinued, Kihnspiracy, Kihntageous, Citizen Kihn, and the 1989 compilation album Kihnsolidation. Through this long recording career, Kihn's biggest hit single was 1983's "Jeopardy", which he told us took all of fifteen minutes to write but nearly topped the pop singles charts. In comparing this to the relative ease he had in writing Painted Black he said, "sometimes the best songs write themselves."

One thing the award-winning "Jeopardy" video did show was Kihn's affinity for the horror genre.  He began his literary career in 1996 with the novel Horror Show, which was nominated for the Bram Stoker Award for Best First Novel. This was followed by three more novels in the horror fiction category. Although he has moved on from writing in this category, Kihn told us that he would love to someday do a "creature feature" show.
Kihn also had a long and distinguished radio career on classic rock station KUFX in San Jose, CA. During his 16 years at the station, Kihn had the top-rated morning show in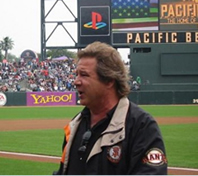 the nation's fourth largest market and this helped spawn his annual "Khincert", a rock concert in Mountain View, CA where the Greg Kihn Band has opened up for some rock legends including The Who, Yes, Lynyrd Skynyrd, Steve Miller Band, and Boston. Greg Kihn is also an avid sports fan and has had the honor of singing the national anthem prior to games by the World Champion San Francisco Giants and other professional sports teams in the Bay area.
Although he has tried his hand in many different fields, Kihn has managed a level on consistency (or should we say, "Kihnsistency") when it comes to his business practices. Since the early seventies he has been managed by his friend and business partner Joel Turtle and he takes pride in the fact that he maintains total ownership of his musical library. He plans to soon make his entire catalogue available on GregKihn.com.
We asked Greg Kihn about the possibility of third installment in the "Dust Bin Bob" series and he said it was a definite possibility. Although he gave no specifics on who the next rock protagonist may be he talked about how out of control that (late sixties) era was, citing Jimi Hendrix as wild, flamboyant and "crazy as a loon" while being the world's greatest guitarist. "Without people like them (Hendrix and Jones), guitar players may have gotten there but it would have taken much longer." We look forward to seeing what's next.
~