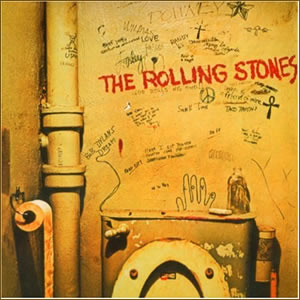 Returning to their blues-based roots rock following the psychedelic pop of their 1967 album, Their Satanic Majesties Request, Rolling Stones hit their true artistic stride with Beggars Banquet. While most critics heralded this album as a "return to form" due to the predominance of blues-based roots rock, it was also a significant leap forward. This album began the group's highest quality musical era, followed by Let It Bleed in 1969 and Sticky Fingers in 1971, which expanded the musical formula established on this album. Still, with a solid slate of compositions and top-notch production by Jimmy Miller, Beggars Banquet may be the group's finest album ever.
The album's production saw a major shift in responsibilities. Miller described guitarist Keith Richards as "a real workhorse", co-writing most of the material and often recording multiple parts on each track. This was mostly due to the infrequent presence of group founder Brian Jones, who had been a major influence on the sound of past albums but had begun to behave erratically due to his drug use and emotional problems. Jones could never really be relied on and would show up when he was in the mood to play, often being more of a distraction than an asset.
Although the album was not released until December 1968, much of it was recorded in the early part of the year. These sessions also resulted in the non-album single "Jumpin' Jack Flash", one of the group's most popular and recognizable songs. Written by Richards and lead vocalist, Mick Jagger, the song employs an infectious riff and opaque lyrics which may have been inspired by William Blake's poem The Mental Traveller. Released in May 1968, the song previewed the sound of the upcoming Beggars Banquet album.

In Search of the Lost Chord

by

The Moody Blues
Released: December 6, 1968 (Decca)
Produced by: Jimmy Miller
Recorded: Olympic Studios, London, March–July 1968
Side One
Side Two
Sympathy For the Devil
No Expectations
Dear Doctor
Parachute Woman
Jigsaw Puzzle
Street Fighting Man
Prodigal Son
Stray Cat Blues
Factory Girl
Salt of the Earth
Band Musicians
Mick Jagger – Lead Vocals, Acoustic Guitar
Keith Richards – Guitars, Vocals
Brian Jones – Guitars, Mellotron, Sitar, Tamboura, Vocals
Bill Wyman – Bass, Percussion, Vocals
Charlie Watts – Drums, Percussion, Vocals
The tribal rhythms signify from the start that this is album is a unique listen. Largely a Jagger composition, the lyrics are a first-person narrative from the point of view of Lucifer, traversing infamous historical moments right up to the (then) present day with the line "I shouted out 'Who Killed the Kennedys?'" put in just days after Robert Kennedy's assassination in June 1968. This is all backed by an intense rock arrangement, which builds on the percussive rhythms with piano by Nicky Hopkins and a repeated chorus yelps of "woo woo" by group members and several studio guests.
"No Expectations" is a simple and beautiful acoustic blues song, which sets the table for future Stones ballads such as "You Can't Always Get What You Want", "Wild Horses" and "Angie", Jones plays an acoustic slide guitar above the strumming by Richards in this melodic quasi-tribute to Robert Johnson. This is followed by "Dear Doctor", an almost farcical attempt at blue grass which, despite its use of authentic instrumentation, feels really forced and out of place.
"Parachute Woman" is pure blues with simple rhythm topped by distant electric guitar and a raw and murky atmosphere led by Jagger's mumbled sexual lyric and intense harmonica playing. "Jigsaw Puzzle" bookends the first side of Beggars Banquet with another extended rock highlight. The music is led by the very strong rhythm of drummer Charlie Watts and bassist Bill Wyman, who are joined in turn by Richards' slide guitar, Jaggar's strummed acoustic, and Hopkins' honky-tonk piano. It constantly builds in intensity though its six minute duration with Dylan-esque lyrics and vocal patterns.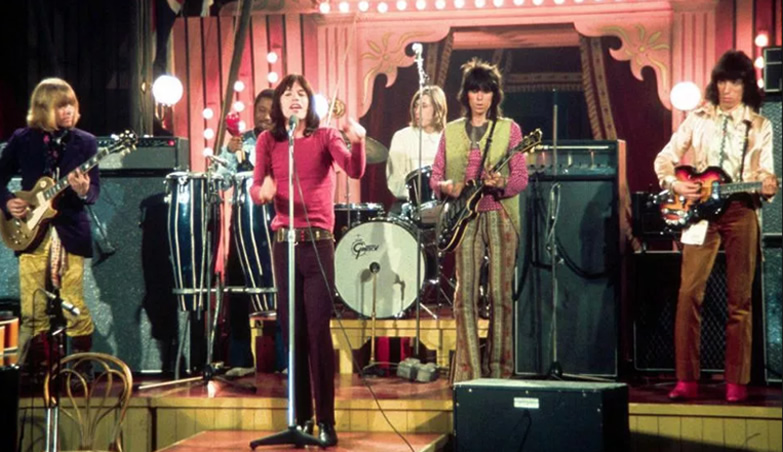 The second side begins with "Street Fighting Man", the point on the album where Jagger shines brightest, with this great melodic journey throughout interpreting some politically controversial lyrics. The tune is a basic rock song built on a cassette recording of Richards on acoustic guitar and Watts on a 1930s toy drum set. However, it does morph a bit towards a more psychedelic feel near the end, with Jones performing a distinctive sitar and tamboura. Robert Wilkins' "Prodigal Son" is the only cover on the album and it never relents from its acoustic drive and has a great sound right down to Jagger's hickish vocals.
Compared to the other fine material on side two, "Stray Cat Blues" is a rather ho-hum rocker, aside from the interesting and intense outro with Watts' fine drumming. "Factory Girl" works well as an ethnic jam with a three chord, piano-driven pattern. It is similar to an Appalachian folk tune in its minimal approach and features guest Ric Grech on fiddle. "Salt of the Earth" provides a melodramatic conclusion to the album as another acoustic ballad. The highlight of the song comes at the bridge, which is followed by the first full rock arrangement. Although this track contains some production flaws, it is still a great ending to the album.
Beggars Banquet reached the Top 5 on charts on both sides of the Atlantic. Within days of its release, the band filmed the full television production of Rolling Stones Rock and Roll Circus where they performed several songs from the album. The show also featured several contemporary guests such as The Who, Jethro Tull, John Lennon, and Eric Clapton, and was originally meant to be aired on the BBC. However, the Rolling Stones withheld it because they felt their own performance was substandard and it wasn't released in any form until 1996.
~

Part of Classic Rock Review's celebration of 1968 albums.