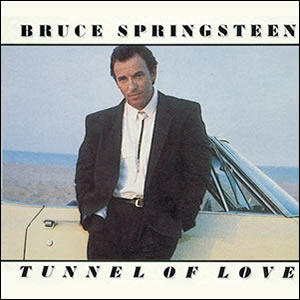 Following the multi-year, top of the pop world success of the studio album Born In the USA and the live compilation Live / 1975-85, Bruce Springsteen surprised a lot of listeners with the 1987 follow-up Tunnel of Love. This was Springsteen's eighth studio album overall by Bruce Springsteen and the third (non-sequentially) to not feature his backing E Street Band, although several members did make cameos throughout this album and drummer Max Weinberg did play on most of the tracks. Thematically, the album turns inward especially when dealing the subject of relationships and love gone wrong, as it was written around the time that Springsteen's first marriage was deteriorating. However, what makes this theme unique to this album is Springsteen's ability to honesty examine both sides of the romantic relationship, and in the process implicate himself for his own infidelities.
The decision to follow-up a highly produced, blockbuster hit with something more subdued was a repeat of what Springsteen did earlier in the decade when he followed The River in 1980 with Nebraska in 1982. However, Tunnel of Love is not nearly as sparse as co-producers Jon Landau and Chuck Plotkin worked with Springsteen and using some synthesized soundscapes, electronic drums, backing vocalists, along with some E Street musicians, albeit in a a very subtle and understated way throughout.
Although the album topped the charts after its release and contained three Top 20 hits, it was not the album that the legions of crossover pop fans expected from Springsteen. Ultimately, Tunnel of Love would sell less than a third of the copies as Born In the USA.


Tunnel of Love

by

Bruce Springsteen
Released: October 9, 1987 (Columbia)
Produced by: Bruce Springsteen, Jon Landau, & Chuck Plotkin
Recorded: January – July 1987
Side One
Side Two
Ain't Got You
Tougher Than the Rest
All That Heaven Will Allow
Spare Parts
Cautious Man
Walk Like a Man
Tunnel of Love
Two Faces
Brilliant Disguise
One Step Up
When You're Alone
Valentine's Day
Primary Musicians
Bruce Sprinsteen – Lead Vocals, Guitars, Bass, Keyboards, Harmonica
Danny Federici – Organ
Max Weinberg – Drums & Percussion
The album starts off a Capella with "Ain't Got You", which breaks into a rockabilly beat with deadened acoustic strings and laid back harmonica. This short diddy speaks to the hollowness of popular success when it can't be shared with the one you love. "Tougher Than the Rest" follows with a great contrast to the opener, using electronic drums, synths, and heavily-reverbed vocals. The diversity of the material is further highlighted by "All That Heaven Will Allow", an upbeat acoustic with a some surprising fine bass guitar by Springsteen. With a great melody and catchy hook make this an underrated classic and the best song on the first side of the album.
"Spare Parts" is almost "Outlaw Country" and therefore lacks much of the subtlety that is present on the much of the rest of the album. It even contains some explicitly "dirty" lyrics with,
Bobby says he'll pull out, Bobby stays in / Janey had a baby, wasn't any sin…"
"Cautious Man" is the closest nod back to the style the Nebraska album, as a sparse and haunting acoustic folk song, with the side-closing "Walk Like a Man" returns to childhood, with relative stories above a cool, laid back synth arrangement and strumming acoustic. Lyrically, it appears to be Springsteen speaking directly to his father. While the first side of the album is interesting, the second side is much more sonically enjoyable.
"Brilliant Disguise" is the best song on the album, with a great chord structure and melody throughout. This song kind of sums up the underlying theme of the entire album, deep thoughts and reflections about simple moments lone within the frenzied bubble of great fame and commercial success. Musically, the song contains some nice piano by Roy Bittan, accenting the subtle acoustic folk strumming and simple but elegant vocals.
The title track "Tunnel of Love" starts weirdly with an almost-dance beat before giving way to another calm synth riff that acts as canvas for descriptive, slightly poetic, and highly allegorical lyrics. It is about as pure a pop song as Springsteen even wrote and is highlighted by some excellent lead guitar by Nils Lofgren, who later replicates Springsteen's howling towards the end. "Two Faces" is an adequate but typical pop song with a nice organ lead towards the end by Danny Federici, while "When You're Alone" features some backing vocals by Springsteen's saxophone player from the E Street Band, Clarence Clemons.
"One Step Up" is another gem on the second side with a good guitar riff and great vocal hook. This song is very understated with the barest of arrangement, but still had enough radio appeal to make it a pop hit. The closing song "Valentine's Day" sums up the album nicely as a melancholy and confessional number, which compares heartbreak and fear of loss with death itself,
"…they say that if die in your dreams, you die in your bed / but honey, last night I dreamed my eyes rolled back in my head…"
In one way, Tunnel of Love marked a return to the simple folk/Americana form that predated the phenomenal success of Born In the U.S.A.. In a contrasting other way, it also marked a severing point from the most musically lucrative years for Springsteen. Although he did tour in 1988 with the E Street Band to promote this album, he would not make another studio album with his backing band until 2002's The Rising.
~

Part of Classic Rock Review's celebration of 1987 albums.