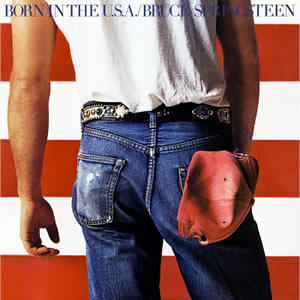 Born in the USA marked the height of commercial success for Bruce Springsteen. It sold over 30 million copies worldwide and spawned seven Top 10 singles, a record met but not surpassed. The album also spent a record 84 consecutive weeks in the Billboard Top 10. But here at Classic Rock Review, commercial success is but a minor factor in which albums we cover and how we cover them. To us, it is all about the quality of the music, especially in naming our albums of the year. Born In the USA contains traditional story-driven songs with contemporary production and entertaining melody and hooks, making it, in our opinion, the best album of 1984.
Springsteen had experienced vast commercial success with the Top 5 double album The River in 1980. In 1981, Springsteen was asked to write music for a film originally called "Born In the U.S.A." (but eventually released as Light of Day in 1987). While working on his solo, introspective, album Nebraska, Springsteen merged the melody for a song called "Vietnam" with the film's title and originally wanted to include it on that 1982 album but eventually concluded that it was out of place.
Recording sessions for Born In the USA date back to January 1982, nearly two and a half years before the album's release. These sessions predate the release of Nebraska, as Springsteen was composing and recording a number of songs specifically intended for an album besides that dark folk album. In fact, by mid-1982 most of Born In the USA was already recorded with a few more tracks added in 1983 and a final track added in early 1984. In total, Springsteen wrote an estimated 70 songs for the album, with 12 making the final cut and several more used for B-sides such as "Shut Out the Light", "Johnny Bye-Bye", "Stand On It", "Janey Don't You Lose Heart", and "Pink Cadillac", which became a minor radio hit on its own.
After a new CD manufacturing plant was opened in Indiana, Born In the USA was the first compact disc manufactured in the United States (actually "born in the USA"!) All previous CDs had been manufactured in Japan.

Born In the U.S.A.

by

Bruce Springsteen
Released: June 4, 1984 (Columbia)
Produced by: Jon Landau, Chuck Plotkin, Bruce Springsteen, & Steven Van Zandt
Recorded: The Power Station and The Hit Factory, New York, January 1982–March 1984
Side One
Side Two
Born In the U.S.A.
Cover Me
Darlington County
Workin' On the Highway
Downbound Train
I'm On Fire
No Surrender
Bobby Jean
I'm Goin' Down
Glory Days
Dancing In the Dark
My Hometown
Primary Musicians
Bruce Springsteen – Lead Vocals, Guitars 
Roy Bittan – Piano, Synths, Vocals
Steven Van Zandt – Guitars, Mandolin, Vocals
Clarence Clemons – Sax, Percussion
Garry Tallent – Bass, Vocals
Max Weinberg – Drums, Vocals
The title track kicks off the album with spacey synths by Roy Bittan and a sanitized drum snare by Max Weinberg, world's away from the folk of the past album. These intro sounds are nicely contrasted by Springsteen's rough and strained rock vocals which belt out lyrics that deal with the cruel mistreatment of Vietnam veterans on their arrival back home. "Cover Me" is a bright pop song , albeit warmer than the opener and with some real bass presence by Garry Tallent. Springsteen originally wrote the song for Donna Summer but was urged by his manager, Jon Landau, to include it on the album and it peaked at #7 on the pop charts as a result.
"Darlington County" is a down-home track which seems to be slightly influenced by Creedence Clearwater Revival. It was recorded in the spring of 1982 and gets its title from an actual county in South Carolina. "Working on the Highway" is the weakest song on the first side, almost a cheap attempt at rockabilly. In contrast, "Downbound Train" is an excellent dark, folk song with the added bonus of an eerie synth organ in the background. One of the more legitimate Springsteen songs on the first side, the song is a melancholy lament to a lost spouse with vivid imagery throughout.

"I'm On Fire" is a short but potent ballad with great production techniques on the voice, synths, picked guitar, and brushed drums, making it an overall masterpiece of arrangement. One of the earliest songs recorded for the album, the song came together in an impromptu jam between Springsteen, Bittan, and Weinberg. The second side is more solid throughout than the first and starts with a couple of songs which would've fit perfectly on Springsteen's late seventies albums. "No Surrender" is an upbeat song of youth that was originally cut from the album but was reinstated at the insistence of guitarist Steven Van Zandt, who was very keen of the song. "Bobby Jean" is the most underrated Springsteen song, well constructed with a piano riff, a driving bass, great melody and romantic lyrics. The vocals are delivered masterfully with lyrics that are pure Jersey and the bonus of being the first song to include a sax solo by Clarence Clemens. Some have interpreted the lyrics to be a goodbye tribute to Van Zandt, who had decided to leave the E Street Band by the time of its recording. "I'm Goin' Down" contains Clemons' second sax solo and, like "Working on the Highway", this is totally retro (but done much better here).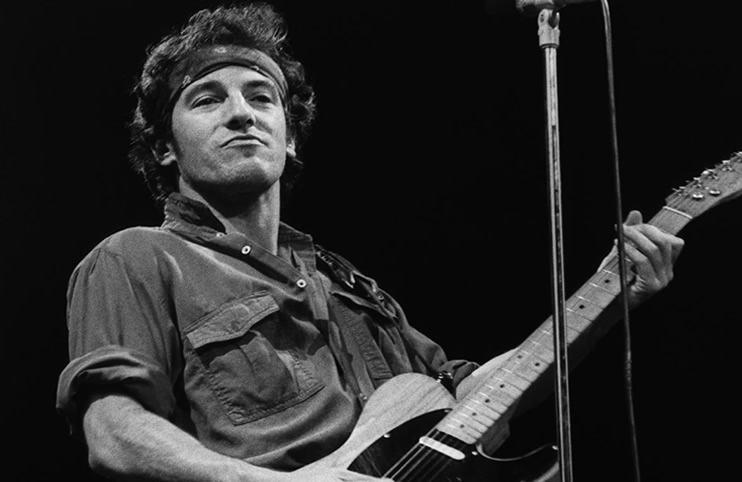 The album's stretch run has three of its most popular hits. "Glory Days" is an infectious pop song with a great hook and story-telling lyrics. There is a cool mandolin track buried deep in the mix and a unique, improvised ending that helped fuel interest in this otherwise simple song. "Dancing In the Dark" was the last song recorded for the album and the first released as a single. This is a pure 80's synth pop song, but so unlike anything Springsteen had done before, that it has got to be respected. The melody and arrangement is masterful (with the possible exception of the mind-numbing drums), making this experiment deep into the realm of radio-friendly an overall success. The album concludes with the folk ballad "My Hometown", which is a darker look at the scenes and characters in "Born to Run", a decade earlier. While talking about riots and unemployment in a very Wood-Guthrie-like approach, the serene backing vocal chorus through the final verse gives a sense of hope through the despair. This last song was also the last Top 10 single from the album, reaching #6 in late 1985.
Born In the USA was nominated for three Grammy Awards and won one for Best Rock Vocal Performance. With this unprecedented level of success, Springsteen went on a major tour which helped spawn a five-record box set called Live/1975–85. Springsteen has continued to record and tour through the present day, but has not again reached the level of success or overall quality in the intervening three decades.
~

Part of Classic Rock Review's celebration of 1984 albums.