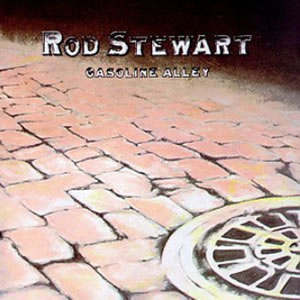 His second official solo album, Gasoline Alley, is a critically acclaimed 1970 album by Rod Stewart. It features a diverse mixture of covers and originals that reflect the various styles of Stewart's various musical projects and this album has been described as one that both celebrates tradition while featuring the rock sensibilities of its present. Ultimately, while the album is a sentimental snapshot of place and time, it has maintained its musical integrity and interest a half century after its creation.
Sir Roderick David Stewart was born in war-torn London, 1945 to parents of both Scottish and English ancestry. As a teenager he developed an interest in English folk music and he began playing harmonica in the early 1960s, joining the rhythm and blues group The Dimensions as a harmonica player and part-time vocalist. One of the group's earlier gigs in 1963 was opening for The Rolling Stones in London. After leaving The Dimensions, Stewart made his recording début with the single "Up Above My Head" in June 1964, and soon signed a solo recording contract with Decca Records, where he recorded several further singles and made some national television appearances through the mid 1960s but found little commercial success.
In early 1967, guitarist Jeff Beck recruited Stewart to front the heavy blues Jeff Beck Group. The group included bassist Ronnie Wood and the 1968 debut album, Truth, featured contributions from future Led Zeppelin members Jimmy Page and John Paul Jones and acted as a model for Zeppelin's own debut album. Stewart co-wrote three of the original tracks on this critically acclaimed album, which spawned a world wide tour in late 1968 into 1969. The Jeff Beck Group's second album, Beck-Ola, was recorded in April 1969 for release that summer.
The heavily-touring group was slated to play the Woodstock Music Festival before Stewart and Wood abruptly left the group to eventually form Faces with former members of The Small Faces. Meanwhile, Stewart recorded and released his debut solo album, An Old Raincoat Won't Ever Let You Down (known as The Rod Stewart Album in the US) in late 1969, which established his heartfelt mixture of folk, rock, and country blues in both original and cover material. Faces début album, First Step was released in early 1970 with a more straight-forward rock and roll style and this group quickly earned a strong live following. Simultaneously, Stewart entered the studio with producer Lou Reizner to record Gasoline Alley, which struck a balance between the Faces' sound and Stewart's solo debut.

Gasoline Alley

by

Rod Stewart
Released: June 12, 1970 (Mercury)
Produced by: Lou Reizner & Rod Stewart
Recorded: Morgan Studios, London, February–April 1970
Side One
Side Two
Gasoline Alley
It's All Over Now
Only A Hobo
My Way Of Giving
Country Comfort
Cut Across Shorty
Lady Day
Jo's Lament
You're My Girl (I Don't Want To Discuss It)
Primary Musicians
Rod Stewart – Lead Vocals, Guitar
Martin Quittenton – Guitar
Ronnie Wood – Guitar, Bass
Ian McLagan – Piano, Organ
Mick Waller – Drums
Stewart and Wood collaborated on the opening title track, an excellent folk track with a 12-string acoustic topped by dueling lead guitars and Stewart mimicking the lead riffs throughout to create a catchy melody. Stanley Matthews provides a mandolin lead to "Gasoline Alley" to complete the aura of this ode to a simpler past. the cover of Bobby and Shirley Jean Womack's "It's All Over Now" follows as an entertaining track with a country rock feel due to Wood's twangy guitar and the piano style of Ian McLagan.
A cover of Bob Dylan's "Only a Hobo", a song Dylan himself would not release until decades later, offers a nice change of pace as a simple acoustic waltz with sad and moody lyrics delivered masterfully by Stewart. "My Way of Giving" soulfully starts with organ, bass and the masterful guitar chording by Wood. The song was co-written by Ronnie Lane for the Small Faces in 1966 and he, along with Faces band mate Kenney Jones on drums, perform on this track. "Country Comfort" is an Elton John / Bernie Taupin composition and the piano of this folk ballad is delivered nicely by guest Pete Sears, The song also features an odd but charming backing vocal by Jack Reynolds.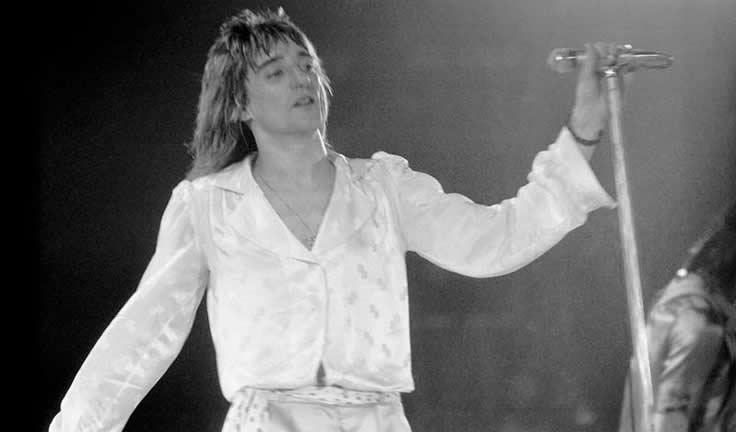 The album's second side offers more diversity to its solid overall sound. "Cut Across Shorty" was originally written for Eddie Cochran in 1960 and, a decade later, this version features a duo acoustic beginning by Wood and Martin Quittenton, which is cut across by Mick Waller's unique drum pattern before everything kicks in for a driving rhythm under and some fiddle sprinkled throughout. Two Stewart acoustic originals follow, the partly surreal but all feeling ballad "Lady Day" with a fine a fiddle lead, and the celtic-feeling "Jo's Lament", with layered instrumental arrangement. "You're My Girl (I Don't Want to Discuss It)" wraps things up with a simmering beat and a funk-inflected theme which brings back the Faces' rhythm section for a final cameo.
While a commercial disappointment in the UK, Gasoline Alley did become the first of 15 consecutive albums for Stewart to chart in the Top 40 in the United States. He would soon reach superstardom with his next 1971 solo record, Every Picture Tells a Story and continue this success for decades as he became one of the best-selling music artists of all time.
~

Part of Classic Rock Review's celebration of 1970 albums.