There probably has never a debut album like Jeff Beck's 1968 solo debut, Truth. This album, of unique interpretations of diverse covers, introduced the talents of future superstar Rod Stewart on lead vocals as well as bassist Ronnie Wood, pianist Nicky Hopkins and the combo future Led Zeppelin members John Paul Jones and Jimmy Page. Further, the choice to focus on hard-edged, guitar-centric, blues-based rock on this debut album pivoted from Beck's previous solo output which focused on pop-based singles.
Beck was introduced to R&B by Rolling Stone Ian Stewart in the early 1960s, which set the course of his young music career. Through 1963 and 1964 he played in several groups around London, including the Rumbles and the Tridents, while also scoring some gigs as a studio session player. Following the sudden departure of Eric Clapton from The Yardbirds in early 1965, Beck was recruited on the recommendation of Page, a fellow session musician. Beck was present for The Yardbirds commercial peak, including several successful singles and the albums For Your Love in 1965 and the untitled album which became known as "Roger the Engineer" in 1966. Beck launched his solo career with a series of pop singles through 1967 and early 1968 which resulted in three Top 40 hits in the UK.
Aside from the session for the Page-composed track "Beck's Bolero" in May 1966, recording sessions for Truth took place over just four days in May 1968 with producer Micky Most. The ten-song album features three blues-based original tracks composed by Beck and Stewart.

Truth

by

The Jeff Beck Group
Released: August, 1968 (EMI)
Produced by: Micky Most
Recorded: Abbey Road Studios, Olympic Sound Studios & De Lane Lea Recording Studios, London, May 1968
Side One
Side Two
Shapes of Things
Let Me Love You
Morning Dew
You Shook Me
Ol' Man River
Greensleeves
Rock My Plimsoul
Beck's Bolero
Blues De Luxe
Ain't Superstitious
Primary Musicians
Rod Stewart – Lead Vocals
Jeff Beck – Guitars, Bass, Vocals
John Paul Jones – Organ, Bass
Nicky Hopkins – Piano
Ronnie Wood – Bass
Micky Waller – Drums
The album commences with an interesting hard rock remake of The Yardbirds' 1966 hit "Shapes of Things". Here, the drums of Micky Waller really stand out throughout as the song features deliberate sections including a unique, the mid-section jam. A definite Cream influence is heard on the original heavy blues rocker, "Let Me Love You", with a quick turn of co-lead vocals by Beck during the first chorus. Towards the end of the song, Beck's guitar and Stewart's vocals do call and response, a technique later borrowed by Page and Robert Plant on Led Zeppelin's early albums. "Morning Dew" is an oft-covered track by folk singer Bonnie Dobson, with this album's version focusing on Wood's thumping bass and a subtle wah-wah-laden guitar throughout.
Next comes Willie Dixon's "You Shook Me", a song first released by Muddy Waters in 1962. This happy-go-lucky version finds Beck, Jones and Hopkins all competing for lead instrumentation during its short duration, in contrast to a more extended Zeppelin cover recorded later in 1968. "Ol' Man River" is a composition which dates back to the 1920s, with this version showcasing Stewart's vocals better than any other track n the album, while "Greensleeves" has roots back to the 1500s. This second side opener offers a nice acoustic break to add warmth to the album and further showcase Beck's diversity as a guitar player. "Rock My Plimsoul" is another original of authentic multi-textured electric blues.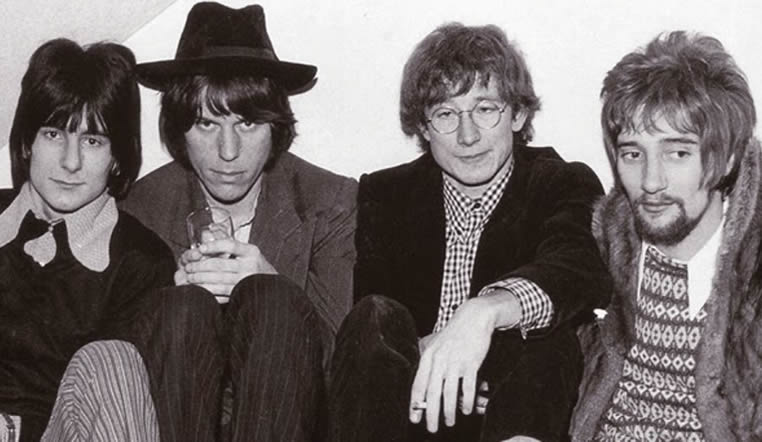 The hauntingly beautiful "Beck's Bolero" was recorded while Beck and Page were active members of the Yardbirds and it offered a glimpse into rock n roll's future back in 1966. Joining the guitar duo on this instrumental was Hopkins, Jones and Who drummer Keith Moon as they re-create a Spanish 'bolero' with a highly electric feel led by the Beck's ethereal Les Paul riff in the main theme. Later, a second part is introduced by Moon's thundering drums leading to section exemplifying the earliest form of heavy metal music. "Blues De Luxe" is an extended, half jocular original complete with canned studio applause and an impressive, extended piano lead by Hopkins. The album concludes with an indelible cover of Dixon's "I Ain't Superstitious" featuring a wild wah-wah guitar which is showcased through strategic stops. After Beck does much indulgence, Waller gets the final album thrill with a short drum solo before the collaborative crash which concludes the album.
Truth peaked at number 15 on the Billboard charts and its influence on future music is immeasurable. A 1969 follow-up album called Beck-Ola was recorded and released by much of this same group before the members went on to other musical endeavors. Despite being offered a slot with The Rolling Stones following the death of Brian Jones, Beck decided to re-form the Jeff Beck Group with new members into the 1970s.
~

Part of Classic Rock Review's celebration of 1968 albums.