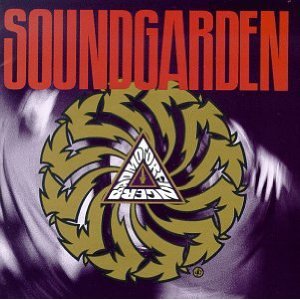 Laying the sonic foundation for their most successful run as a band, Soundgarden delivered their first of a trio of critically acclaimed albums with 1991's Badmotofinger. The third studio release by this Seattle-based hard rock band, the album features a variety of guitar textures, rhythms with unique time signature combinations and soaring vocal patterns above droning tonalities, making it an art rock centerpiece and a mainstream metal work.
Deriving from a band called The Shemps in Seattle in the early 1980s, the group's original member was vocalist and (former) drummer Chris Cornell. Guitarist Kim Thayil was originally enlisted as a bassist but moved to guitar when the original Soundgarden took form as a trio in 1984. The band released a pair of EPs in 1987, followed by their independent debut album, Ultramega OK, the following year. After a successful tour supporting that album, Soundgarden signed with A&M Records and released the 1989 mainstream metal album, Louder Than Love.
After working with several bassists, the group hired Ben Shepherd in 1990, just prior to the Badmotorfinger recording sessions. The album was recorded at several west coast studios in the spring of 1991 with producer Terry Date, with who they had previously works. In between the album's recording and October 1991 release, Cornell and drummer Matt Cameron recorded the album Temple of the Dog by the supergroup of the same name.

Badmotorfinger

by

Soundgarden
Released: October 8, 1991 (A&M)
Produced by: Terry Date & Soundgarden
Recorded: A&M Studios, Los Angeles; Studio D, Sausalito, CA; Bear Creek Studios, Woodinville, WA; March-April 1991
Track Listing
Primary Musicians
Rusty Cage
Outshined
Slaves & Bulldozers
Jesus Christ Pose
Face Pollution
Somewhere
Searching with My Good Eye Closed
Room a Thousand Years Wide
Mind Riot
Drawing Flies
Holy Water
New Damage
Chris Cornell – Lead Vocals, Guitar
Kim Thayil – Guitars
Ben Shepherd – Bass
Matt Cameron – Drums
The album commences with "Rusty Cage" and the intro call and response guitar licks which precede the thumping drive of the song proper. The core of this tune features a mesmerizing, de-tuned guitar riff by Thayil which used a wah wah in the low position used as a filter for added effect. This song was later recorded by Johnny Cash for his 1996 album Unchained. "Outshined" features Cornell's animated vocals over a quasi-doomy riff and rhythms through the verses. In an interesting juxtaposition, the song's choruses are more melodic and accessible with some fine harmonies. Co-written by Shepherd, "Slaves and Bulldozers" is built on a strong bass riff through the nearly seven-minute drill-em-to-death approach, which is fine for a certain kind of listener mood.
The most controversial song on Badmotofinger was the lead single "Jesus Christ Pose", a group composition with wild rhythms and screeching guitar chords which seem to be ready-made for an action sequence in a movie. Cornell's vocals are at the top of his register, adding to the overall feeling of nervousness with the oft-misunderstood lyrics speaking of the exploitation of religion for personal benefit. "Face Pollution" is the first of two solo compositions by Shepherd, with this one being a heavily punk influenced track with a punk-like length of just over two minutes. "Somewhere" follows as a more of a standard rock song with heavy use of rhyming and emphasis on melody. "Searching with My Good Eye Closed" features Cameron playing interesting beats and just enough fills during the droning song proper, with Thayil playing well-effected long-noted guitar patterns to give it all a late sixties psychedelic effect.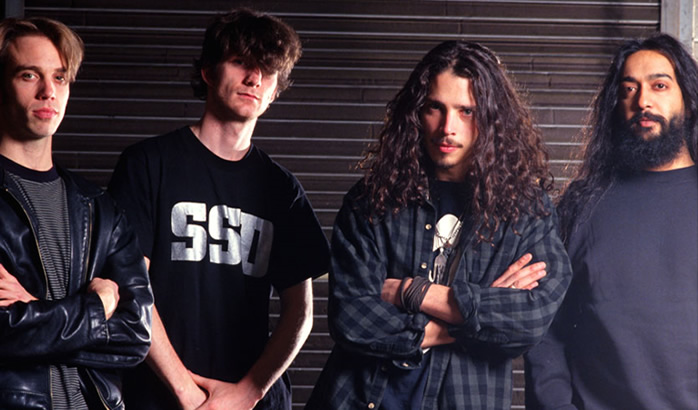 While having some sonic highlights, the latter half of the album loses a bit of steam. Besides having a really cool name, there is really nothing special about "Room a Thousand Years Wide" as an audio song. "Drawing Flies" is another fast, drilling song by Cameron but fades out too fast making it sound like filler, while "Holy Water" is a sloshy, grunge rocker and the closer "New Damage" is one final, dramatic guitar and vocal-centered screed which leaves the album with an ominous message for the listener. The best of this set of songs is "Mind Riot", which combines a good bass riff intro with guitars entering in turn with a fine effect, and when drums finally enter with an odd tempo, it all resolves with a really cool vibe going that is kind of bluesy and somewhat Eastern influenced.
Badmotorfinger was nominated for the Grammy Award for Best Metal Performance in 1992 and the album has been certified two times platinum, selling over a million and a half copies in the United States. The album's success led to an extended North American tour and built the foundation for much greater success later in the decade.
~

Part of Classic Rock Review's celebration of 1991 albums.