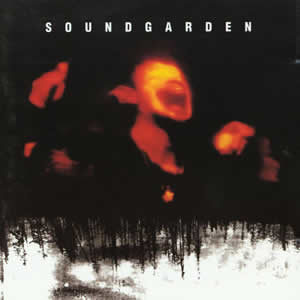 Although it was the group's fourth overall release, Superunknown was the real breakthrough album for Soundgarden in 1994. This release was a critical and commercial success and the 15 track album, which clocks in over 70 minutes in length and pushes the capacity limits of CDs, would have easily been a double album a decade earlier. Musically and compositionally, Superunknown blended the group's core metal style with elements of punk, rock, pop, and psychedelia, along with some songs of Middle-Eastern or Indian influence. The band also experimented with different drum and guitar sounds, as well as layering techniques to create a more expansive sonic output.
After the group's extensive touring following the 1991 album Badmotorfinger, Soundgarden began work on this album with producer Michael Beinhorn in 1993. The four band members worked on material independently and then brought demos to the collective sessions. Ultimately, front man Chris Cornell composed the lion's share of the material but points out that the recording process was far more important than on previous albums.
Lyrically, the album is a bit dark, with themes dealing with seclusion, fear, revenge, substance abuse and depression. Cornell said that the album's closing song "Like Suicide" is literal and the album's cover art includes a black and white image of an upside-down burning forest. The inspiration for the album's title came from the misreading of a video entitled "Superclown".

Superunknown

by

Soundgarden
Released: March 8, 1994 (A&M)
Produced by: Michael Beinhorn & Soundgarden
Recorded: Bad Animals Studio, Seattle, July–September 1993
Track Listing
Group Musicians
Let Me Drown
My Wave
Fell on Black Days
Mailman
Superunknown
Head Down
Black Hole Sun
Spoonman
Limo Wreck
The Day I Tried to Live
Kickstand
Fresh Tendrils
4th of July
Half
Like Suicide
Chris Cornell – Lead Vocals, Guitars
Kim Thayil – Guitars
Ben Shepherd – Bass, Vocals
Matt Cameron – Drums, Percussion, Synths
The crisp, rhythm-driven rocker "Let Me Drown" opens the album on an upbeat note but doesn't contain much variation or movement beyond that. "My Wave" is much better, albeit with the same basic vibe. Guitarist Kim Thayil provides a rotating trance during song proper with odd timings during the chorus hooks and an ending with partially psychedelic section. "My Wave" was released as a single and peaked at number 11 on the Billboard Mainstream Rock Tracks chart.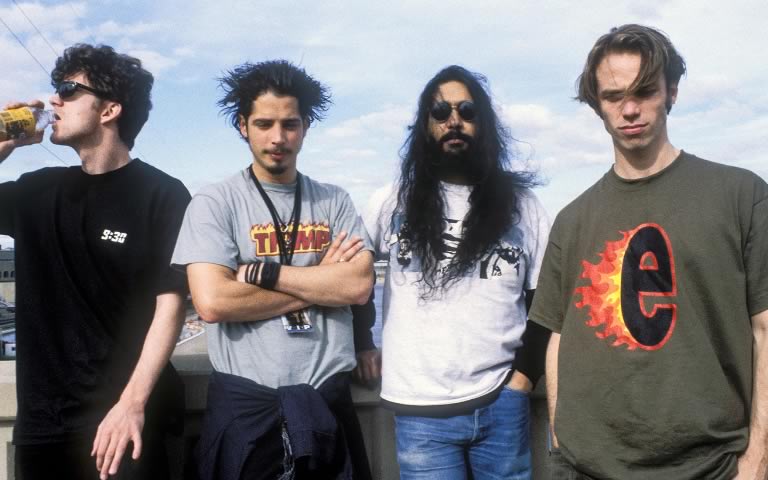 "Fell on Black Days" is the gem of the early part of the album. It is at once an illustration of the better part of 90s grunge rock and the greater overall post-Beatles hard rock sound. Written by Cornell, it contains a riff in the time signature of 6/4 while the drums of Matt Cameron are straight 4/4, giving it an unsettling but adventurous feel. Cameron wrote "Mailman", which contains extraordinarily slow riffing during the verses in a kind of droning, but seems to fall short of reaching its intended effect. The title song "Superunknown" changes thing up quite a bit with a more like upbeat, blues rock and anthemic feel. Written by bassist Ben Shepherd, "Head Down" begins with a calm acoustic that is soon joined by doomy arrangement, making for a very interesting and rewarding start. The song latter dissolves into odd drum section by guest Gregg Keplinger, which ends the song awkwardly.
"Black Hole Sun" is the quintessential Soundgarden song, due to the masterful guitar phrases by Thayil and the exquisite composition by Cornell. The effect is a totally unique and cool sound as Cameron holds the song together while Thayil and Shepherd play the slow riffs of the verses. The song topped the Billboard Mainstream Rock Tracks chart and stayed there for a total of seven weeks. "Spoonman" is a great riff-driven rocker, with fantastic, soaring vocals by Cornell and plenty of percussive candy throughout. The song was named for Artis the Spoonman, a street performer from Seattle who also performed on the recording, and is the last really great song on the album.
The latter part of the album is less impressive than the earlier part, with a few odd tracks standing out. "Limo Wreck" is an odd yet entertaining waltz rocker with riffing by Thayil and Cameron during the intro and great soulful singing by Cornell, which only gets better as the song grows in intensity. "The Day I Tried to Live" has an intense bass riff, which matched in intensity by all other band members except for drummer Cameron, who kind of stays slow and steady throughout. "Kickstand" is a very short and frantic rocker with not much substance, while "Fresh Tendrils" is built on open riffing and trance-like sounds and features Natasha Shneider on clavinet. This is followed by a couple of weird, de-tuned tracks, the acid-influenced "4th of July", and the calm but measured "Half", which features Shepherd on lead vocals along with a viola and cello.
Superunknown debuted at number one on the Billboard 200 and sold over a quarter million copies in its opening week. "Spoonman" and "Black Hole Sun" won Grammy Awards in 1995 and the album ultimately sold over 9 million copies worldwide.
~

Part of Classic Rock Review's celebration of 1994 albums.