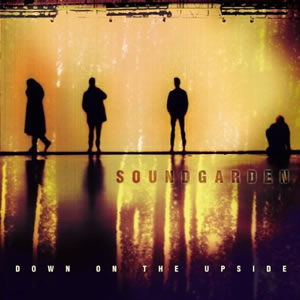 The climax of the group's original success, Down On the Upside was a super-sized album by Soundgarden, one which would have been a double album in decades earlier than this 1996 release. This fifth studio album by the band features music which is much more experimental than on previous Soundgarden releases as it utilizes expanded instrumentation, more complex harmonies, layered guitar textures and ambitious compositional structures.
In early 1994, Soundgarden released their breakthrough, Superunknown, which topped the pop album charts and remains the group's most commercially successful album. During the subsequent touring, Cornell severely strained his vocal cords, which forced the group to take a break and ultimately slow the pace of touring.
Work on Down On the Upside began in Seattle in the summer of 1995. Compositions were more individually written with front man Chris Cornell writing most of the lyrics. Some tensions reportedly arose between Cornell guitarist Kim Thayil during these recording sessions, which would be the last for the group for over a decade and a half.

Down on the Upside

by

Soundgarden
Released: May 21, 1996 (Interscope)
Produced by: Adam Kasper & Soundgarden
Recorded: Studio Litho and Bad Animals Studio, Seattle, November 1995–February 1996
Album Tracks
Primary Musicians
Pretty Noose
Rhinosaur
Zero Chance
Dusty
Ty Cobb
Blow Up the Outside World
Burden in My Hand
Never Named
Applebite
Never the Machine Forever
Tighter and Tighter
No Attention
Switch Opens
Overfloater
An Unkind
Boot Camp
Chris Cornell – Lead Vocals, Guitars, Mandolin
Kim Thayil – Lead Guitar
Ben Shepherd – Bass, Mandolin
Matt Cameron – Drums, Percussion, Synths
Starting things off, "Pretty Noose" is a choppy rocker with distinct, layered guitar riffs. It was the lead single from the album and reached number two on the Billboard Modern Rock Tracks chart. "Rhinosaur" was co-written by drummer Matt Cameron and features some odd-timed rhythms during the verses with the choruses featuring uplifting vocals by Cornell, A frantic guitar lead over the bridge quickly dissolves back to the relatively slower main theme to end the track. "Zero Chance" is the first of several tracks by bassist Ben Shepherd as a traditional grunge depressant, while his track "Dusty" employs much heavier rock with a lyric that gives the album its title.
The unique track "Ty Cobb" starts with a relaxed intro with both Cornell and Sheppard playing a mandolin and mandola respectively, before the band launches into a full punk screed. On "Blow Up the Outside World", Soundgarden uses an A-B attack strategy. First there is the calm acoustic section, sung gently and melodically, accompanied by a nice tremolo second guitar and heavy bluesy third guitar as tension builds through the early verses. Then the arrangement explodes into a full metal assault during the chorus. Together these sections make for a bonafide classic, further solidified by the fantastic, calm guitar lead by Thayil in the middle.
Cornell's voice above pure, folk, open-C strumming makes for a unique and potent blend of sonic bliss during "Burden in My Hand". This song does get heavier in the choruses, but never over the top for this track which topped the Billboard Mainstream Rock Tracks charts for five weeks. When full rhythmic arrangement joins for the later verses, song and album reaches its musical heights.


There is no doubt that Down On the Upside is top-heavy in terms of quality, as the latter part of this long album contains several tracks which could be considered filler material. Shepherd's "Never Named" is a short speed rock jam, while Cameron's "Applebite" is mainly an instrumental with some distorted, mechanical vocals. Cornell's "Tighter and Tighter" is a moderately paced track bluesy rock jam in contrast to the frantic, quasi-punk "No Attention". The best of this later group includes Thayil's "Never the Machine Forever" with rapid riff, screeching guitars, Shepherd's potent jam "An Unkind", and the unidirectional closing track,
"Boot Camp".
A worldwide success, Down On the Upside topped the charts in several countries, topping out at number two in the group's native United States. The group again went on a massive tour to support this album but tensions within the band ultimately led to their disbandment early in 1997. Soundgarden would not reunite for a studio album until the production of King Animal in 2012, with a follow-up to that album currently in the works as of mid 2016.
~

Part of Classic Rock Review's celebration of 1996 albums.