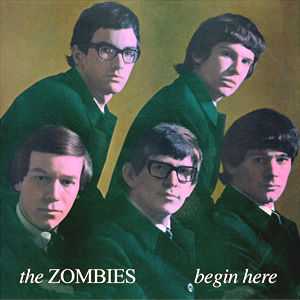 We commence our year-long celebration of the 50th anniversary of 1965 album releases with the oldest music we'll ever cover at Classic Rock Review. The British group, The Zombies, recorded several singles through 1964 a few of which caught fire in the U.S. market. To capitalize, the group rushed into the studio late in 1964 to record enough material to release an album for the American market. The twelve track album The Zombies was released in January 1965 in the U.S., while the band took a little more time to complete their fourteen track U.K. debut, Begin Here, a few months later. While either version of this album contains too many covers by contemporary standards, there is certainly enough variation and originality in the originals to sustain this as a classic.
The Zombies were originally formed as "The Mustangs" in 1961, while its five members were still at school. After finding out that other bands were using "Mustangs", the band's permanent name was coined by short-time member Paul Arnold, who left the group to become a physician. The band "won" a recording contract with Decca Records after winning a beat-group competition and instantly recorded their first hit, "She's Not There" in 1964. Written by keyboardist Rod Argent, the song contains a cool, jazzy electric piano, Bossa Nova rhythms by drummer Hugh Grundy, and the signature, breathy vocals by lead vocalist Colin Blunstone. The song reached The Top 20 in the UK in September 1964 and climbed all the way to #2 in the U.S. in December 1964.
The group immediately toured the United States and were featured on the initial episode of the national TV show Hullabaloo. Throughout this frenzy, the group was composing and recording, while developing a distinct musical and vocal style with featured a blend of keyboards, snapping rhythms, and distinct lead and harmonized vocals.

Begin Here

by

The Zombies
Released: March 1, 1965 (Decca)
Produced by: Ken Jones
Recorded: June – November 1964
Side One
Side Two
Road Runner
Summertime
I Can't Make Up My Mind
The Way I Feel Inside
Work n' Play
You Really Got A Hold On Me/Bring It On Home To Me
She's Not There
Sticks and Stones
Can't Nobody Love You
Woman
I Don't Want to Know
I Remember When I Loved Her
What More Can I Do
I Got My Mojo Working
Bonus Tracks
It's Alright with Me
Sometimes
Kind of Girl
Tell Her No
Group Musicians
Colin Blunstone – Lead Vocals
Rod Argent – Piano, Keyboards, Harmonica, Vocals
Paul Atkinson – Guitars
Chris White – Bass, Vocals
Hugh Grundy – Drums
Begin Here starts with a rocking version of Bo Didley's "Road Runner". Paul Atkinson adds some surf rock guitar elements to complement Blunstone's wild, intense vocals and a slight organ solo by Argent. George Gershwin's "Summertime" is next interpreted as a calm and jazzy number with great sixties sonic motifs, led by the electric piano of Argent and the smooth lead vocals of Blunstone. The first original on the album is written by bassist Chris White. "I Can't Make Up My Mind" is pure sixties pop, with The Zombies offering their first hint of great harmonies with a slight guitar lead by Atkinson. Argent's "The Way I Feel Inside" is definitely influenced by The Beatles, and most specifically the song "If I Fell" from A Hard Days Night, while "Work n' Play" is a cool sixties-style instrumental, led by the piano of guest Ken Jones (who wrote the number) and a harmonica lead by Argent.
The medley "You've Really Got a Hold on Me/Bring It On Home to Me" may be the weakest spot on the album, considering The Beatles had already done their own version of the first part of this medley, and there is nothing special added here. In contrast, the cover "Sticks and Stones" is a great jam even if you can sense some Rolling Stones/Them influence, especially vocally. Atkinson's bright, picked guitar drives the blues/soul influenced "Can't Nobody Love You", a rare track where Argent is reserved to the background with White's bass and Grundy's drums much more animated. "Woman" is  riff-driven with harmonized vocals throughout and changes method and tempo between the verse and chorus sections.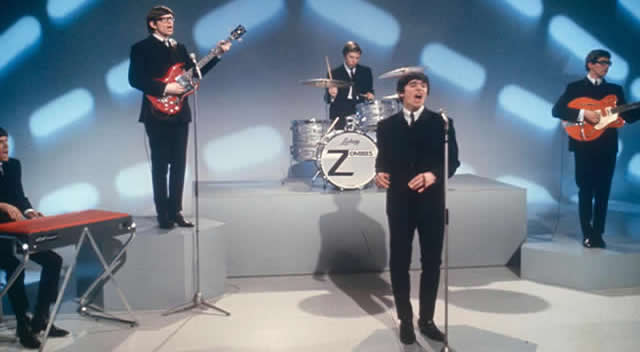 "I Don't Want to Know" is another pop track by White with some lead vocal rudiments, while Argent's "I Remember When I Loved Her" contains a dark, almost Western feel with echoed, picked acoustic and constant 6/4 rhythmic drive with some percussion effects. Later a haunting organ rises in the background, adding to the overall vibe and show that The Zombies were sophisticated beyond their years and explored abstract musical avenues long before art-rock came along. White's third and final composition on the album is the short but excellent "What More Can I Do", which vastly predicts the Doors sound of years to come. Rounding out the original album is "I Got My Mojo Working", a pure, upbeat blues which forecasts the future of rock n roll with consistent, driving riff and beat and more than apt harmonica by Argent.
Some of the group's originals which were only included on the American version, The Zombies, were the sixties jam, "It's Alright With Me", the Beatlesque rocker, "Sometimes", and most especially the 1965 hit single "Tell Her No". This latter track by Argent is a jazz/rock classic with great sense of melody and composition that became the group's second Top 10 hit in the United States.
After the frenzy of early 1965, The Zombies got into a bit of a commercial rut, releasing several singles through 1966 without much popular reaction. Eventually, the band made their way to Abbey Road Studios in 1967 and recorded their classic album, Odessey and Oracle, released in 1968. Unfortunately, the group was already on the outs by that point, assuring a short but meteoric path for one of the sixties most ingenious rock bands.
~
Part of Classic Rock Review's celebration of 1965 albums.