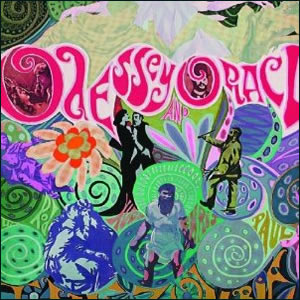 The Zombies only had two studio albums during their heyday of the 1960s. The first was their 1965 debut which was filled with British flavored pop with a slight edge. The second was the slightly-psychedelic, pre-prog-rock classic Odessey and Oracle, which was the band's masterpiece. Released in 1968 after the group had actually disbanded, this album contains twelve richly arranged tracks that are succinct (there is not a single song that lasts as long as four minutes) and of top notch production, done independently by the group members in 1967. The result is an album of bright and melancholy piano tunes with rich vocal harmonies, mellotron, and tight rhythms.
The tracks on Odessey and Oracle alternated between compositions by bassist Chris White and by keyboardist Rod Argent, each possessing a knack for composing original and diverse songs. The album was mainly recorded at Abbey Road studios during the summer of 1967, nearly a full year before its release. The group had a tight budget for recording and worked quickly in the studio. This brisk pace also had negative effects, such as the misspelling of "odyssey" in the cover design (which forever changed the album's official title) and creative tensions among the group members, which ultimately led to their demise by the end of 1967.
With the group disbanded, CBS Records initially decided not to release the album in the United States. However, producer Al Kooper had heard the album during a trip to England and convinced the label to reverse its decision. The Zombies had previous success in the US during the "British invasion" days of 1964 and 1965 fueled by the singles "She's Not There" and "Tell Her No". With the release of Odessey and Oracle, another hit single, "Time of the Season", closed out the decade with their biggest hit.

Odessey and Oracle

by

The Zombies
Released: April 19, 1968 (CBS)
Produced by: The Zombies
Recorded: Olympic Studios & Abbey Road Studios, London, June–November 1967
Side One
Side Two
Care of Cell 44
A Rose for Emily
Maybe After He's Gone
Beechwood Park
Brief Candles
Hung Up On a Dream
Changes
I Want Her, She Wants Me
This Will Be Our Year
Butcher's Tale (Western Front 1914)
Friends of Mine
Time of the Season
Band Musicians
Colin Blunstone – Lead Vocals
Rod Argent – Piano, Organ, Melotron, Vocals
Paul Atkinson – Guitar, Vocals
Chris White– Bass, Vocals
Hugh Grundy – Drums, Vocals
The perfect English pop of Argent's "Care of Cell 44" starts the album with a very upbeat tune with just a tad of tad of melancholy. The Zombies' extraordinary vocal talents are apparent right from the start, led by lead vocalist Colin Blunstone and the gorgeous harmonies of the rest of the band. This unique song tells the uncommon story of an impending release of a prison inmate and was the lead single for Odessey and Oracle, although it failed to chart. The ballad "A Rose for Emily" is like a subdued "Eleanor Rigby", driven by Blunstone's lead vocal melody and Argent's simple rudimental guide piano and again contains multipart vocals in the chorus. The song concludes with nicely diminished ending chords, following the sad closing lyric;
And as the years go by, she will grow old and die, The roses in her garden fade away, not one left for her grave, not a rose for Emily…"
"Maybe After He's Gone" alternates between Paul Atkinson picked folk guitar during mellow verse and a driving chorus with heavy harmonies and piano. This is a great mood piece of pure, high end sixties pop. Atkinson returns with a very interesting guitar Leslie effect on "Beechwood Park", good folk song with more great vocal harmonies and a vibe similar to Procol Harum's "Whiter Shade of Pale". White's "Brief Candles" has been called a true piece of songwriting genius, with soft piano verses giving way to mellotron drenched choruses held tight by the drum-driven rhythm of Hugh Grundy. The song alternates moods masterfully. Side one concludes with the mainly psychedelic "Hung Up on a Dream", with a heavy reverb on Argent's piano and the best guitar work by Atkinson on an album which used his talents strategically.
The second side begins with White's "Changes", containing two distinct sections, which seem to compete with each other. One part is almost like a choir recital while another contains bongos and other percussive effects trading off with the mellotron in this fine psychedelic rocker. Argent takes lead vocals "I Want Her, She Wants Me" is upbeat, much like the opening track with Argent's harpsichord, White's very bouncy bass by White and more pop/rock-oriented harmonies than on most other tracks on the album. "This Will Be Our Year" is a great rock ballad, not the slow and sappy kind, but the upbeat yet romantic, with very good vocals by Blunstone, who pretty much carries the song alone with none of the usual harmonies.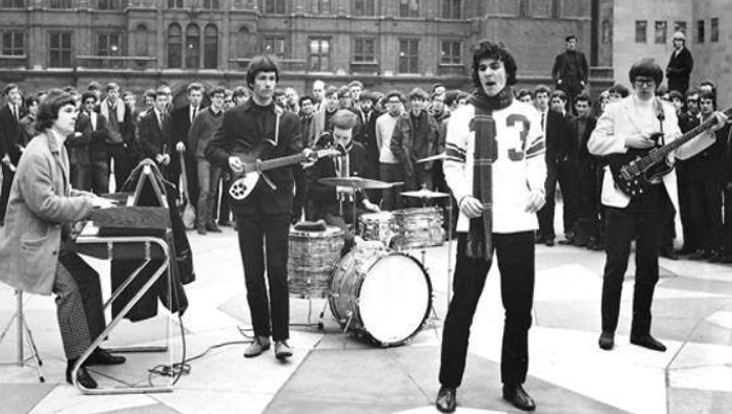 Written and sung by White, "Butcher's Tale (Western Front 1914)" is the most far-out, freak-out song on Odessey and Oracle, starting with a sound effect and driven throughout by deep and dark organ sound for a raw effect like later punk, but a bit more legitimate. The lyrics tell of a battle from the viewpoint of a soldier in the midst of the fight in World War I, which many took as a thinly-disguised comment on Vietnam. "Friends of Mine" brings the mood back up instantly with duo vocals and breezy pop, this song is a great setup for the album's climatic ending.
"Time of the Season" would become the group's best known song and biggest hit, and provided an extremely strong ending to the album. This song truly has it all; a great bass riff by White, tight drums by Grundy, pure hip mood with whisper effects, perfectly breezy and unique vocals by Blunstone, and a couple of Hammond organ jams by composer Rod Argent. Although it was recorded in August 1967, it would not be heard by most of the world until early 1969, when it reached #3 in the US and the Top Ten in several other nations.
Odessey and Oracle is an indelible final statement by a rock group which was together for too short a time. Rod Argent and Chris White soon formed an offshoot group "Argent", which worked through the early 1970s. It wasn't until 1997 that the group performed any of the material live, during a brief reunion to promote their box set. A decade later, in 2008, The Zombies celebrated the 40th anniversary of Odessey and Oracle's release by performing the album in its entirety for the first time every.
~

Part of Classic Rock Review's celebration of 1968 albums.