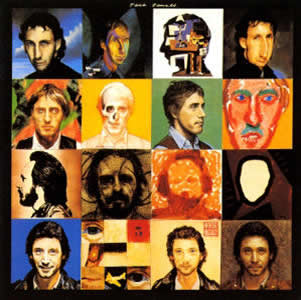 Face Dances was the ninth album from the legendary band The Who but their first without drummer Keith Moon, who died of an overdose shortly after the release of their previous album, Who Are You in 1978. Unlike their English contemporaries Led Zeppelin, who also lost their drummer during that time span and decided they could not continue without him, The Who decided to make a comeback in 1981 with a new drummer, Kenney Jones.
In spite of this fracture in personnel integrity, Face Dances is actually a very good album. Jones holds his own with the musical virtuosos in the band, guitarist and primary songwriter Pete Townshend and bassist John Entwistle, and the material is strong and up-to-date while maintaining some of the signature qualities that make The Who, The Who.
Although the band was far removed from their days of rock operas and complicated theme albums, the material seems to flow along a consistent vibe that is at once deep and a bit comical, but always strong and forward. It is a credit to their ability to adapt to changing times and changing tastes in the music world.


Face Dances

by

The Who
Released: March 16, 1981 (Polydor)
Produced by: Bill Szymczyk
Recorded: Odyssey Recording Studios, London, July-December, 1980
Side One
Side Two
You Better, You Bet
Don't Let Go the Coat
Cache Cache
The Quiet One
Did You Steal My Money?
How Can You Do It Alone
Daily Records
You
Another Tricky Day
Musicians
Roger Daltrey – Lead Vocals
Pete Townshend – Guitars, Keyboards, Vocals
John Entwistle – Bass, Vocals
Kenney Jones – Drums

This comical trait is obvious right from the jump with "You Better, You Bet", an entertaining mini-suite with complex chord structures that flow together along a silky smooth narrative. "Did You Steal My Money?" is another near-frivolous song that takes a little concentration to recognize the fantastic vocal performance that is put forth by vocalist Roger Daltrey.
As usual, Townshend's songs are introspective and, to a lesser extent, philosophical. "Don't Let Go the Coat" was inspired by guru Meher Baba (who was partially responsible for the title to the song "Baba O'Riley" a decade earlier), while "Cache, Cache" was a literal telling of Townshend's ill-fated, one day retirement from the music business. Entwistle contributes a unique original with his own raspy vocals and near-heavy-metal sound with "The Quiet One".
The second side of the album contains lesser known but strong songs throughout , highlighted by "Daily Records" and "Another Tricky Day". Although Face Dances is not quite Who's Next or Quadrophenia, it is a solid record and important in the band's rebound following the tragic death of Moon. The band would put out another studio album, It's Hard, in 1982 before ultimately disbanding for over a decade and a half.
The album cover of Face Dances features sixteen square paintings (four of each band member) that were commissioned by artist Peter Blake (of Sgt. Pepper's Lonely Hearts Club Band album cover fame), who enlisted many British artists of differing styles (including himself) to make this unique cover.
~

Part of Classic Rock Review's celebration of 1981 albums.