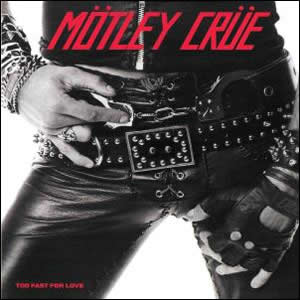 Perhaps more than any other band, Mötley Crüe epitomized the "hair band" phenomena of the 1980s, with their updated version of 1970s glam. But they did have a brief moment of pre-glam, pre-hair when they were simply a hungry hard rock band from L.A. looking to make their breakthrough.
The band's 1981 debut album Too Fast for Love captures this era in raw and unpolished form. There are flaws throughout, including the obvious fact that Nikki Sixx had not yet learned how to play bass (which he later admitted), the overall low budget under-production, and the fact that songs do tend to repeat themselves in near mind-numbing sequence. In spite of this, the album illustrates that there is something real and legit about these four young talents, including Sixx whose main contribution is as the band's primary songwriter, which can attract even non-fans of the band or the genre.
The talent represented here validates Mötley Crüe as a legitimate rock band. This is especially true for the most talented member of the band, guitarist Mick Mars, who is the only member of the band that truly has his sound fully formed and cultivated on this debut.


Too Fast for Love

by

Mötley Crüe
Released: December, 1981 (Elektra)
Produced by: Mötley Crüe
Recorded: Hit City West, Los Angeles, 1981
Side One
Side Two
Live Wire
Come On and Dance
Public Enemy #1
Merry-Go-Round
Take Me To the Top
Piece of Your Action
Starry Eyes
Too Fast for Love
On With the Show
Musicians
Vince Neil – Lead Vocals | Mick Mars – Guitars
Nikki Sixx – Bass | Tommy Lee – Drums

Mars' sound is the lynch pin that really elevates this album from semi-professional demo to consumer-ready rock product. His technique and sound textures are best displayed on the album's only ballad, "Merry-Go-Round", in which Mars alternates between lightly picked staccato notes and sustained, heavy chords and includes a fantastic, overdubbed lead that takes the song home.
However, a true listen to Too Fast for Love reveals that there are some other budding musicians beyond Mars. Although both fall just short of being fully matured in their craft, Tommy Lee plays some animated and entertaining drums while Vince Neil sings with a melodic, new-wave-ish voice.
Several of the songs reflect the band's seventies influences. The opener "Live Wire", with it's machine-gun rift that dissolves into a calmer mid-section is reminiscent of Rush's "Bastille Day". Deep Purple's influence can easily be heard in the entertaining "Piece of Your Action", while the album's title song sounds like any number of Kiss songs.
Too Fast for Love also includes a couple of really good rock-pop songs. "Public Enemy #1" would have been a huge hit if it were released during the band's heyday a half decade later, while the closer "On With the Show" displays the Crüe's versatility as up-and-coming musicians.
Even some of the album's weaker songs, such as "Take Me to the Top" and "Starry Eyes" display a bit of authentic, early eighties charm that makes Mötley Crüe's debut well worth the listen.
~

Part of Classic Rock Review's celebration of 1981 albums.