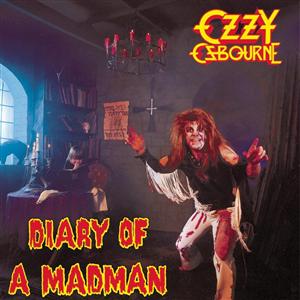 There is something pure about Ozzy Osbourne that makes him so endearing to his fiercely loyal fans. Without pretension, this big, overbearing lug that just plugs away at his prophesying to the darker fringes of the Western psyche. Despite all his success, Ozzy is more Eagor than ego. But from this rock critic's perspective, in his career that spanned over four decades, there was only a very brief moment in time when Ozzy Osbourne was truly great. It was during a few short years at the top of his solo career, when he shared the stage with an equally iconic partner, Randy Rhoads. Together they produced two brilliant albums, Blizzard of Ozz in 1980 and Diary of a Madman in 1981.
A classically trained, guitar virtuoso, Rhoads was a young musical genius who looked at his meteoric rise in rock n' roll as just a minor pit stop on his road to achieving a true classical music education. He had actually planned on returning to school in the near future before his life was cut short when an idiotic pilot tried some idiotic stunts on a small plane in Florida in early 1982.


Diary of a Madman

by

Ozzy Osbourne
Released: November 7, 1981 (Jet)
Produced by: Max Norman, Ozzy Osbourne, & Randy Rhoads
Recorded: February 9 – April 23, 1981
Side One
Side Two
Over the Mountain
Flying High Again
You Can't Kill Rock and Roll
Believer
Little Dolls
Tonight
S.A.T.O.
Diary of a Madman
Musicians
Ozzy Osbourne – Lead & Backing Vocals
Randy Rhoads – Guitars
Bob Daisley – Bass
Lee Kerslake – Drums & Percussion
At first, it seems apparent that with Diary of a Madman the band wanted to carbon-copy their breakthrough Blizzard of Ozz. In fact, the first two songs, "Over the Mountain" and "Flying High Again" strongly mirror the first two songs of that album ("I Don't Know"/"Crazy Train"), being the most recognizable on their respective albums. But soon, Diary of a Madman makes it's own mark as a deeper, darker, more classically-oriented piece.
"You Can't Kill Rock and Roll" is where the music starts to get serious. The best song on this album, it both perfectly illuminates the twin sides of Rhoads, while being the ultimate theme song for Ozzy Osbourne himself. The production work is stellar, blending the classical and heavy metal elements perfectly. In the third verse, with the long, distorted droning electric guitars, really brings the volcanic passion of this song bubbling to the surface.
There is some controversy that has followed this album through the years, as the original bass and drum recordings, done by Bob Daisley and Lee Kerslake were later re-recorded (by Rudy Sarzo and Tommy Aldridge) at the instance of Ozzy's wife and manager, Sharon Osbourne, in order to cleanse songwriting credits from Daisley and Kerslake. This is really unfortunate, because the original recording were much of a band effort, and the bass and drum performances shine throughout, especially through the second side of the album and the songs "Little Dolls", "Tonight", and "S.A.T.O.".
But this album is undoubtedly Rhoads from start to finish. And what an eerie finish indeed, with the haunting title song. That traverses through a few haunting verses and a very haunting mid section. Then the outtro – when Rhoads furious riff is accompanied by a chorus of spiritual voices that escort his very last performance on record to a bone-chilling end.
~

Part of Classic Rock Review's celebration of 1981 albums.