Buy Magic Christian Music
Buy No Dice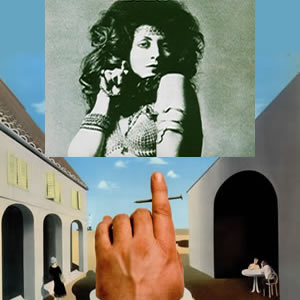 Badfinger thrust into the world of popular music with their first two releases, the soundtrack Magic Christian Music and the rock album No Dice. The first of these was actually an unplanned hybrid of five songs recorded specifically for the film The Magic Christian and seven songs released in the late 60s when the group was known as "The Iveys". The latter was their pop/rock breakthrough as it significantly expanded the group's popularity with a handful of indelible songs.
Based in London, The Iveys caught the attention of Mal Evans in early 1968, shortly after he was brought on board the Beatles' brand new Apple Records. The group was signed to the label in April 1968 and immediately began recording soft rock styled pop singles, which were released throughout the next several months. In early 1969, Maybe Tomorrow by the Iveys was compiled from previous singles and released as a debut album. Later that year, the group changed their name to Badfinger and recorded a few songs, produced by Paul McCartney, intended for a multi-artist soundtrack to The Magic Christian. However, when Apple couldn't retain the rights to Thunderclap Newman's "Something In the Air", the label decided to release a Badfinger-only soundtrack.
The band refined their sound in a more rock-oriented direction on No Dice. This was due in part to the arrival of guitarist Joey Molland, formally of the band The Rain. The four group members also recorded sessions on George Harrison's All Things Must Pass album. Mal Evans was the original producer for this album but, after Apple execs expressed dissatisfaction with the sound, longtime Beatles' engineer Geoff Emerick was brought in to finish the album. Even though No Dice was released during a very competitive Christmas season for rock records, it did very well commercially and became the band's best-selling LP.

Magic Christian Music

by

Badfinger
Released: January 9, 1970 (Apple)
Produced by: Paul McCartney, Mal Evans, & Tony Visconti
Recorded: Abbey Road, Trident, IBC & Olympic Studios, London, 1968-1969
Side One
Side Two
Come and Get It
Crimson Ship
Dear Angie
Fisherman
Midnight Sun
Beautiful and Blue
Rock of All Ages
Carry On Till Tomorrow
I'm in Love
Walk Out In the Rain
Angelique
Knocking Down Our Home
Give It a Try
Maybe Tomorrow

No Dice

by

Badfinger
Released: November 9, 1970 (Apple)
Produced by: Geoff Emerick & Mal Evans
Recorded: Abbey Road & Trident Studios, London, April–August 1970
Side One
Side Two
I Can't Take It
I Don't Mind
Love Me Do
Midnight Caller
No Matter What
Without You
Blodwyn
Better Days
It Had to Be
Watford John
Believe Me
We're for the Dark
Band Musicians
Pete Ham – Guitars, Paino, Vocals
Tom Evans – Bass, Guitars, Vocals
Ron Griffiths – Bass, Vocals (Magic Christian only)
Joey Molland – Guitars, Vocals (No Dice only)
Mike Gibbins – Drums, Vocals
"Come and Get It" was written by McCartney during the sessions for Abbey Road but not included on that album. He offered the song to Badfinger along with his producer services on the condition that they record it exactly like this demo. The opening track and lead single from Magic Christian Music, "Come and Get It" was the group's first hit, reaching the Top 10 in both the US and the UK.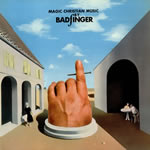 Other new tracks recorded for the movie included "Crimson Ship", "Give It a Try", "Midnight Sun", and "Rock of All Ages". The latter song was also produced by McCartney and has a pure, Early-Beatles' inspired rock feel that made it a highlight of the album's first side. "Dear Angie" was written by bassist Ron Griffiths and producer Tony Visconti as the Ivey's second single in 1969. Griffiths left the group later in the year, making this his only composition for the band.
Tom Evans started off as a guitarist but later moved to bass following the departure of Griffiths and the arrival of Molland. On Magic Christian Music, Evans composed and sang lead vocals on many tracks, including the folk-tinged "Fisherman", the pop-oriented "Beautiful and Blue", the quasi-psychedelic "Angelique", and the closing ballad "Maybe Tomorrow". This last track was the Ivey's first single in mid-1968 and includes string arrangements by George Martin, but had disappointing chart success following its release.
Evans co-wrote "Carry on Till Tomorrow" with Pete Ham. This track may be the most complex on the album, starting dark and melancholy, but adapting contrasting musical arrangements ranging from simple folk with rich vocal harmonies to sweeping strings and blistering lead guitar. Ham's other contributions to Magic Christian Music are the upbeat, jazzy rocker "I'm in Love", the sixties folk tune "Walk Out In the Rain", and the Roy Orbison-like crooner "Knocking Down Our Home", a song with piano, clarinets, and Caribbean-like beats in a laid back and breezy journey through catastrophic irony.
Starting with No Dice, Ham would play an increasing role in Badfinger's musical direction, as evident on the hard rock opener "I Can't Take It". Still, this album was incredibly democratic compositionally with drummer Joey Molland writing or co-writing several tracks. "I Don't Mind" is a flange-induced rock ballad, sung by Evans with Emerick adding subtle production effects. "Love Me Do" is the first song with Molland on lead vocals as a very basic rocker and apparent homage by the band to their mentors.
The true heart of the album begins with Ham's ballad "Midnight Caller". This simple but exquisite song features beautiful vocals by Ham to his simple, rocking piano, steadily strummed acoustic, slightly funky bass and subtle drums. The hit song "No Matter What" was originally cut from the album when Apple considered its sound (produced by Mal Evans) to be insufficient. Later in the sessions, however, the group needed another track and revisited this track to find a pure pop/rock sound that perfectly fit the times in late 1970. Complex harmonies, call and response vocals, and good rock instrumentation with effective sonic treats like a distorted organ and fine lead guitar, all worked to make this simplest of upbeat love themes one the group's biggest ever hits, peaking at number 5 in the UK and number 8 in the US.
The polar opposite of previous feel-good song, "Without You" is a melancholy classic and a true collaboration between Ham and Evans. Actually the song is a fusion of two ballads with Ham's "If It's Love" used for the verses and Evans' chorus giving the song its title. Badfinger's version features a smooth, George Harrison-like lead guitar by Molland and a long outro chorus with building instrumentation. However, this original version was far from the most popular version of this song, which has been covered by over a hundred artists. Harry Nilsson heard the Badfinger recording of this song and instantly decided to cover it on his Nilsson Schmilsson album in 1971. His version topped the US pop chart for four weeks in 1972, and was one of the highest selling singles for that year. When Nilsson passed away in 1994, Mariah Carey decided to record the song as a tribute to him and it once again topped the pop charts.
Side two of No Dice contains some lesser known tracks which are of no less quality. Ham's "Blodwyn" is an upbeat, drinking pub type folk song with Country-inspired lead guitars, while "Better Days" with interlude guitar riffs and Elvis-inspired lyrics by Molland as well as an effective key change for the final verse. "It Had to Be" is a simple ballad written by Gibbins with Ham offering the emotive lead vocals, while "Watford John" is a band jam with a boogie piano named after a studio engineer employed by Apple.
The album ends very strong with a gem each by Evans and Ham. "Believe Me" is a John Lennon-inspired rock screed with harmonized vocals and a methodical but powerful delivery, along with the best overall guitar lead on the album, a duo effort which is slightly harmonized and slightly competing. This track was one of the earlier efforts by the group and Mal Evans. An absolute gem by Ham, "We're for the Dark" completes the album as a simple but effective arrangement with tremendous sonic effect. This includes a fine fade-in of single acoustic, Ham's double-tracked vocals, and the slightest accompaniment of bass guitar and orchestration, which never overpower the root acoustic and vocal elements. Although there are no drums, there is a consistent, rapid, heart-beat like beat throughout, which works to boast the songs motion overall.
Upon completion of No Dice, Emerick and the band began recording songs for a potential follow-up album. Although the project never materialized, several of these tunes appeared as bonus tracks on later versions of this album, with the beat-driven, slow rocker "Mean, Mean Jemima" being the best of this lot. In 1971, Badfinger started over with a new album project which spawned Straight Up, another successful pop rock release by the group.
~

Part of Classic Rock Review's celebration of 1970 albums.