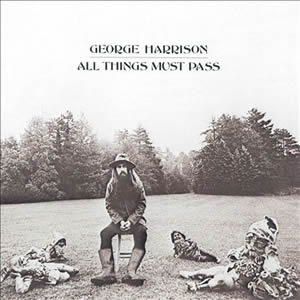 We start our three part mini-series called "Life After Beatles" with All Things Must Pass, the triple LP album which George Harrison the month the Beatles officially broke up. However, much of the material on this album dates back to later Beatles projects (usually as material rejected by the band) as well as personal contemporary influence from artists like Eric Clapton and Bob Dylan. For the Beatle who was often relegated to a supporting player with one or few compositions per album, this was a massive break out for Harrison as he firmly established his own musical identity and introduced methods like his signature slide guitar technique. The result was a critical and commercial success and some consider this to be the best of all the former Beatles' solo albums.
Harrison previously recorded two experimental solo albums called Wonderwall Music and Electronic Sound, both of which made use of early synthesizers. Following the release of The Beatles' White Album in late 1968, Harrison took a trip to America, which included a stop at Dylan's residence in Woodstock, NY as The Band was working on their self-titled sophomore album. Inspired by the songwriting methods of Dylan and his protégés and a renewed fascination with the guitar, Harrison began writing prolifically, and contributed songs to artists Billy Preston, Doris Tory, an Cream. Harrison also briefly toured with Clapton and his group Delaney & Bonnie and Friends. Although he began to openly discuss recording a solo album in 1969, it was not until The Beatles' break-up in the Spring of 1970, that Harrison moved forward with the project.
Producer Phil Spector was invited to listen to Harrison's growing library of unreleased compositions, some of which dated back as far as 1966. These diverse songs ranged in sub-genres from rock to country, Motown, Gospel and Indian music, as well as many hybrid fusions of these styles. Even though there was enough finished material to release a triple-length album, Harrison reportedly made demos of at least twenty other songs, most of which have yet to be released. Due to Spector's rich "wall of sound" recording method, it is hard to discern exactly who played what on which track. However, this album did employ an incredible roster of talented rock musicians to back Harrison. Along with Clapton and Preston, these included fellow Beatle Ringo Starr, Dave Mason, Alan White, Phil Collins, and all four members of the group Badfinger.

All Things Must Pass

by

George Harrison
Released: November 27, 1970 (Apple)
Produced by: George Harrison & Phil Spector
Recorded: Abbey Road, Trident, & Apple Studios London, May–October 1970
Side One
Side Two
I'd Have You Anytime
My Sweet Lord
Wah-Wah
Isn't It a Pity
What Is Life
If Not for You
Behind That Locked Door
Let It Down
Run of the Mill
Side Three
Side Four
Beware of Darkness
Apple Scruffs
Ballad of Sir Frankie Crisp
Awaiting on You All
All Things Must Pass
I Dig Love
Art of Dying
Isn't It a Pity (version 2)
Hear Me Lord
Side Five
Side Six
Out of the Blue
It's Johnny's Birthday
Plug Me In
I Remember Jeep
Thanks for the Pepperoni
Primary Musicians
George Harrison – Lead Vocals, Guitars, Keyboards
Eric Clapton – Guitars
Klaus Voorman – Bass
Ringo Starr – Drums
All Things Must Pass starts with the ballad "I'd Have You Anytime", a song co-written by Harrison and Dylan in Woodstock in November 1968. This opener features a fine guitar lead by Clapton, although he was not originally credited due to contractual concerns. The first minute and a half of the hit "My Sweet Lord" is quite brilliant in its approach. But this song does get quite repetitive and the backing religious chants wear thin later on in the song. The song turned out to be a mixed blessing as Harrison's biggest pop hit (number one for four weeks) but also controversial due to the lawsuit for copyright infringement due to this tracks similarity to the sixties pop hit "He's So Fine".
"Wah-Wah" is a track with great sonic texture and arrangement that was written during Harrison's brief departure from the Beatles in early 1969. It was the first track recorded for the album and includes a great performance by Badfinger in backing Harrison. "Isn't It a Pity" is even older, dating back to the 1966 Rubber Soul sessions. Two distinct versions of this melancholy ballad were included on the album, with the seven-minute side one closer being the more popular version, which reached the top of the charts in Canada.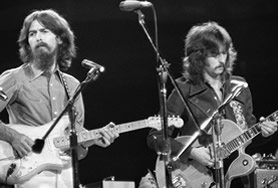 The fantastic rocker "What Is Life" is one of Harrison's most indelible tunes, driven by a rich guitar riff, great melody, and strategic horns, all of which helped make it a top-ten hit in the United States. Originally, the song was a concerted effort at "blue-eyed soul" but the result is much closer to heavy rock/pop. Written solely by Dylan, "If Not for You" is a bright pop song with slight Caribbean elements and the only song not at least partially composed by Harrison. "Behind That Locked Door" follows as a Country-waltz with some steel guitars in distance, while "Let It Down" was one of a few presented to the Beatles during the Let It Be sessions, but ultimately rejected by the other band members. "Run of the Mill" starts with blissful blend of guitars while the lyrics express some frustration with the circumstances surrounding the Beatles' business practices.
The album's fine third side begins with the slow drudge and subtle, building intensity of "Beware of Darkness". The lyrics of this song reflect Eastern philosophy and the wariness of corrupting influences. A light tribute to rock fans, "Apple Scruffs" is dominated by harmonica, upbeat strummed acoustic, and rich harmony vocals. The clicking percussion by Mal Evans gives it a feeling of spontaneity. "Ballad of Sir Frankie Crisp (Let It Roll)" contains some good melodies and great sonic feel as a distant slide guitar and near piano work well together, while "Awaiting On You All" is a Gospel rock revival that is almost too richly produced for its own good.
The excellent title ballad is filled with rich instrumentation and a great overall vibe. First recorded with The Beatles, the song was originally released by Billy Preston on his Encouraging Words album. Harrison was influenced by The Band's communal music-making with the lyrics drawing from Timothy Leary's poem "All Things Pass". "I Dig Love" has a raw sound and catchy groove – repetitive but in useful way, while "Art of Dying" contains more great rock elements. The side four closer "Hear Me Lord" is an explicit prayer asking for help in becoming a better person, with a strong chorus in background and a very animated piano throughout.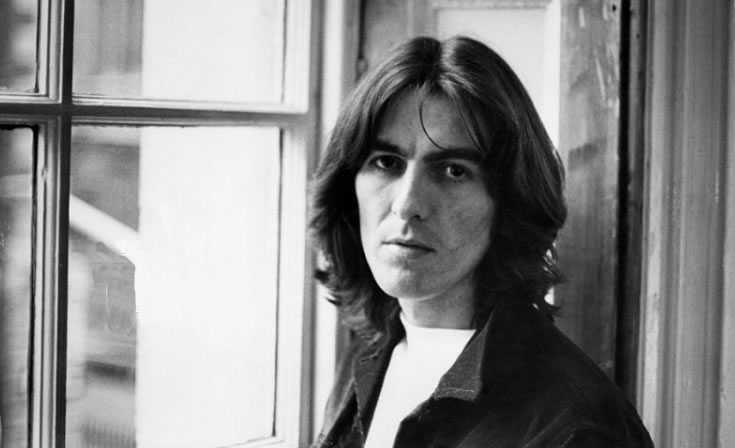 The final two sides of the album is known collectively as "Apple Jam", with four of the five tracks being improvised instrumental tracks. The best of these is the long droning "Out of the Blue", a two-chord jam with decent sax lead early on and subtle piano and organ motifs later. "I Remember Jeep" contains some synthesized effects overdubs and features former Cream and Bind Faith drummer Ginger Baker, while "Thanks for the Pepperoni" is the most roots-rock oriented jam. The only vocal track on these two sides is "It's Johnny's Birthday", which was recorded as a gag to present to John Lennon on his 30th birthday.
All Things Must Pass launched a long and respectable solo career for George Harrison, concluding with his 15-year final project Brainwashed. Still, few dispute that this first post-Beatles release is Harrison's true masterpiece that would never be equaled.
~

Part of Classic Rock Review's celebration of 1970 albums.