Buy Badfinger
Buy Wish You Were Here
Buy Badfinger Combo (Badfinger, Wish You Were Here, & BBC Sessions)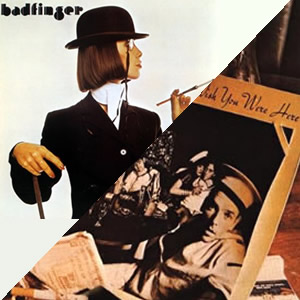 Badfinger had one of the saddest roller coaster rides of the early 1970's rock n' roll era. Despite personal tragedies, they recorded and released two quality albums, Badfinger and Wish You Were Here, both of which were released in 1974 and brought the promise of top-level fame within their sights. But this was not to be, as the group had a fraud perpetrated in their name which ultimately led to financial ruin, both these 1974 albums being ultimately pulled from the shelves, and the ultimate tragedy of band leader Pete Ham committing suicide in early 1975. In fact, much of the world would not know these albums even existed for over three decades.
Badfinger had a fairly good run early on in their career from 1969 through 1971. aside from the Beatles themselves, they were the most successful artists on the Apple Records label. However, by 1972 Apple was in serious financial disarray and Badfinger had decided to part ways once they completed a final album they were obligated to deliver to the label. The group's new manager, Stan Polley had secured what seemed to be a very lucrative deal with Warner Brothers. By late 1973, Badfinger was in the London studio serving the dual purpose of finishing their fourth and final album for Apple (eventually called Ass) along with recording their initial effort for Warner Brothers.
Although recordings for the album began as early as 1972, Ass wasn't released until late November 1973 due to production problems. In the end, Apple engineer Chris Thomas was hired to finish production duties. Thomas would stay on for both of the 1974 albums. Most of the material on Badfinger was written in the studio as it was recorded, and that album was released very shortly after Ass. The band continued on its hectic schedule, going on a short but intense tour of America in the Spring of 1974, with one concert being recorded for a possible live release.
In April, Badfinger headed to Caribou Ranch recording studio in Colorado, to record their second album of 1974, Wish You Were Here. Their reported $3 million deal with Warner Brothers, called for a total of six albums over three years, so the band had no real incentive to take time off, especially since Polley had assured they'd be advanced $225,000 for each new record (although the band would never see any of that). Further, Warner's publishing arm had become increasingly troubled by a lack of communication from Polley and the status of an escrow account for these advance funds. After completing Wish You Were Here, Badfinger had a legitimate masterpiece in the making. But soon, it would all start to unravel due to actions not of their doing.

Badfinger

by

Badfinger
Released: February 1974 (Warner Brothers)
Produced by: Chris Thomas
Recorded: Olympic Studios and AIR Studios, London, June-November 1973
Side One
Side Two
I Miss You
Shine On
Love Is Easy
Song for a Lost Friend
Why Don't We Talk?
Island
Matted Spam
Where Do We Go from Here?
My Heart Goes Out
Lonely You
Give It Up
Andy Norris

Wish You Were Here

by

Badfinger
Released: November 1974 (Warner Brothers)
Produced by: Chris Thomas
Recorded: Caribou Ranch, Nederland, Colorado, April-May 1974
Side One
Side Two
Just a Chance
You're So Fine
Got to Get Out of Here
Know One Knows
Dennis
In the Meantime/Some Other Time
Love Time
King Of the Load
Meanwhile Back at the Ranch/Should I Smoke
Band Musicians (Both Albums)
Pete Ham – Guitars, Piano, Vocals
Joey Molland – Guitars, Vocals
Tom Evans – Bass, Vocals
Mike Gibbins – Drums, Keyboards, Vocals
After Badfinger and Wish You Were Here were pulled from the shelves in early 1975, they would not be commercially available in the United States for over 30 years. When a Badfinger compilation was released in the early 1990s, only tracks from the four Apple albums were included, leaving many young music fans with the impression that Badfinger's career finished in 1973. With the proliferation of mp3s near the turn of the century, interest about these "lost" albums began to grow and they were finally released on CD in 2007.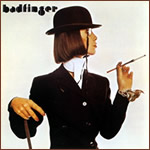 Badfinger is a direct and concise attempt at a pure pop album. All four members of the group composed songs, starting with Pete Ham's ballad "I Miss You", a mainly solo piece that doesn't contain much in sonic arrangement or lyrical depth, but is beautiful in its simplicity. In sharp contrast to the opener, "Shine On" is a bright, acoustic-folk-influenced track with great melodies and hooks. Seeming ready made for product placement, "Shine On" falls almost too perfectly into early seventies "have a nice day", feel-good, sing-songy song. "Love Is Easy" was written by guitarist Joey Molland and is beat-driven and one of the few tracks to be released as a single from either of the 1974 albums.
Ham's "Song For a Lost Friend" is the first song on album that is not a direct, front and center pop tune. This measured composition is the first song on Badfinger that reaches the level of excellence Badfinger was able to traverse. A great guitar lead follows philosophical lament that, in retrospect, could sum up Badfinger's career as a whole;
"You had a goal, you know you aimed so high, you had a soul, you knew you had to try / You're just a victim of the time of day no matter what you say or do, you saw your dream and you just took a play and for a while your dream came true – what could you do?"
Taking about a minute for a clever intro of someone entering their house and turning on the radio to a distant rendition of the very song we're about to hear, Tom Evans's "Why Don't We Talk?" is a very John Lennon-ish type of song in its approach. Molland's "Island" is the most hard rock based on the first side, built on rudimental riffs, driving rhythm sections, and potent guitar lead.
Badfinger's second original side is far superior to the first, with each band member composing some unheralded gems. These four tracks are sandwiched between a couple of unique tracks which bookmark the side. "Matted Spam" is a full-fledged funk n' soul, complete with driving bass, a full horn section and a later saxophone solo. This song of optimism is infectiously bouncy and catchy with an almost Gospel feel of revival. The closer "Andy Norris" straddles the line between old time rock of the fifties and an early prototype for upcoming acts like The Ramones.
The four standout tracks that are the heart of quality on Badfinger start with "Where Do We Go from Here?" by Evans. It is excellent, melodic, and driven by a cool Wurli piano with tactical guitar licks music and vocals desperate but controlled. Evans's bass has a bit of Caribbean feel in its beat, which is confirmed later with a short steel drum lead. "My Heart Goes Out" is a British-flavored-folk track with unique arrangement, composed by drummer Mike Gibbins. The chorus of string instruments including mandolin, dobro, and acoustic guitars gives a special melancholy vibe that keeps things interesting. "Lonely You" is one of the truly best power ballads of the early seventies as Ham advances the McCartney-esque strain of soft pop to the next level. This may be a bit sappy for some, but there is not a flaw in this song compositionally or sonically as musically the blend of piano and acoustic are exquisite and guitar leads are potent and the arrangement has long outro to absorb the overall feel as it dissolves. Molland's "Give It Up" seems to have tapped into nineties grunge about two decades early. This track is very dynamic with an eerie, quiet beginning and verse before it launches into strong part with blended, distorted guitars and a long coda contains wild, lead guitars which pushed the sonic limits of the early seventies. These four powerful, Side B tracks really preserve Badfinger as a relevant rock album four decades later, in spite of its poor reviews and weak sales upon its original 1974 release.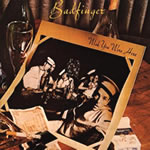 During, its very short seven week span on the shelves in late 1974, Wish You Were Here did receive positive reviews, and for good reason, as this may be Badfinger's overall best work. The album forges higher-end seventies pop with contemporary rock, including elements of folk, country, prog and hard rock. Like the previous album, each band member contributed to the songwriting, starting with Ham's pure rock-driven rocker "Just a Chance". The harmonized vocals throughout this track announces that this album is something a bit different from past Badfinger LPs. "You're So Fine" follows as an upbeat acoustic, with a picked-electric that has a Byrds-like quality. Written by Gibbins, the vocals are again vocals harmonized nicely and a beautiful solo guitar interlude leads to country-inspired lead with a subtle vocal chorus and slight harmonica add the great vibe of this tune. The strummed acoustic, dark and moody "Got to Get Out of Here" may by Molland's prophetic (or telegraphed) telling of his coming departure from the band. A very simple arrangement, with just some excellent organ overtones over the simply strummed acoustic chords, the lyrics seem to tell of the chaos of the era – "Got to get out of here, a man who feels the space begins to need the wall…" A very deep and introspective track.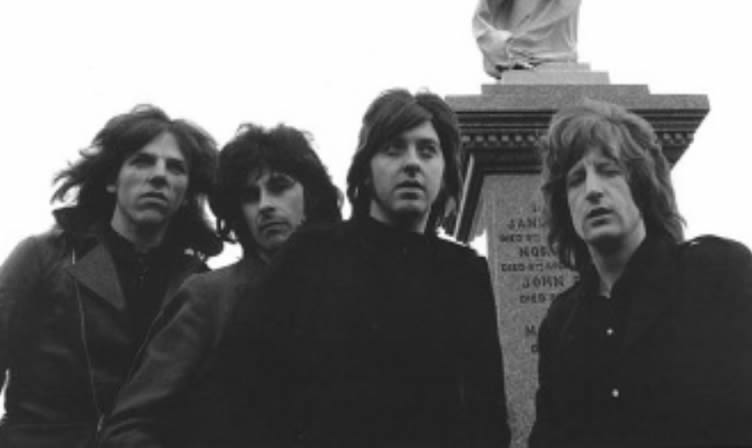 Ham's "Know One Knows" brings the mood back up with a clever play on words after the building intro breaks into steady, descending groove under the pleasant melody. The between-verse interludes are interesting and powerful with fine drum fills by Gibbons and the bridge lead is backed by spoken words by Japanese singer Mika Kato. "Dennis" is a tremendous song on Wish You Were Here and one of the best of Badfinger's career. This brilliantly chilling song about a child teetering between mischief and innocence is presented in three distinct parts, it starts with very moderate piano-backed verses, cut with strong and slow guitar riffs. The song then moves to more upbeat, almost doo-wop rock section with an exquisite chord structure and passionate vocal harmonies and backing parts. "Dennis" maintains a deep and sweet tenor, but yet there's a tone of desperation in the closing "there's a way" part which closes the song. The song's title is actually an adjective (as in "Dennis the Menace") and not a noun, as it was written by Ham about his girlfriend's son, not named Dennis.
Side two begins with "In the Meantime"/"Some Other Time", the closest to prog rock that Badfinger ever got. Starting with an eerie orchestration before breaking into the rudiment and riff filled "In the Meantime", the part of the song that seems to preview the sound from emerging American groups like Kansas and Styx. the track alternates back and forth between Gibbins and Molland compositions, with décor of fine strings and horns through all the multiple parts of this suite. In contrast to that seven minute opus, "Love Time" is a very short and direct acoustic ballad, which brings the mood back to the moderate, mellow, middle, where Badfinger seems to work so well. An ever-so short bridge with guitar solo nicely leads this song into final, abrupt verse.
"King of the Load" is Evans' only composition and lead vocal on Wish You Were Here, containing a great electric piano and vocals with guitar accents during choruses that are particularly beautiful and another strong guitar lead. That being said, this song may suffer from lack of clarity in the lyrics and its odd title. The closing medley "Meanwhile Back at the Ranch"/"Should I Smoke" is an incredible rocker with a strong rhythm, melody, and some of the best second vocals during the choruses. The song gets a bit more moderate during Molland's "Should I Smoke" part but still carries much of the same drive, albeit accented by orchestration. This closing track solidifies the album as a true classic rock album for all time.
Wish You Were Here would be the band's final album with their principle line-up of Ham/Molland/Evans/Gibbins, as Molland quit Badfinger shortly after its release. Still, in spite of the dire cloud that was descending on the group, the remaining members soldiered on and immediately went back into the studios to record their planned third album for Warner Brothers. In just eleven days, Ham, Evans, and Gibbons recorded the Head First album, but the label outright rejected this album as it was now clear that Stan Polley had embezzled all the previous advance money and a lawsuit was filed on December 10, 1974. With their current album suddenly withdrawn from shelves and their follow-up rejected, Badfinger desperately attempted to reach Polley to resolve the situation, but he would not return their calls. On April 24, 1975, Pete Ham hanged himself in the garage of his new home he could no longer afford. His suicide note ended with "P.S. Stan Polley is a soulless bastard. I will take him with me".
~

Part of Classic Rock Review's celebration of 1974 albums.