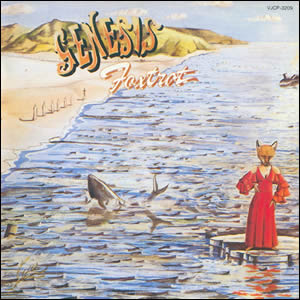 After a couple albums of extreme experimentation in theatrical rock, Foxtrot is where it all came together for Genesis. This 1972 album was the first of three, in consecutive years, that marked the creative apex during the band's "Peter Gabriel" era. Gabriel was the band's lead vocalist and flamboyant front man through the early 1970s who went on to have a successful solo career after his departure in 1975. Foxtrot is a solid album which struck a nice balance between jam-oriented progressive rock and theme-oriented art rock with not a weak moment anywhere on the album, making it one of the most esteemed prog rock albums ever.
The centerpiece of the album is the 22-minute closer "Supper's Ready", which Gabriel explained as "a personal journey which ends up walking through scenes from Revelation in the Bible." This epic song is divided into several sections, some recurring, which straddle the line between classical and rock music and contain multiple changes in time and key signature and mood. While the five members of the band were given songwriting credit for "Supper's Ready", Gabriel authored most of the lyrics while drummer Phil Collins did much of the arranging and segues between the various sections. When performed live, the provided their audience with a programme which described many of the scenes with words such as;
"At one whistle the lovers become seeds in the soil, where they recognise other seeds to be people from the world in which they had originated. While they wait for Spring, they are returned to their old world to see Apocalypse of St John in full progress…"
"Supper's Ready" launches abruptly into the first verse with vocals by Gabriel along with guitars by Steve Hackett. The lyrical imagery tells of a common domestic scene morphing into a supernatural experience (which Gabriel has long claimed was true). With various scenes and characters of varying complexity, the song previews a style employed on Genesis's 1974 double album The Lamb lies Down on Broadway. Towards the middle of the song is "Willow Farm", which started as a stand-alone song but acts as a light break from the serious subject matter of "Supper's Ready" (much like an intermission in a play).

Foxtrot

by

Genesis
Released: October 6, 1972 (Island)
Produced by: David Hitchcock
Recorded: Island Studios, London, August 1972
Side One
Side Two
Watcher of the Skies
Time Table
Get Em' Out By Friday
Can-Utility and the Coastliners
Horizons
Supper's Ready
Band Musicians
Peter Gabriel – Lead Vocals, Flute, Percussion
Steve Hackett – Guitars
Mike Rutherford – Guitars, Bass, Vocals
Tony Banks – Piano, Keys, Vocals
Phil Collins – Drums, Percussion, Vocals
The album begins with Tony Banks mellotron intro to "Watcher of the Skies". The album got its title from a preset "foxtrot" on the instrument and, in turn, future versions of the mellotron contain the "Watcher mix" as part of its tape set. The long introduction cross fades into the song's main theme, which uses unusual time signatures under the chanting vocal melody of Gabriel. Lyrics were provided by Banks and Mike Rutherford, who envisioned an empty Earth being approached by an alien visitor.
"Time Table" takes a more traditional folk-rock approach with melancholy lyrics of medieval days gone by, highlighted by Banks' piano intro and accents and Mike Rutherford's exquisite bass patterns. The song offers a calm and melodic approach that would be refined during the band's "middle era" of the late 1970s. The lyric speaks of speaks of "a carved oak table that played host to kings and queens who sipped wine from goblets gold". A short acoustic instrumental by Hackett, "Horizons" acted as a lead-in to "Supper's Ready" at the beginning of the album's second side. It became an extremely popular piece in the band's live sets during Hackett's tenure with Genesis.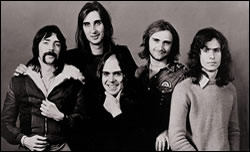 "Get Em' Out by Friday" is a unique and theatrical multi-act piece which may be the quintessential Genesis brand of song. It fluctuates in tenor and tone through the various phases of the story with Gabriel "playing" several characters with his singing. The "play" takes place in a future (ironically, 2012), using elements of reality and science fiction with the central theme being a landlord evicting tenants by force or by attrition. Under the guidelines of the government bureaucracy called "Genetic Control", all tenants are restricted to being under four feet tall in order to fit "twice as many in the same building size". Rutherford has commented that the lyrics of this song were the best that Gabriel had written.
The first side completes with another mini-suite "Can-Utility and the Coastliners", which again returns to the middle ages and the 10th century English King Canute, who tried to demonstrate the absurdity of his worshipers by trying to halt the sea during a major storm;
"They told of one who tired of all singing "Praise him, praise him" / "We heed not flatterers," he cried, by our command, waters retreat, show my power, halt at my feet…"
The song starts as a top-notch folk song, led by the pastoral guitars of Hackett and the dynamic vocals of Gabriel, but later morphs into a classic prog-rock jam led mainly by the punchy keys of Tony Banks and the skilled drumming of Phil Collins.
Foxtrot is where Genesis began to forge their legacy as a top level art rock group. Although it was far from a commercial "hit", this was also the band's first album to break into the charts, reaching #12 in the UK. They would have plenty of commercial hits in later years, long after they abandoned their penchant for art rock.
~

Part of Classic Rock Review's celebration of 1972 albums.