Buy A Trick of the Tail
Buy Wind & Wuthering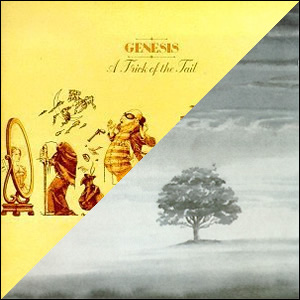 We love Genesis here at Classic Rock Review. Although, this is certainly not evident by our treatment of the band so far in this inaugural year. We've had four previous opportunities to cover Genesis albums during our look at four classic years but passed on each of those albums (Trespass in 1971, Abacab in 1981, Invisible Touch in 1986, and We Can't Dance in 1991). Well, today is an opportunity for some make up as we will do a double review of Genesis' two 1976 releases A Trick Of the Tail and Wind & Wuthering.
These two albums mark Peter Gabriel's departure and drummer Phil Collins debut as the group's lead singer. These are also the only two albums where Genesis is a four piece band. They were a five piece with Gabriel and would become a three piece in the future following the departure of guitarist Steve Hackett.
The band had searched long for a replacement for Gabriel (some claiming as many as 400 auditions were conducted) all while they wrote and recorded the instrumental tracks for what would become A Trick Of the Tail. Collins provided a vocal "guide" so these candidates could become familiar with their potential vocal role for this material, but no one was sufficient for the job. After briefly considering putting the album out as a pure instrumental, the band decided that Collins should be the new permanent vocalist, although he was initially reluctant to do so.
Critical expectations were low leading up the release of A Trick Of the Tail in early 1976. Hence, the album's quality and originality were a pleasant surprise to all. It was although the four remaining members had a point to prove – that they could continue successfully without Gabriel – and they proved it brilliantly. Collins demonstrated that he is an excellent singer by staying with in the tonal range of Gabriel while still exploring his own territory vocally. The songwriting credits extend to everyone, making the album's composition a true group effort. They stayed true to the Genesis legacy while evolving ever so slightly towards a new, modern sound. In musical direction, the album is an impressionist piece of art rock, using storytelling with and without words. The lyrics are like fairy tales or fables and the music makes you envision scenery much as an opera.
With Wind & Wuthering the band stayed true with the basic formula and philosophy as A Trick Of the Tail. However, it feels a bit more forced sounding less fresh than its predecessor. This is especially true on the second side where the band seemed to be making one last try at constructing an art piece in the fashion of their earlier albums. But, most of the songs sound under developed. That being said, Wind & Wuthering does have some brilliant moments, especially when it comes to the songs that open and close the album.

A Trick Of the Tail

by

Genesis
Released: February 2, 1976 (Virgin)
Produced by: David Hentschel and Genesis
Recorded: Trident Studios, London, October-November 1975
Side One
Side Two
Dance On a Volcano
Entangled
Squonk
Mad Man Moon
Robbery, Assault, & Battery
Ripples
A Trick Of the Tail
Los Endos
Wind & Wuthering

by

Genesis
Released: December 23, 1976 (Virgin)
Produced by: David Hentschel and Genesis
Recorded: Relight Studios, Hilvarenbeek, Netherlands, September-October 1976
Side One
Side Two
Eleventh Earl of Mar
One For the Vine
Your Own Special Way
Wot Gorilla?
All in a Mouse's Night
Blood On the Rooftops
Unquiet Slumbers For the Sleepers…
…In That Quiet Earth
Afterglow
Group Musicians (Both Albums)
Phil Collins – Lead Vocals, Drums, Percussion
Steve Hackett – Guitars
Tony Banks – Piano, Keyboards, Vocals
Mike Rutherford – Bass, Guitars
One of the fascinating qualities about A Trick Of the Tail, is how each song is so entirely different from the previous one. Some may consider this to be non cohesive, but we feel it enhances the listening experience by presenting the talents of these musicians in one package. "Dance On a Volcano" is the most complete group composition on the album. With a minute long intro that sets the sound scape, a measured, plodding tempo during the two verses moves into a frantic pace during the futuristic section that drives the song on a tangent towards its conclusion. The message of the song is when faced with an ugly, volatile challenge, you need to attack the situation like a hero would and dive right into the fire and fight. The song reprises during the album's closing instrumental "Los Endos", a foray into the world of jazz fusion. During the closing fadeout, the band pays homage to their former lead singer as Collins recites a few lines from "Supper's Ready" off of 1972's Foxtrot, an epic song closely associated with Peter Gabriel.
Steve Hackett's "Entangled" has an ethereal musical soundscape, like an old English folk song. The lyrics juxtapose the peaceful sleep induced by anesthesia and the dreams of flying over the landscape until the song drifts towards a haunting instrumental section at the end. As a counter piece on the second side, Mike Rutherford's "Ripples" is a beautiful but sad ballad with fine melodies during the chorus that lament old age and dying –
Sail away, ripples never come back, they've gone to the other side…"
Keyboardist Tony Banks contributed the most compositions on A Trick Of the Tail. "Mad Man Moon" is a piano ballad with strings that blossoms into something almost theatrical, like an opera or performance art. "Squonk" is the first heavy, rock sounding release of the "new" Genesis. Full of hooks and catchy melodies, it retells the English legend of the squonk, a sad creature which roams about wallowing in misery and then melts away to tears once captured. Banks also wrote the album's predominant "pop" songs.
The upbeat title song "A Trick Of the Tail" focuses on a "beast" character who leaves his own kingdom and enters the world of humans. He is captured and put on display in a freak show after his captors refuse to believe in his kingdom, which he claims is covered in gold. "Robbery, Assault, and Battery" is an entertaining song which moves from section to section, exploring many different time signatures and melodies. Both of these songs had promotional videos made, a forecast of the music world a half decade later with the advent of MTV.
Wind & Wuthering begins with a seven and a half minute mini-suite called "Eleventh Earl of Mar", a good jam lead by Rutherford's keys with and interesting middle section led by the folksy motifs of Hackett. This piece feels like a combination of several songs off The Lamb Lies Down On Broadway and refers back to an historical English figure and events. Banks' "One For the Vine" is a nearly ten minute piano tune with fine vocals by Collins. Sounding more like 80's era Genesis, this piece morphs into a mellow, program-music-like piece before breaking out into a wild, percussive upbeat section.
Mike Rutherford's "Your Own Special Way" is the plainest forecast of the new pop-ier direction that the band would pursue as a trio in the late seventies and through the eighties. A waltz, lead by a strumming, 12-string riff the song breaks into a full-fledged soft love song during chorus. It later goes into a gratuitous electric piano part that seems to do nothing but eat up clock, showing that the band was, in some sense, just trying to get through this album. "Wot Gorilla?" concludes the first side as a basic yet interesting instrumental.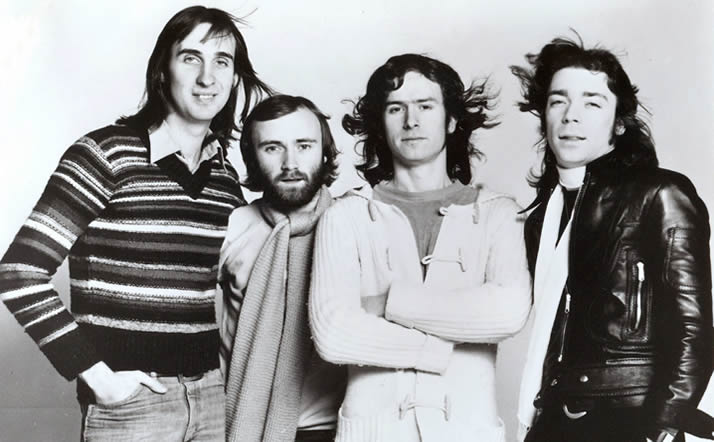 The second side of Wind & Wuthering sees the band attempting to return to Gabriel-era theatrics, but falling just a bit short in this quest. "All In A Mouse's Night" is a play involving a couple, a cat, and a mouse, while "Blood On the Rooftops" starts with a nice, classical sounding guitar and contains fine overall instrumentation, but the song as a whole doesn't quite reach its potential. The album concludes with a three song medley, the first two of which are average but interesting instrumentals. "Afterglow" concludes it all with a beautiful and simple approach that offers a melodic conclusion to Genesis' second album of 1976.
With our previous two presentations of twin album reviews (Alice Cooper in 1971 and Guns n Roses in 1991), the material was close to even in quality and importance. However, this is not quite the case here as A Trick Of the Tail, which we consider a classic, is decidedly superior to Wind & Wuthering, which may be reserved for dedicated Genesis fans.
~

Part of Classic Rock Review's celebration of 1976 albums.