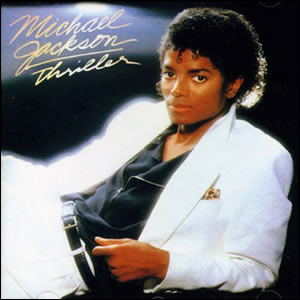 Thriller is the sixth studio album by Michael Jackson and the best selling album of all time. Seven of the nine songs on the album were released as singles and each one of those seven reached the top ten on the pop charts. The album went on to win an unprecedented eight Grammy awards, was entered into the Guinness Book of World Records as the all time top seller worldwide, was instrumental in providing racial harmony among music fans, made the most amount of money ever for a single performing artist, and was given credit by many in the recording industry for boosting sales industry-wide. So, why have so many of us loathed this record for three decades?
After listening to this back to front several times in preparation for this review, I may have an answer and it isn't the music itself. In fact, I think this more mature and objective version of myself can honestly say that Thriller is quite fine musically. It hits the sweet spot in the genre we used to call "soul" (now referred to as R&B) and most of the songs are melodic, entertaining, and well composed. And then there is the title song "Thriller" and its monstrosity of a video (pun intended) where Michael Jackson and the hype machine jumped the proverbial shark. Why, Michael, why? You already had the best video ever made with "Billie Jean" and had shown you can do the choreographed dance thing on another video. There comes a point when one has to learn to just accept success and move on to other things.
The album was produced by Jackson and Quincy Jones and the two reportedly butted heads throughout the production process, which took seven solid months. Jones produced Jackson's previous album, Off the Wall in 1979, but felt that it was too "disco" for the early 1980s. Jackson had felt that album did not get the proper acclaim that it deserved and was on a mission to make something which simply could not be ignored by the critics. Jackson and Jones worked on about thirty songs in total and nine were chosen for inclusion on the album. Jackson ultimately "wrote" four of these songs, but not by committing anything to paper. Instead, he would dictate directly into a sound recorder and commit his songs to memory for further performance.


Thriller

by

Michael Jackson
Released: November 30, 1982 (Epic)
Produced by: Quincy Jones and Michael Jackson
Recorded: Westlake Studios, Los Angeles, April-November 1982
Side One
Side Two
Wanna Be Startin' Somethin'
Baby Be Mine
The Girl Is Mine
Thriller
Beat It
Billie Jean
Human Nature
PYT (Pretty Young Thing)
The Lady In My Life
Primary Musicians
Michael Jacksson – Lead Vocals, Percussion
Rod Temperton – Keyboards | Steve Porcaro – Keyboardss | Louis Johnson – Bass

The album starts off with "Wanna Be Startin' Somethin'", an excellent funk piece written by Michael Jackson. The song was originally recorded in 1978 and later slated to be recorded by Michael's sister La Toya, but Jackson eventually decided to keep it for himself. "Baby Be Mine" follows, written by keyboardist Rod Temperton, famed for writing the song "Rock With You", the biggest hit from Off the Wall.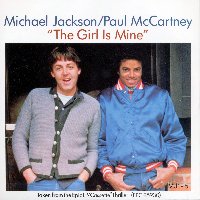 "The Girl Is Mine" is a duet with ex-Beatle Paul McCartney and was the first single released from the album in late 1982. Written by Jackson, it contains a nice mix of soft/pop instrumentation and lyrically tells of two friends' fight over a woman, arguing over who loves her more, and concludes with a spoken rap. The song was recorded during the very first session for the album in April 1982. The song "Thriller" was written by Temperton and went through several names, including "Starlight" and "Midnight Man", before settling on "Thriller" because of merchandising potential.
The second side kicks off with "Beat It", the most rock-oriented song on the album, intentionally composed for cross-over appeal. The song contains a strong anti-gang-violence message and features a guitar lead by Eddie Van Halen. "Billie Jean" is the finest composition on the album by Jackson with its nice mixture of uptempo funk and somber themes of paranoia and obsession. The signature bass line was played by Louis Johnson and the song employed some unique recording techniques, including Jackson singing vocal overdubs through a six-foot-long cardboard tube and jazz saxophonist Tom Scott playing the lyricon, a rare, wind-controlled analog synthesizer.
"Human Nature" is an excellent ballad and true highlight on the album. Written by Toto keyboardist Steve Porcaro and lyricist John Bettis, the song has moody and introspective lyrics and haunting, beautiful music and melody. It is the last great moment on the album, which concludes with a couple of relatively weaker songs. Although released as a single, "P.Y.T. (Pretty Young Thing)" is really a throw-away filler, best remembered for the backing vocals by Michael's sisters La Toya and Janet. "The Lady in My Life" is a soulful ballad by Temperton, but not quite as strong as some of the earlier tracks on the album.
This infamous "Thriller" video moment, along with the burning accident while filming a Pepsi commercial that left Jackson scarred for life, came right near the beginning of 1984. Ironically, this turned out to be exactly at the midpoint of Jackson's life (08/29/58-06/25/09) and may have been the inception of the freak show and tragic figure that Jackson became in the second half of his life, which is all the more tragic when you consider the genius this man displayed during the first half of his life. There is no denying that Thriller is the gold standard for pop albums and probably will never be topped commercially. At the time of death in 2009, the album had sold over 29 million copies, that is Platinum 58 times over.
~

Part of Classic Rock Review's celebration of 1982 albums.