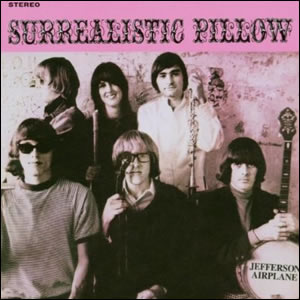 Jefferson Airplane reached an early peak with their second LP Surrealistic Pillow. The album was the first album to feature vocalist Grace Slick, who made an immediate impact by bringing with her a couple of songs from her former group, The Great Society. Combined with these indelible tunes is a fine mix of folk, rock and psychedelic experimentation which made this record a quintessential work of the 1960s counterculture.
After the Beatles-led British Invasion of 1964, folk singer Marty Balin decided to open a club in San Francisco and start a folk-rock band in residency. The first to sign on was guitarist Paul Kantner and a multitude of shifting lineups followed. When blues guitarist Jorma Kaukonen joined he came up with the group name based on his own nickname "Blind Thomas Jefferson Airplane", which in turn was influenced by one of Kaukonen's blues influences, Blind Lemon Jefferson. The group performed its first public show in August, 1965 and within months they were fielding offers from recording companies, signing with RCA Victor in November 1965, The group's debut, Jefferson Airplane Takes Off was released in September 1966 with a mix of covers and folk originals, but it did not make many waves outside of the San Francisco Bay area.
In late 1966, the group's lineup shifted once again as Spencer Dryden replaced original drummer Skip Spence and Slick replaced vocalist Signe Anderson at the invitation of bassist Jack Casady. This new lineup entered the studio late in the year to record to record Surrealistic Pillow.

Surrealist Pillow

by

Jefferson Airplane
Released: February 1, 1967 (RCA Victor)
Produced by: Rick Jarrard
Recorded: RCA Victor's Music Center, Hollywood, October-November, 1966
Side One
Side Two
She Has Funny Cars
Somebody to Love
My Best Friend
Today
Comin' Back to Me
3/5 of a Mile in 10 Seconds
D.C.B.A.–25
How Do You Feel
Embryonic Journey
White Rabbit
Plastic Fantastic Lover
Group Members
Marty Balin – guitars, vocals
Grace Slick – piano, keyboards, recorder, vocals
Jorma Kaukonen – lead guitars, vocals
Paul Kantner – guitars, vocals
Jack Casady – bass, guitars
Spencer Dryden – drums, percussion
Dryden's drum pattern borrowed from Bo Diddly introduces the opener "She Has Funny Cars", with later sections featuring a duet between Balin and Slick. Grace's brother-in-law Darby Slick composed the pop hit "Somebody to Love", while both were members of The Great Society in 1965. This song became Jefferson Airplane's first and biggest charting single as it reached the Top 5 on the Billboard Hot 100. "My Best Friend" is sing-songy and laid back with rich vocal harmonies and subtle lead guitar throughout, while "Today" features beautiful, layered guitars and great vocals by Balin.
The mellow mood continues on the extended "Comin' Back to Me", a laid back folk ballad sans rhythm section, In contrast, "3/5 of a Mile in 10 Seconds" is Balin's driving rocker which features some great lead guitar by Kaukonen and nice bass interplay by Cassady. Kantner's "D.C.B.A.–25" is a pleasant folk rocker with intricate rhythms and dual vocals, followed by the uplifting love tune "How Do You Feel" and Kaukonen's Celtic-flavored acoustic piece, "Embryonic Journey".
The album's highlight is Slick's "White Rabbit", a single direction vector of a song which builds from a simple thumping rhythm and builds into a a strong crescendo as a definitive icon of the late 60s sound. The lyrics draw from the Lewis Carroll Alice in Wonderland series and the single and became another Top 10 hit from the album. Balin's "Plastic Fantastic Lover" closes the record with an almost Velvet Underground feel to it, an edgy vibe which ends a bit abruptly.
Surrealistic Pillow peaked at number three on the Billboard album chart and has been certified Platinum by the RIAA. Soon after it's release, Jefferson Airplane performed at the 1967 Monterey Pop Festival, further solidifying their legacy as a central act in the Summer of Love.
~

Part of Classic Rock review's Celebration of 1967 albums.