Buy Human Touch
Buy Lucky Town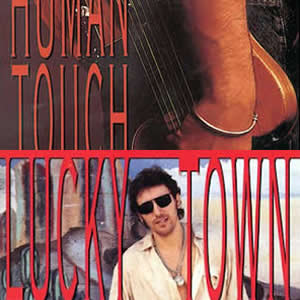 The 1980s were incredibly successful for Bruce Springsteen, both commercially and critically. However, with the break-up of the E Street band in late 1989 and Springsteen's relocation from New Jersey to Los Angeles, the next decade proved to be a more uneven decade for the boss musically. Human Touch and Lucky Town, the first two albums he released during the 1990s were released simultaneously on March 31, 1992. It had been nearly half a decade since Springsteen's last studio album release in 1987. While these two works will be forever linked, they each had a distinct origin, approach, style and running length.  These differences were ultimately reflected in their differing sales and critical responses.
After the pop/rock 1984 blockbuster Born In the USA, Springsteen released the more contemplative Tunnel of Love in 1987. The following year saw Springsteen headlining a concert in East Germany with 300,000 attendees as well as the worldwide Human Rights Now! tour for Amnesty International. Not long after the break up of the E Street Band, keyboardist Roy Bittan presented Springsteen with three instrumentals to which he later added lyrics. With this, Bittan was the sole E Street Band member involved in the production of either of the 1992 albums.
Human Touch was recorded through 1990 with Bittan, bassist Randy Jackson and drummer Jeff Porcaro joining Springsteen. Porcaro, a legendary session drummer and member of the group Toto, was asked by Springsteen to join him for the subsequent tours, but he declined due to scheduling conflicts (Porcaro would tragically die in 1992 of a heart attack). Human Touch was originally set for a early-to-mid 1991 release but Springsteen was not quite satisfied with the material at the time. He returned to the studio in September 1991 to record an extra "song or two" for the album. However, these sessions yielded ten new tracks, recorded in a more stripped-down fashion with Springsteen playing most of the instruments. Ultimately, he made the decision to package this newer material as a totally separate album, Lucky Town.

Human Touch and Lucky Town

by

Bruce Springsteen
Released: March 31, 1992 (Columbia)
Produced by: Jon Landau, Chuck Plotkin, Roy Bittan & Bruce Springsteen
Recorded: A&M Studios, Los Angeles and Thrill Hill, Colts Neck, NJ, September 1989 – January 1992
Human Touch
Lucky Town
Human Touch
Soul Driver
57 Channels (and Nothin' On)
Cross My Heart
Gloria's Eyes
With Every Wish
Roll of the Dice
Real World
All or Nothin' at All
Man's Job
I Wish I Were Blind
The Long Goodbye
Real Man
Pony Boy
Better Days
Lucky Town
Local Hero
If I Should Fall Behind
Leap of Faith
The Big Muddy
Living Proof
Book of Dreams
Souls of the Departed
My Beautiful Reward
Primary Musicians
Bruce Springsteen – Lead Vocals, Guitars, Harmonica, Bass (Lucky Town)
Roy Bittan – Keyboards
Randy Jackson – Bass (Human Touch)
Jeff Porcaro – Drums (Human Touch)
Gary Mallaber – Drums (Lucky Town)
Human Touch begins with it's title track, an extended, six and a half minute journey into pleasant enough adult contemporary pop. Lyrically, the track explores a reflection on a failed romance, making it compatible with the previous Tunnel of Love album, and the song reached the Top 20 in the US and fared even better in Europe. "Soul Driver" features synth and guitar trade offs along with excellent vocals, both lead and backing, throughout. "57 Channels (And Nothin' On)" is an interesting track, driven by Springsteen's bass line and chanting vocals, which really hone in on the hook. This amped-up, rockabilly screed on the (then) state of mass media is dripping with irony.
Next, the sparse, slow rocker "Cross My Heart" uses lyrics from a 1958 tune by Sonny Boy Williamson, followed by the upbeat rocker "Gloria's Eyes", with Springsteen's blues-based lead guitar intermittent between the vocals. "With Every Wish" sees a switch to in Americana mode with slight flourishes of fretless bass by guest Douglas Lunn and trumpet by Mark Isham. The next pair were co-written by Bittan, with "Roll of the Dice" featuring a classic E Street vibe and "Real World" showcasing a great array of sonic effects, more great harmonies, and Springsteen's finest guitar lead on the album.

"All or Nothin' at All" is rockabilly, retro fitted to a modern-day hook and offers nothing really groundbreaking. This may also apply to the tracks "Man's Job" and "The Long Goodbye". As Human Touch nears its conclusion, "I Wish I Were Blind" is the best track late on the record as a ballad with great melody and mood and a thumping bass by Jackson which finely contrasts the overall melancholy feel. "Real Man" features a soulful sound due to creative synths, leading to the closer "Pony Boy", a traditional track scaled down as a simple folk duet between wife Patti Scialfa and Springsteen.
Moving on to Lucky Town, it commences with a perfect opener, "Better Days", with lead vocals intensity amped up to '11' over a moderate rock beat with excellent backing vocals. The title track, "Lucky Town" is alt country with a dark folk feel initially and, in contrast to the opener, is mostly a solo recording by Springsteen, being joined only by drummer Gary Mallaber. This is an arrangement that will be predominant through much of the remainder of the album.

"Local Hero" starts with slight harmonica lead before settling into another upbeat storytelling tune, while "If I Should Fall Behind" is the best overall track thus far, as a folksy acoustic love song with just the right amount of accompaniment throughout. After the thumping "Leap of Faith", we reach the heart of the Lucky Town record with "The Big Muddy" and it's interesting, Delta-blues sound above an electric arpeggio, along with distinct acoustic slides and echo-laden vocals which guide the song along. "Living Proof" starts with a disco-like kick drum but the vibe is soon altered by jangly guitar in this moving song Springsteen wrote about becoming a father after he and Patti welcomed their first child in 1990.
"Book of Dreams" is a ballad with introspective lyrics, delivered with soft vocals and an even softer musical arrangement with synths and bass. "Souls of the Departed" has a sharp, jagged electric guitar sound with a slight harmonica which becomes more prominent as the tune advances, with lyrics offering commentary on the first Gulf War. Wrapping things up, "My Beautiful Reward" is an acoustic ballad with a good, folksy vibe.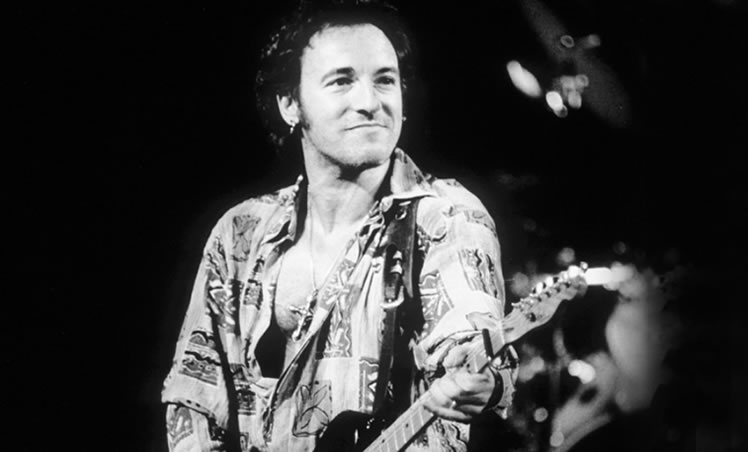 Both Human Touch and Lucky Town fared well commercially, each reaching the Top 5 on the album charts and each respectively reaching platinum in sales. However, Springsteen's first albums without the E Street Band have come to be known as the "bastard children" of his pristine discography and, since reuniting with his old band at the end of the century, he has rarely revisited any of this material during live shows.
~

Part of Classic Rock Review's celebration of 1992 albums.