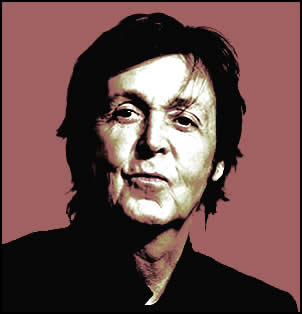 Rumors in recent years have stated that this would be the age at which Paul McCartney would stop touring and possibly even recording. Frankly, we hope these to be unfounded for no other reason than so that his latest album, Kisses On the Bottom released in February of this year, not be his last. This latest album, produced by Tommy LiPuma is made up of traditional pop songs described by McCartney as "…old songs that my parents' generation used to sing at New Year…" It's not that this is a terrible project for an artist who has composed a half dozen classical albums over the past two decades along with various other experimental, non-traditional, and/or nostalgic pieces through his long post-Beatles career, but Paul McCartney does one thing better than anyone else ever, write top-notch, original pop/rock. And we would hope that when his grand finale finally does come, it would be with something along this line.
Today, Sir James Paul McCartney celebrates his 80th birthday and he is still very much and in every way a rock star. You've got to appreciate how odd and foreign the "senior citizen rock star" still seems to many of us, even those of us who are several decades younger than McCartney but not too young to remember when relevant rock stars over 40 were an extreme rarity. When Elvis Presley passed away at 42 in 1977 or when John Lennon was assassinated a few years later at age 40, they were each near the absolute vanguard of elder rock stars during those times. Today there are many relevant rock acts still going strong well into their fifties and sixties and not just on an "oldies circuit", all of which have produced quality and original material in an art form where age 30 used to be a suitable retirement point.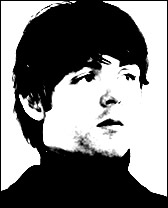 However, Paul McCartney is separate and above from all of these acts, as he was part of the absolute source of what would become known as classic rock. Starting in 1957, when he and teenage friend George Harrison joined John Lennon's group The Quarrymen, McCartney worked relentlessly at exposing the American rock n roll that he loved to the British audiences for whom he performed. The unintended but fantastic result was a fusion of this American rock with McCartney and Lennon's deeply ingrained British musical elements, such as skiffle, show tunes, and British pop. And when re-introduced to America and the world, we had the most influential rock band ever, The Beatles. (Read much more on the Beatles earliest years in the 2012 article celebrating the 50th anniversary of their first Abbey Road sessions.)
What makes McCartney unique, even among fellow Beatles is his incredible second act, the post-Beatles solo (and Wings) years which, to date, are almost five times longer in duration than his time with The Beatles. And in these 52 years since his solo debut McCartney was released (10 days after McCartney announced his intention to leave The Beatles), Paul has spent remarkably little vacant time simply trading off his Beatles past. He has released eighteen worldwide rock/pop solo studio albums, one more strictly Russian release, one more collaboration with his wife Linda McCartney, six more studio albums with his "new" band Wings, eight more live albums, six more classical albums, and six more experimental/electronica/sound collage albums, and these are just his recordings output. McCartney has also spearheaded two large retrospective projects and their accompanying television broadcasts, The Beatles Anthology in 1995/96 and Wingspan in 2001, as well as done more than 20 international tours as a solo artist.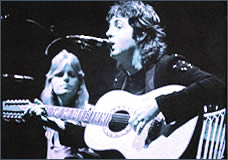 Of course, not all of this massive output of musical product was well received or even of top quality. The first official Wings album, Wild Life was terribly under-developed and under-produced, the kind of material which should have barely made the cut for some collector's box set and not given the status as a proper release. Through the years there have been several more examples of unwise or inexplicable publications which may cracked his artistic sensibility in some people's eyes. But for each of these faux pas, there was tenfold the amount of quality material released by McCartney, including a long string of top-notch albums and chart-topping hits which followed the Wild Life debacle. There have also been several hidden gems which never quite got their due in many critics and fans eyes, such as Wings final two albums London Town and Back To the Egg and McCartney's 2001 album Driving Rain.
We saw McCartney live for the first and only time during the tour supporting Driving Rain in Philadelphia in April 2002. Despite having seats two rows from the very top of the arena, the concert was an intimate and fantastic affair. At the time, McCartney was just shy of his 60th birthday but he put on a highly-energetic, three hour performance without a break which would put many 20-something rockers to shame. The concert was split into three sections, the beginning and ending performed with a brilliant five-piece rock band which carried off all the intricate styles and compositions that spanned McCartney's career. But the most interesting part of the show was the middle part where McCartney took the stage alone for about 45 minutes to an hour performing a set of Beatles and solo songs all by himself.
Most of these songs were performed on the acoustic guitar, with a couple of gems – "You Never Give Me Your Money" and "The Fool On the Hill" played on a vintage electric piano. There was one extraordinary moment when McCartney brought out a ukulele which he claimed was given to him by George Harrison when they were teenagers. He performed an upbeat, sing-songy version Harrison's classic "Something" on that night, less than five months after Harrison's death in November 2001. It was an absolutely breathtaking experience to be in the same room as this absolute legend while he performed a completely original, early 21st Century version of a Beatles' classic on an instrument that dated back to Liverpool in the 1950s.
Paul McCartney has forged a unique path through Western culture which may never again be followed. We sincerely hope that there is more of this "long and winding road" yet to follow. This man is a true artist and he has proven time and again that he has more to offer those of us who really appreciate great art. Hey, why not an 80-year-old rock star? If anyone can do it, Sir Paul can.
~