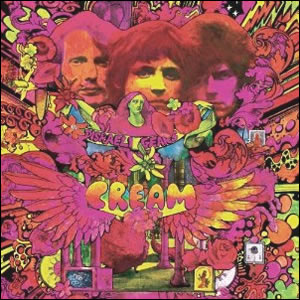 Rock's first "super group", the British trio Cream was only together for a few years in the late 1960s with only four albums to their credit. However, they left a strong legacy and cast a huge shadow of influence on the genre that became known as classic rock. Perhaps their signature work, 1967's Disraeli Gears fused the core genres of jazz and blues with a heavy dose of sixties pop and just a touch of psychedelic flourishes. The album was also the American breakthrough for the band, reaching number 4 on the charts, and elevating Cream's popularity to the upper level among their contemporaries in the "second British invasion".
Bassist and lead vocalist Jack Bruce was classically trained and had played in Manfred Mann's band along with various jazz bands with drummer Ginger Baker prior to Cream's formation in 1966. Guitarist Eric Clapton was already a "legend" in the UK (but Disraeli Gears introduced him to a vast amount of the American audience), and was encouraged by the management at Atlantic Records to become the "front man" of the band. Clapton did begin singing lead vocals on a few songs but was content to leave the bulk of those duties to Bruce.
The title of the album is based on a inside joke, after one of the band's roadies mis-pronounced the bike part "derailleur gears" as "disraeli gears". It was recorded in New York during May 1967, and produced by Felix Pappalardi, who also co-wrote a couple of the tracks along with his wife Gail Collins. The record company was disappointed at the lack of American success by Cream's 1966 debut Fresh Cream and had requested that the band record in New York so their "top guys" could directly supervise the sessions. Pappalardi helped bring the band's song into a more "modern" realm while maintaining the blues core.

Disraeli Gears

by

Cream
Released: November, 1967 (Reaction)
Produced by: Felix Pappalardi
Recorded: Atlantic Studios, New York City, May 1967
Side One
Side Two
Strange Brew
Sunshine Of Your Love
World Of Pain
Dance the Night Away
Blue Condition
Tales Of Brave Ulysses
SWLABR
We're Going Wrong
Outside Woman Blues
Take It Back
Mother's Lament
Primary Musicians
Jack Bruce – Lead Vocals, Bass, Piano, Harmonica
Eric Clapton – Guitars, Vocals
Ginger Baker – Drums, Percussion, Vocals
The album begins with one of the "Strange Brew", one of the more popular songs from the album which was constructed in a very unique way. The song was originally called "Lawdy Mama", a straight blues song that evolved from a Buddy Guy riff converted from shuffle to straight time. Pappalardi and Collins took a tape of a live performance of the song and overlaid a a pop melody with new psychedelic-influenced lyrics, making the song a "strange brew" of pop and pure blues with Clapton maintaining the original riff and Albert King style guitar solo.
Another very interesting mix come in the song "World Of Pain", which starts as an almost fifties style ballad but with very interesting bass progressions and wah-wah guitar overtones, before breaking into a more harmonized sixties groove in the chorus. "Dance the Night Away" is driven by a lush 12-string riff along with a folk-influenced melody, harmonized vocals, and mystical lyrics. This may be the band's furthest wandering from their blues core.
On the flip side, "Sunshine Of Your Love" is the undeniable rock anthem from the album. It was written by Clapton and Bruce along with poet Pete Brown, and is driven by an infectious 10-note riff that has become one of the most recognizable in rock history. That riff was originally developed by Bruce after seeing the Jimi Hendrix Experience for the first time in London. The fat guitar tone itself has become renowned as the best example of Clapton's late sixties "woman tone", with Baker holding it all together with an African influenced drum progression.
The second side of the album begins with "Tales Of Brave Ulysses", with lyrics inspired by Homer's Odyssey penned by artist Martin Sharp. This melodramatic narration alternates between calm, minimalist vocal parts and more frenzied musical jams. Clapton fused an uptempo song he was working on inspired by The Lovin' Spoonful's "Summer in the City" with Bruce's slow bass progression, making the overall affect very unique.
"SWLABR" is a fun song with lyrics by Brown, which compare a woman with the "Mona Lisa", only to lyrically deface her image later on. The song's title is an acronym for "She Walks Like A Bearded Rainbow" and contains some of the finer upbeat musicianship by the band members. "We're Going Wrong" was written by Bruce in total and features Baker using Timpani drum mallets. "Outside Woman Blues" is a standard blues song written in the 1920s, which Clapton updated with a slightly rock-oriented arrangement. The album concludes with a couple of unusual tracks – "Take It Back", which features Bruce on harmonica, and "Mother's Lament", an old music hall song which features three part harmony by all of the band's members.
Cream had a very straight-forward, muscular, and funky sound at a time when the trends were moving towards the more artistic soundscapes of "the summer of love". With the release of Disraeli Gears in November 1967, Cream was a band primed for the big time. They followed in short time with 1968's Wheels of Fire, but within a year that had decided to disband after some planned farewell concerts and a farewell album.
~

Part of Classic Rock review's Celebration of 1967 albums.