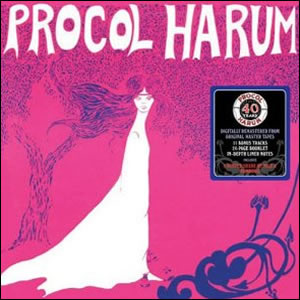 Procol Harum released their fantastic eponymous debut at the end of the summer of 1967 but most listeners have not had an opportunity to hear it as it was created. This is because only mono versions of the album were released even though the material was recorded on multi-track tape. Those original multi-track tapes were misplaced and have not been located to this day. This is really a tragedy because the originality and pleasant dynamics of the band's earliest sound is quite evident even through these sub-par mixes. Procol Harum found their niche by combining centuries-old classical and baroque elements with the then modern day moody-ish soul inspired by artists like Ray Charles. This was all topped by the poetic lyrics of wordsmith Keith Reid.
Most of these early compositions originated from Reid's lyrics, with the music built later to accommodate the structure. Musically the band built rich layers of keyboards by Matthew Fisher, often overdubbing piano and Hammond organ to forge the lead melodic instrumentation. Topping off the sound is the English, blue-eyed soul voice of lead singer Gary Brooker , who delivers the lyric in a distinct and intelligent manner.
The album did not sell well in the band's home country of England, as neither of their charting singles, "A Whiter Shade of Pale" and "Homborg" were included on the original English version. However, critically Procol Harum was very well recieved, especially among many of their contemporary musicians.

Procol Harum

by

Procol Harum
Released: September, 1967 (Deram)
Produced by: Denny Cordell
Recorded: Olympic Studios, London, June 1967
Side One
Side Two
Conquistador
She Wandered Through Garden Fence
Something Following Me
Mabel
Cerdes (Outside the Gates Of)
A Christmas Camel
Kaleidoscope
Salad Days (Are Here Again)
Good Captain Clack
Repent Walpurgis
Tracks On Alternate Album Versions
A Whiter Shade of Pale
Homborg
Band Musicians
Gary Brooker – Lead Vocals, Piano
Matthew Fisher – Organ
Robin Trower – Guitars
Dave Knights – Bass
BJ Wilson – Drums
The UK version of the album begins with "Conquistador", one of the very few songs which originated from Brooker (instead of Reid), who had written a Spanish-influenced piece before the band was even formed. It is melody driven with choppy piano and swirling organ, resulting in an overall feeling of adventure. A live version of the song was released as a single five years later and peaked at #16 on the charts, the second highest charting song in the band's history.
The most popular song ever by the band was "A Whiter Shade of Pale", which lead of the US version of the album and was one of the most beautifully orchestrated anthems of the 1960s. The calm, baroque organ by Fisher contrasts sharply with the soulful vocals of Brooker, yet it all works in perfect harmony. Reid came up with the title when he overheard the phrase at a party, and originally wrote four verses for the song but only two verses were recorded. Although much speculation has been made over the meaning of the lyrics, Reid has said they are simply about a one night stand with a woman. For over 40 years the song was credited to Reid and Brooker alone, but in Fisher won co-writing credit for his distinctive contribution to the music. The song not only reached #1 in the UK, but has also been credited by a performing rights group as the most-played record by British broadcasting of the past 70 years.
"She Wandered Through the Garden Fence" is a light and bouncy number with a bright and riff-laden organ line and lead by Brooker and melodic vocals by Reid, despite some of the dark lyrics. "Something Following Me" is classically soulful with lyrics influenced by Dylan's "Ballad of a Thin Man". The song is the first on the album to prominently feature guitar by Robin Trower. Trower also shines on the bluesy "Cerdes (Outside the Gates Of)", which is fueled by slow bass riff by Dave Knights and previews some of 1970s bluesy classic rock styles.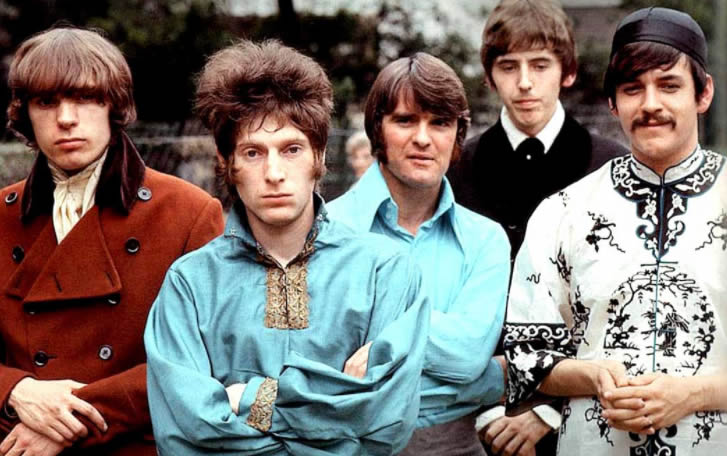 The second side opens with another soulful number, "A Christmas Camel", with a melodic keyboard duel between Brooker's piano and Fisher's organ and steady rhythm held down by BJ Wilson. If a true Kaleidoscope is a celebration of color, the song "Kaleidoscope" is a celebration of sound. It is organ driven with piano backing and swirling bass and drums throughout, all under the effortless, chanting yet melodic vocals of Brooker. The album concludes with the light "Salad Days (Are Here Again)", followed by a piano-led instrumental and Fisher's closer "Repent Walpurgis", a suitable melodic number to complete this fine debut album.
Some versions of the album include "Homburg", the follow-up single to "A Whiter Shade of Pale", with surreal lyrics and a hypnotizing rhythm. Procol Harum built on their success in 1967 with a series of fine albums well into the 1970s, although frequent personnel shifts would never quite let the band elevate to top-level popularity.
~

Part of Classic Rock Review's celebration of 1967 music.