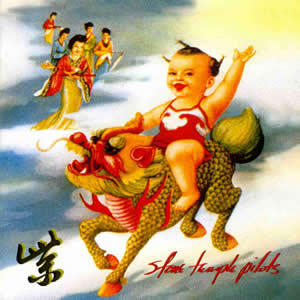 Stone Temple Pilots reached their peak early in their career with the release of Purple in 1994. This second album builds off the sounds forged on the band's 1992 debut album Core, while bringing that sound to a more enriched, mature, and entertaining level. This was accomplished by expanding on the sub-genres fused with the core hard-rock, grunge approach, utilizing some folk, jazz, funk, and Southern rock elements. Lyrically, the songs contain many references to vocalist and lyricist Scott Weiland's struggles with drug abuse and the collateral damage brought on by this addictions. This serves to add a tinge of darkness and foreboding to the otherwise inspiring musical vibes.
After the release of Core in September of 1992, the group received some negative reviews blasting them as "rip-offs" of more established contemporaries like Alice In Chains, Pearl Jam, and Nirvana. However, these critical reviews were in sharp contrast to popular opinion, as illustrated in one Rolling Stone magazine poll where the band was simultaneously voted "Best New Band" by the magazine's readers and "Worst New Band" by its music critics. Still, by the time the group returned to the studio to record this second album, they were determined to make their mark of distinction on the rock world.
Producer Brendan O'Brien was again brought on to strike the sonic balance of the raw compositions written by the band. Brothers Dean DeLeo and Robert DeLeo nearly equally shared the musical compositions, with Weiland later adding the melodies and lyrics. Production of the album was completed in less than a month, and Purple was greeted with great fanfare, debuting at number one in the U.S. upon its release.

Purple

by

Stone Temple Pilots
Released: June 7, 1994 (Atlantic)
Produced by: Brendan O'Brien
Recorded: Southern Tracks Studio, Atlanta, GA, Spring 1994
Track Listing
Group Musicians
Meatplow
Vasoline
Lounge Fly
Interstate Love Song
Still Remains
Pretty Penny
Silvergun Superman
Big Empty
Unglued
Army Ants
Kitchenware & Candybars
Scott Weiland – Lead Vocals, Percussion
Dean DeLeo – Guitars, Drums
Robert DeLeo – Bass, Guitars
Eric Kretz – Drums, Percussion
Dominated by dual guitar riffs of DeLeo brothers, "Meatplow" is a slow rocker that strategically bends flat in overall tone, starting the album with a methodical edge which slowly churns towards the desired vibe. "Vasoline" is less patient, with a pure rudimental riff by Robert DeLeo that at once contrasts and compliments Weiland's melodic vocals. Released as a single, the song reached the top of the Billboard Mainstream Rock Tracks charts. The song verse's syncopated riff in non-standard timing is grounded by the steady 4/4 beat of drummer Eric Kretz, which builds a rhythmic tension that is released in the chorus.
Kretz is particularly impressive with drums and percussion throughout "Lounge Fly". This track starts with a unique, backwards-masked riff with interludes by complex, rolling drums before it works its way towards a more normal rock arrangement. During the middle section, this song moves to a pure acoustic folk arrangement with duet vocals before building back to a hard rock format with a screeching guitar lead credited to Paul Leary of the band Butthole Surfers.
Perhaps the best song ever composed by Stone Temple Pilots, "Interstate Love Song" leaves an indelible sonic impression on the listener and the succinct arrangement ferments a desire for more. The much too short acoustic intro by Robert DeLeo breaks into the finest of riffing, which alternates between the layered blues rock and twangy overdub of the interludes and the funky, crunchy riffs of the verses. Weiland's vocals are also top notch and potent throughout, as he delivers the lyrics that deal with the lack of honesty in hiding his addiction to heroin;
"waiting on a Sunday afternoon for what I read between the lines, your lies, feelin' like a hand in rusted shame, so do you laugh or does it cry? Reply?"
"Still Remains" has an almost outlaw country (or at least Southern-fried rock) approach with twangy guitar layers and more very good, moody vocals. Dean DeLeo's "Pretty Penny" takes another radical turn in style with Eastern-flavored acoustic instruments and various hand percussion. This calm and steady track never relents by breaking into anything harder rocking and harkens back to the English folk of Traffic or even Jethro Tull, but with distinctive STP vocals during the chorus. By contrast, "Silvergun Superman" is a progressive song which gets better and better as it goes along. Starting with slow, heavy metal rock riffs, the chorus breaks into a soaring vocal and moving bass section and then bridge further adds variety to the arrangement before a shredding guitar lead brings this song up to yet the next level. However, there is a bizarre breakdown at the end of the track which is a bit unprofessional and drains all the afore momentum.
"Big Empty" is fueled by the bluesy and jazzy slide guitar of Dean DeLeo above the bouncy, funk bass of his brother Robert. The song originally appeared on the soundtrack to the movie The Crow and was later a successful single that reached the Top Ten of the Mainstream Rock charts. "Unglued" is, perhaps, the most upbeat and "dance-ready" rocker on Purple, short but sweet and entertaining with none of the droning of most of the other tracks. Another unique track, "Army Ants" starts with a moody, descending riff, drenched in heavy flange before it breaks into a harder rocking song that jams at top level for a couple verses and choruses before returning to the intro part and starting all over. The closer "Kitchenware & Candybars" may be the most melodramatic of all tracks complete with orchestral effects by O'Brien. The song includes a hidden twelfth track sung as a lounge song by guest Richard Peterson, who provides a closing overture that explains the album's back cover, which displays a cake with the phrase "12 Gracious Melodies".
Within a few months of its release, Purple had sold over three million copies and propelled the band to headliner status. The following year, Stone Temple Pilots recorded their third album, Tiny Music… Songs from the Vatican Gift Shop, which took an even more radical music departure. Here critics were more favorable to the band's sound, while fans were not quite so impressed.
~

Part of Classic Rock Review's celebration of 1994 albums.