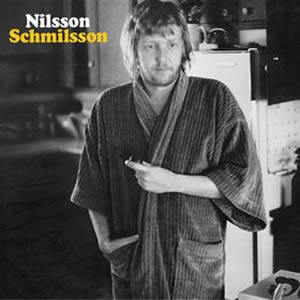 The seventh studio album by Harry Nilsson, the music on 1971's Nilsson Schmilsson unfolds almost like a television variety show with its incredible diversity in musical style. The most commercially successful work of Nilsson's career, the album was his first to fully delve into the pop/rock realm as it features a vast array of mature pop ranging from tin pan alley to contemporary rock.
With a musical career that dated back to the late fifties, Nilsson began to have some real success as a songwriter in 1963 when he wrote a songs for artists like Little Richard and producers like Phil Spector. His debut album, Spotlight on Nilsson was released in 1966 with album releases coming in rapid succession over the next several years but with very modest commercial success. However, Nilsson's multi-octave vocals caught the ear of Beatles' publicist Derek Taylor who introduced his music to the band. By 1968, both John Lennon and Paul McCartney were citing Nilsson as one of their favorite American artists. Nilsson's first commercial breakthrough came when his rendition of Fred Neil's song "Everybody's Talkin'" was featured in the 1969 film Midnight Cowboy, becoming a Top 10 hit and leading to a subsequent Grammy Award.
Nilsson Schmilsson was produced by Richard Perry, who enlisted top-notch players to back Nilsson. This includes bassist Klaus Voormann, formally of Manfred Mann's band, and drummer Jim Gordon who had recently been involved with Derek and the Dominos. The album was recorded at Trident Studios in London.

Nilsson Schmilsson

by

Harry Nilsson
Released: November 13, 1971 (RCA/Victor)
Produced by: Richard Perry
Recorded: Trident Studios, London, June 1971
Side One
Side Two
Gotta Get Up
Driving Along
Early in the Morning
The Moonbeam Song
Down
Without You
Coconut
Let the Good Times Roll
Jump Into the Fire
I'll Never Leave You
Primary Musicians
Harry Nilsson – Lead Vocals, Piano, Keyboards
John Uribe – Guitars
Klaus Voormann – Bass, Guitar
Jim Gordon – Drums, Percussion
The ten-song album features three covers and seven Nilsson originals including its first two tracks. "Gotta Get Up" is a theatrical pop/rocker driven by Nilsson's bouncy piano, complete with a rich arrangement including slight horns and other elements packed into this song of less than two and a half minutes. The acoustic "Driving Along" follows and works well as an early seventies soft rocker with rich vocals, slight horns and a Mellotron by Perry. The album's first cover is "Early in the Morning", originally a late 1940s Cuban-influenced track by Louis Jordan. On this version, Nilsson nearly performs solo with a choppy reverb laden organ and extraordinarily soulful lead vocals.
"The Moonbeam Song" features slowly strummed acoustic topped by soft vocals soon accompanied by a rich backing chorus. The poetic verse structure of this song is atypical, with elongated lines at times to extenuate the overall feel. On the moderate piano rocker "Down", Nilsson's strained vocals and Jim Keltner's potent drum beats drive home the central theme strongly to finish the first side. The pop-oriented second side begins with the chart-topping cover of "Without You", originally composed and released by Badfinger for their No Dice LP. Here, Nilsson took an incredibly dramatic ballad and made it even more emotional and melancholy as he uses his voice to max potential and performs both parts of the original duet by Pete Ham and Tom Evans. Further, the orchestration of Paul Buckmaster made this an almost operatic piece.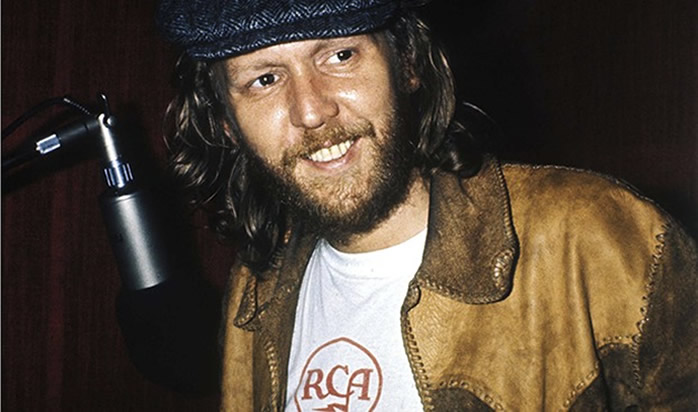 Following the emotional drama of "Without You", comes the light and nearly frivolous "Coconut". Here, a finger-picked acoustic riff starts the rotating and persistent percussion, which does not change through the entire duration of this quirky Caribbean hit. The cover of Shirley and Lee's "Let the Good Times Roll" has a genuine Southern feel throughout with bouncy piano, a fine harmonica lead and slight slide guitar by John Uribe interjected between vocal lines. In contrast, the rocker "Jump Into the Fire" is built on a de-tuned bass groove by Herbie Flowers and well-treated vocals which sound unlike anything else on the album. The slow and simple piano ballad, "I'll Never Leave You", wraps things up with many instances of pleasant sonic additives throughout.
Nilsson Schmilsson was nominated for several Grammy awards with the song "Without You" winning for Best Male Pop Vocal Performance. In an attempt to build on this success, Nilsson followed with a couple of spin-offs, Son of Schmilsson in 1972 and A Little Touch of Schmilsson in the Night in 1973, but neither of these were received nearly as well critically or commercially.
~

Part of Classic Rock Review's celebration of 1971 albums