For the 21st studio album of his incredibly eclectic career, David Bowie forged a collection of songs written as the soundtrack for a new video game. Hours was released in October 1999 and features tracks co-written by guitarist Reeves Gabrels for the adventure game Omikron: The Nomad Soul. The material on this album ranges from soft, lush acoustic ballads to poignant, layered classic riff-driven rock with the slightest moments of reflection to Bowie's early 1970s heyday.
During much of the 1990s, Bowie's output focused on electronic music. 1993's Black Tie White Noise made prominent use of electronic instruments while this the soul, jazz, and hip-hop influence album reunited him with producer Nile Rodgers, who had helped forge great success a decade earlier with Let's Dance. Another reunion took place with 1995's industrial-laden Outside, as Bowie once again worked with Brian Eno, who had collaborated on each of the late seventies "Berlin Trilogy" albums. This was followed by the experimental 1997 album Earthling, which spawned a couple of Top 40 singles, proving David Bowie remained commercially viable as he bypassed his 50th birthday.
Spawned from dedicated writing sessions, Bowie and Gabrels had actually recorded much of the material for Hours twice, with the original rough cut of the album being rejected. Beyond the 10 album tracks, Gabrels also wrote and recorded over 3 hours of instrumental pieces exclusively for the video game.
In September 1998, BowieNet was launched as an Internet service provider which offered exclusive content for fans. This would soon be the exclusive home of Hours for two weeks before the album was released elsewhere, making this album the first by a major artist available to download on the Internet.

Hours

by

David Bowie
Released: October 4, 1999 (Virgin)
Produced by: David Bowie & Reeves Gabrels
Recorded: 1998–1999
Track Listing
Primary Musicians
Thursday's Child
Something In the Air
Survive
If I'm Dreaming My Life
Seven
What's Really Happening?
The Pretty Things Are Going to Hell
New Angels of Promise
Brilliant Adventure
The Dreamers
David Bowie – Lead Vocals, Guitars, Synths
Reeves Gabrels – Guitars, Synths
Mark Plati – Bass, Guitars, Synths


Smooth to the point where it feels like elevator psychedelia, "Thursday's Child" opens the album with lush, synthesized orchestration and fine backing vocals by guest Holly Palmer. This also acted as the album's first single. The interesting "Something in the Air" is fashioned much more like a classic Bowie song, highlighted by Gabrels' various guitar tones and a thumping bass by Mark Plati. The acoustic ballad "Survive" is slightly melancholy with beautifully layered electric guitars added strategically throughout, while the slow rocker "If I'm Dreaming My Life" features vocals which seem to be interjected intentionally off time.
Rich, strummed acoustic guitars highlight "Seven", a track which is musically steady throughout. The lyrics and overall feel of this song has a definitive Pink Floyd vibe with ethereal sustained electric guitar layers added on top. A similar vibe is continued on "What's Really Happening?", albeit with all electric and electronic instrumentation and featuring lyrics by Alex Grant, making this the only track not composed solely by Bowie and Gabrels.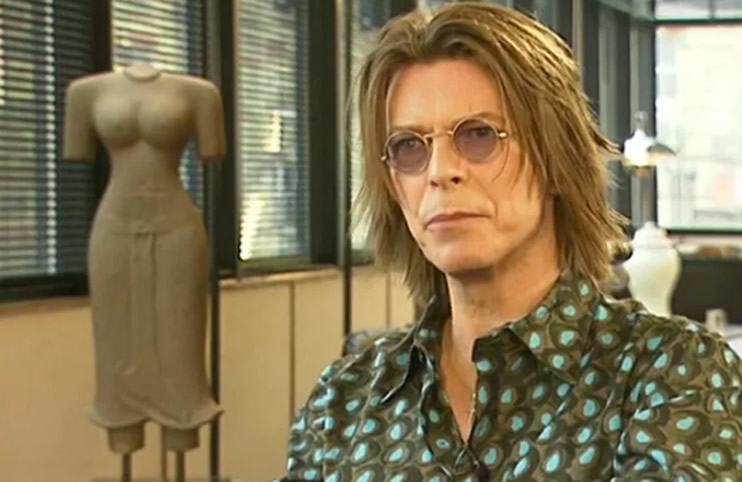 "The Pretty Things Are Going to Hell" is like proto-punk for older folks, with plenty of new wave effects over some simple and steady guitar riffs and a song title which suggests a sequel to "Oh! You Pretty Things" from the 1971 album Hunky Dory. "New Angels of Promise" begins with synth flutes and other orchestration before settling into a Boomtown Rats-like rock screed with a psychedelic backing to the later guitar lead, Following the short, jungle-influenced instrumental "Brilliant Adventure", we reach the closing track and initial title for the album, "The Dreamers". Here, some rich synths back Bowie's deep crooning before the song eventually picks up with various sections getting more rhythmic and melodic before we reach an abrupt ending to the song and album.
While infamous for being first David Bowie studio album to not reach the US Top 40 since the early 1970s, Hours was (on balance) a worldwide hit as it reached the Top 10 in more than half a dozen nations. As the new millennium began, Bowie continued his experimentation with a planned 2000 album called Toy, which was intended to feature new versions of some of Bowie's earliest pieces. However, that album was never released and Bowie moved on to produce a new album of original songs with 2002's Heathen.
~

Part of Classic Rock Review's celebration of 1999 albums.