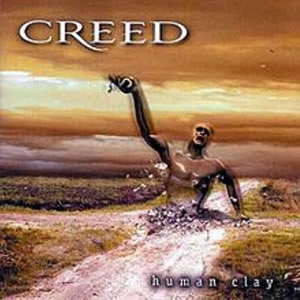 Human Clay is the 1999 second album by Creed, which built on the momentum of their fine 1997 debut to reach their climax of popularity. This #1 album was an instant success which surprisingly debuted at the top of the charts. The record rose to prominence by finding the right combination of post-grunge musical theatrics with anthem-laced pop melodies, laying a foundation that helped the group ride high as we entered into a new century and millennium.
The group's self-financed debut, My Own Prison, became a surprise hit world wide and, at the time, was one of the Top 200 selling albums of all time. With the proceeds from that album, the group instantly began to compose and record music for a follow-up record, using the same formula of music by guitarist guitarist Mark Tremonti and lyrics by vocalist Scott Stapp.
Producer John Kurzweg also returned for this album. In recognition of what fans craved from the first album and not really being concerned with originality, Kurzweg built a continuation of the group's successful sonic attack, which paralleled the thematic direction. According to Tremonti, this album's theme (and cover art) is meant to represent our ability to lead our own path and make our own destiny. This, along with the theme of many songs, gives Human Clay a real spiritual feel throughout.

Human Clay

by

Creed
Released: September 28, 1999 (Wind-Up)
Produced by: John Kurzweg
Recorded: Winter 1998-1999
Track Listing
Primary Musicians
Are You Ready?
What If
Beautiful
Say I
Wrong Way
Faceless Man
Never Die
With Arms Wide Open
Higher
Wash Away Those Years
Inside Us All
Scott Stapp – Lead Vocals
Mark Tremonti – Guitars, Vocals
Brian Marshall – Bass
Scott Phillips – Drums
The opening track "Are You Ready?" starts with an Eastern sounding intro before fully breaking into its rock verses, complete with some odd chord combos which at once make it a little clunky and a bit interesting. An issue with the early part of Human Clay is the formulaic song craft and this is almost immediately evident as "What If" sounds very similar to the opening track in sequence. However, this second song reached greater popularity as it was used in the film Scream 3 in 2000 and it's accompanying video worked off that theme. "Beautiful" is another dramatic track with verses delicately picked in contrast to the sloshy rock choruses, while "Say I" is a choppy and thematic dark rocker.
Things start to get interesting with "Wrong Way", a mini-suite with multiple forms and musical textures to make for a good overall listen. Here, Stapp exercises various levels of power and restraint vocally while Kurzweg adds B3 organ and guest Kirk Kelsey provides mandolin. "Faceless Man" is another good track, perhaps the best thus far on the album, with measured acoustic and electric combinations picked and strummed expertly by Tremonti along its compositional and some stand out bass by Brian Marshall. On the track "Never Die", the band adopts some Alice-in-Chains-like simplicity with a grunge approach and hammered-on notes in the riff pattern. This track also features Scott Phillips providing his best drumming thus far.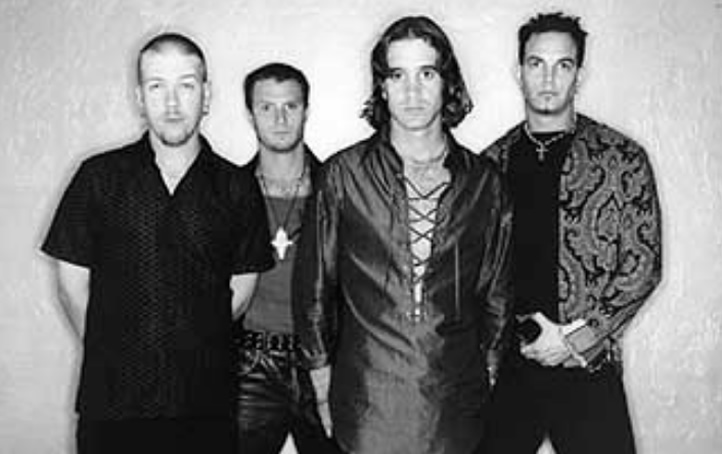 The album finishes strong with its most indelible tracks late in the sequence. "With Arms Wide Open" starts with subtle guitar textures with melodic lead vocals, offering the clearest pop sheen on top of the group's typical hard edge, including some string arrangements in the uplifting arrangement. This song earned Stapp and Tremonti a Grammy Award for Best Rock Song in 2001, along with several other awards. "Higher" is the group's ultimate acoustic grunge anthem with a fantastic hook that made this a great hit. Like the previous song, this makes nice use of bridge/outtro to take the song to a "higher" level. "Wash Away Those Years" follows as a quiet and dark ballad, leading to one final anthemic track, "Inside Us All", to close the album with a theme that speaks to the "peace inside your soul".
Human Clay sold nearly 20 million copies worldwide and charted all around the world. The album's success was a mixed blessing as the group's meteoric rise made them subject to some subsequent derision and Marshall struggled with substance abuse and was out of the group before the group recorded their third album in 2001.
~

Part of Classic Rock Review's celebration of 1999 albums.